If you ever plan to quit Facebook, and close the account, or want to download a copy of your Facebook activities, you should know that it is possible to do so. Facebook Offers inbuilt Archive feature which can backup Facebook Data in an archive file. You can download keep it for your personal usage.
How to backup Facebook Data or Archive Facebook Activities
The Social networking giant offers an archive feature in every Facebook Account. It is a helpful feature which makes sure that user owns their data, and can get it on demand. When you send a request to Facebook, it will create an archive, and send you a link over email. You can follow the link to download all your files.
Go to Facebook Your Facebook Information Page, and click on View link next to label which says–Download copy of your information to keep or transfer to another service.
Here Facebook offers you a complete download or if you are only looking for a specific part of your Facebook data. For example, if you want to download all your Facebook Messenger chat or Facebook Messages, you can choose to do so. It is also possible to set a date range. Facebook also offers you to select a format, and we recommend using HTML format. Lastly, the archive file you get to download will be password protected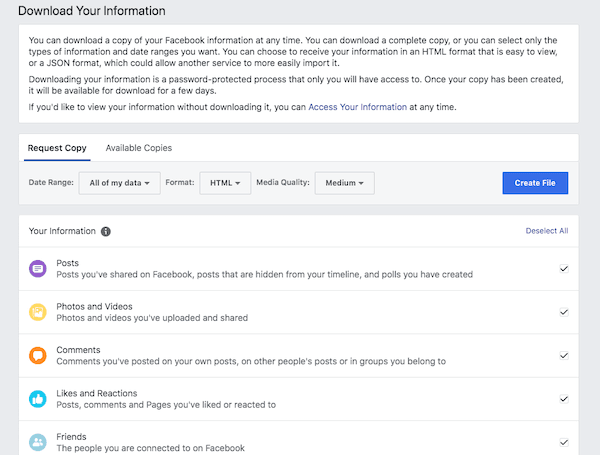 Click on View Link next to the download text
Select the type of data you want to download
Select the date range and type of file.
Click on Create File.
You can switch to Available Copies section to see if your archive is ready. For all pending requests, you will have the following message:
A copy of your information is being created.

Your copy may contain more than one file, depending on how much information your request contains. We'll let you know when your copy is complete, so you can download it to your preferred device. You can cancel this process before the file is complete.
Once done, an application will be sent to Facebook. In a couple of minutes, Facebook will create an archive file which will be available for download.