Windows 10 Apps have their way of storing data. If you are using an app or game, and you had to reinstall it, then configuring it again takes time.  In this post, we will share an app that can Backup & Restores Windows 10 Apps Data. It used to be damn easy in Windows 7 and before where the application folders were easy to navigate and fiddle around at your wish.  In this post, we will share an application that can backup restore Windows 10 Apps data.
How to Backup & Restore Windows 10 Apps Data
CloneApp is one such software that is trying to resolve this kind of issue to help users backup the data from the apps, i.e., Game Levels, Game Progress, Settings, etc. Then when you reinstall the apps later, you can use the restore feature in the app to get back to where you left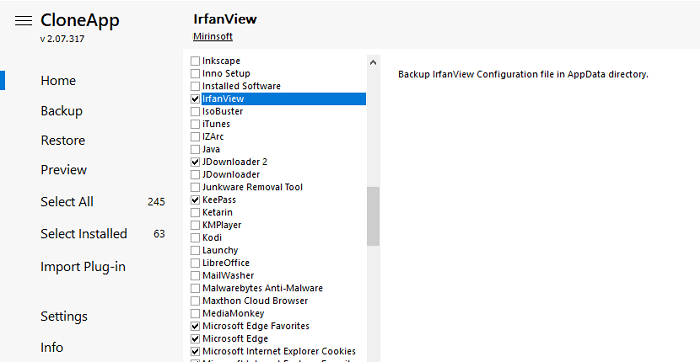 How to use it Clone App
When you launch the software, it will automatically scan for all the installed apps. Then it will display a list of all Windows 10 apps available on the computer. It includes app from Microsoft Store and the EXE based installs.
You have the following options upfront—Backup, Restore, Preview, Select All, Select Installed, Import Plug-in, Settings, and info. The first thing you should do is configure settings. It will allow you to change the location of the backup
Settings: Setup clone path, log path, Editor path, choose a separate folder for cloned apps, and so on.
Selection: The next thing you need to is select apps which apps should be backed up. I would recommend you to backup the most important ones. It will take less time, and restoration will be more natural. When you click Select installed, it will prepare a list of apps installed on your computer.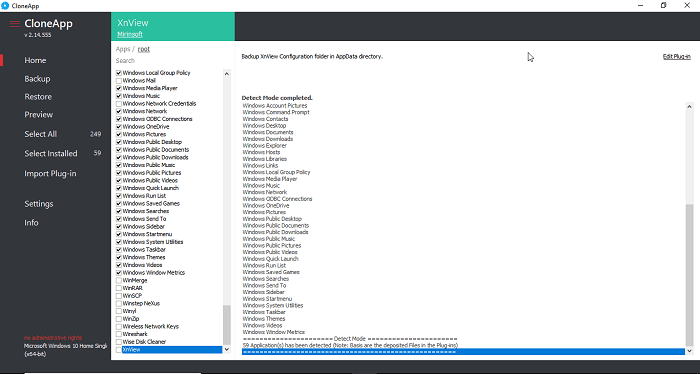 Backup: In this mode, make sure all the apps are closed before running it. Though technically, you will need to close the apps of which you are going to take backup. It will backup files, folders and Registry keys, etc.
Restore: Almost similar operation, you need to initiate this once you have the app reinstalled using the app store. Remember, this app can only store data and not the app itself. You can choose multiple app data to restore or individuals.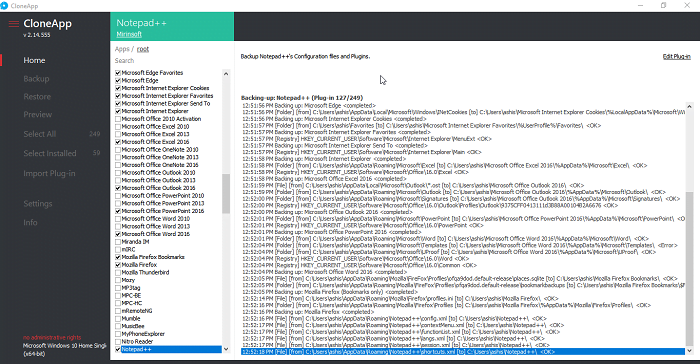 The app comes explicitly in very handy when you clean install Windows 10. No longer you need to spend time setting up the configuration for programs, system tweaks, and so on. The worst part of doing it manually is we don't remember all and end up spending time as we work through.
Overall it's an excellent application that helps to backup and restores Windows 10 Apps data. Saving a lot of time and keeps everything intact, including settings and registry keys.