Copy To Synchronize is yet another powerful folder backup and synchronizer tool for folders which need constant backup, sync files, etc. Though nothing beats DropBox, the software shares some standard features that are available in most of the backup/sync tools we have seen, in this post, I will talk about the essential elements here.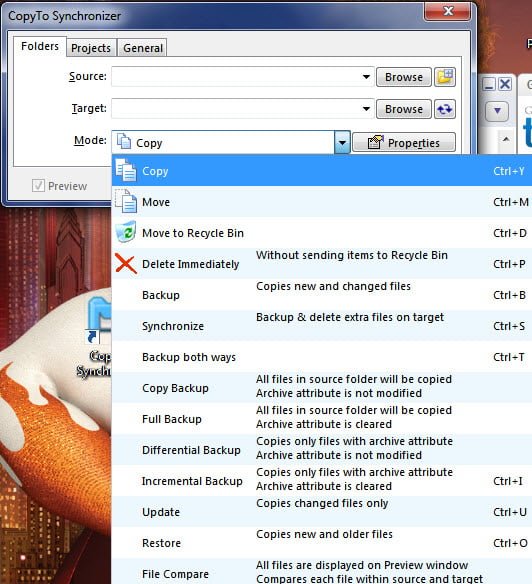 Copy To Synchronize: Folder Backup, Sync, History, Compression, Revision History
1] History Arrangement:
Too much of backups, too many files makes everybody forget what they were syncing around. Copy To Synchronize comes with well organized History Arrangement. It offers clear distinctions of your sources, targets, what kind of filter you had been using, list of projects, and their locations. They are available in a separate tab.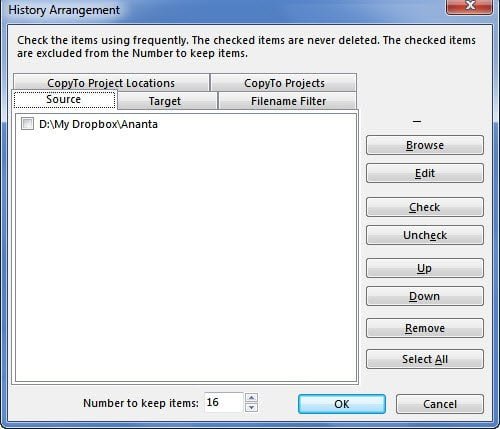 2] Integrated with Windows Right-Click Menu
It means that anytime you feel like syncing or backing up files of any folder, right-click and choose a copy to and you are ready to go.

Each project which you create also gets a special right-click menus to launch or change the backup sync options. For example, you can directly go to Properties or execution history, etc.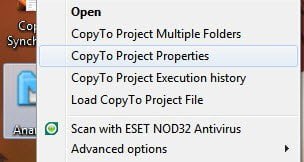 3] Supports ZIP Compression and Revision History
If you are running out of space, this is an excellent option. You can have revisions with ZIP compression support together and without you worrying about zipping etc. And since you always get a preview, you get to know full details. The compression is supported only for Target.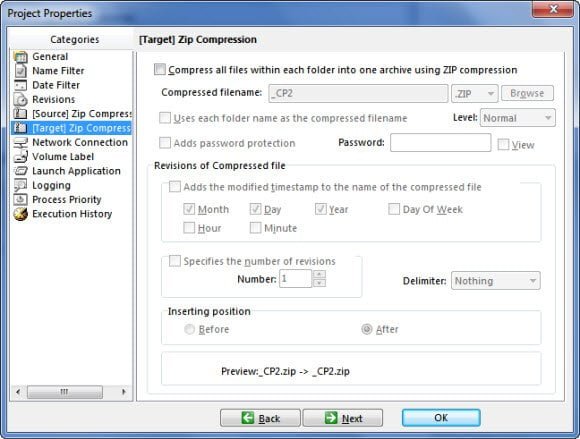 Other Features of Copy to Synchronize
Process Priority to make the process even faster.
Execution History.
Logging.
Allows you to Pause the process in between, very much required.
You can also create projects where you want to delete files regularly
Supports Network Paths
Turns on the NTFS-Compressed attribute after copying each file.
Turns off the read-only attribute after copying each file.
Copies items to the clipboard, or save to a file.
Supports multiple files and folders to one target location which we saw in N2NCopy
This application is completely free and highly recommended from our side and competes with PureSync
Download Copy to Synscrhonize from here.