Every Microsoft product you have bought goes through an activation process which can be either online or offline. Even when you do it offline you need to call the customer support to get an installation id. Now imagine a scenario of a IT company where computers are restored from time to time or even re installed from ground up and calling on phone and activating via internet can be a tedious job in such volume and day to day job.
These activation process are there to protect the product getting used on any machine when pirated and with the Installation ID or the right activation process none of the products will work after a certain period of time.
Ghacks found an awesome software, OPA Backup, which allows you to backup these activation files or keys and activate it again on a new computer. This makes sure that even if your machine does not have internet, you can get the product up and running in few minutes.
Note : 
This application can only backup activation which have been already activated. So if you came here wondering how to activate it for the first time, you need to fall back to Online or Telephone method. Also it does not crack your installation it only restores what you had already activated once.
How this application works ?
So once you download, run this will admin privilege. Its a stand alone program so dont worry about installation etc.
Next you would get option to select a version of office. It supports Microsoft office XP, 2003, 2007 and 2010.
Next Screen select Make a Backup option and then choose a path.
Make sure either to store the backup in a location other than your Windows Installation. If you select the same, you will be warned about it.
The backup is stored with a name as Backup-Microsoft_Office_2010-20111115T143734 which you make sure to rename it and add computer name or something which can remind you for which computer it belongs., This is important if you have strict auditing.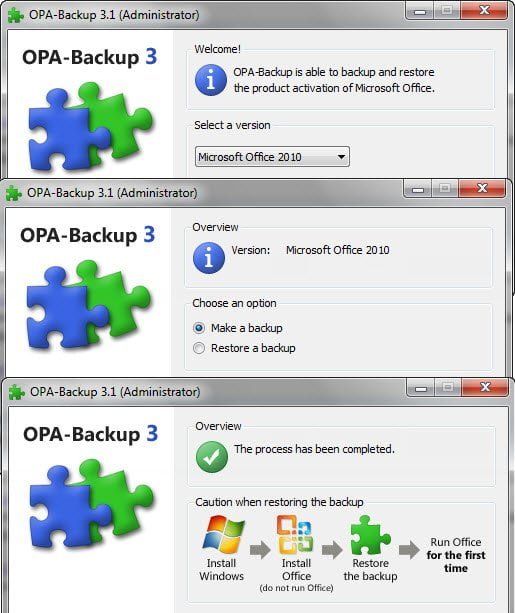 Restoring Office Product Activation
Next time when you re-install windows, first install the office product and then run this tool on that machine. Make sure you have the backup along with you. This product can then run Office for you so you can make sure it works.