The worst thing children do when they get a computer is accessing adult websites or mature content. While it's not a good idea for them to watch it, the advertisements can take them to a site which might lure them into trouble. So here are some of the best adult website blockers for Windows 10. I have listed a combination of free and paid Adult website Blockers for Windows 10.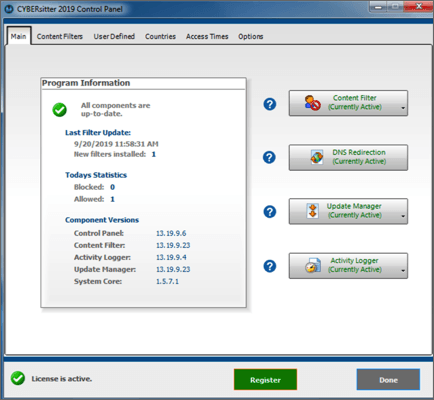 Best Adult website Blockers for Windows 10
There are multiple ways to block access to adult content on Windows 10. You can remove access to adult content using DNS, Windows 10 parental control, safe search for search engines. However, these adult content blockers server as the last line of defense.
Child Control
Content Watch
Net Nanny
Cyber Sitter
1] Child Control
The onboard parental control allows you to block access to adult sites according to age or category. You can block known websites beforehand by configuring the whitelist.
Can block Chat
High-level Protection
Specify how many hours your kid can use the computer and when.
Easily Configurable.
Disables

Task Manager

.
2] Content Watch
It offers time control, blocks gaming, gambling, instant messaging. You can also create different policies for the age group at home, making sure only suitable content is available to your child. However, it doesn't disable the Task Manager for a child account, which means the program can be killed.
Fast Installation
Two passwords (override settings and uninstall)
Email notification.
3] Net Nanny
Many kids get exposed to adult websites accidentally. It doesn't leave a good impression on them as everything might not make any sense to them. Using software like Net Nanny, you can use web filtering, and time control to make sure they don't get exposes to such stuff at an early stage,
Easily Configurable
Expensive
Does not disable Task Manager
Yearly Subscription.
It can also block these websites in real-time. They have an inbuilt real-time adult content filter that can block webpages based on what the content is on the page at a given moment.
4] CyberSitter
Available as a one-time purchase, the software can scan for spyware, mature content using its filters that are continuously maintained. CYBERsitter on your computer will keep updating for as long as you want to use it.
Block adult content
Block Social Networking, online games, and other content
You define schedules for allowable activities
How do you manage to block such a website at your home? Let us know in the comments.