Since the inception of ChartGPT into the market, Artificial Intelligence, or AI as the world calls it, has taken the world by storm. After the chat assistant's popularity increased, many other tools have surfaced into sight, all of which are equally capable in the fields they are designed for. The post lists some of the best AI tools for Marketing and Social Media. Have a read!
Best AI Tools for Social Media and Marketing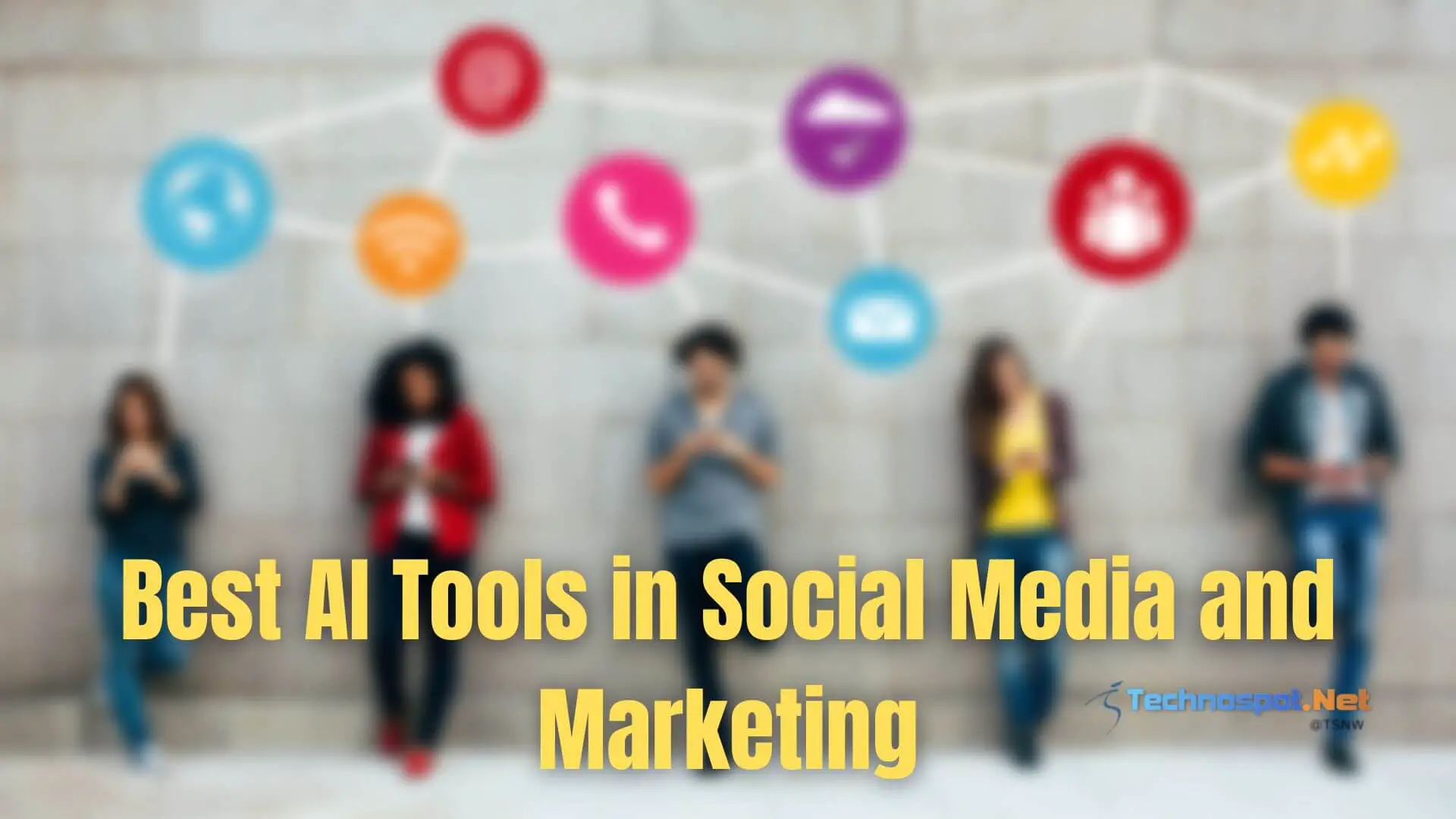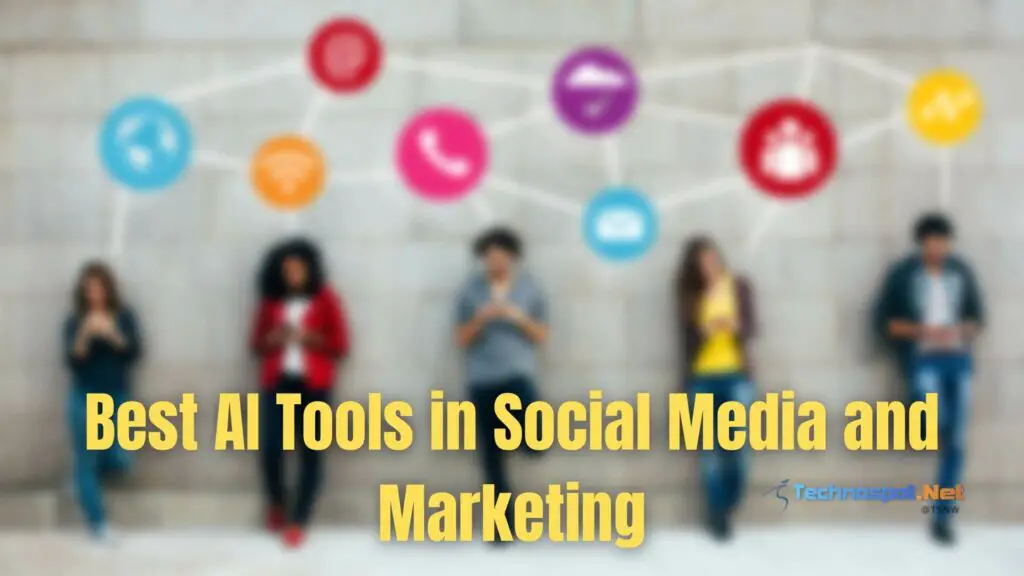 Here is a list of all the AI tools for Social Media and Marketing.
Predis.ai
Tweetmonk
Looka
Tome AI
Synthesia
AI tools are a great resource to use if used wisely. Checks must be done to ensure that they are not overused for unethical practices and are used well. Trying these tools to get an edge over the rest would be best.
1] Predis.ai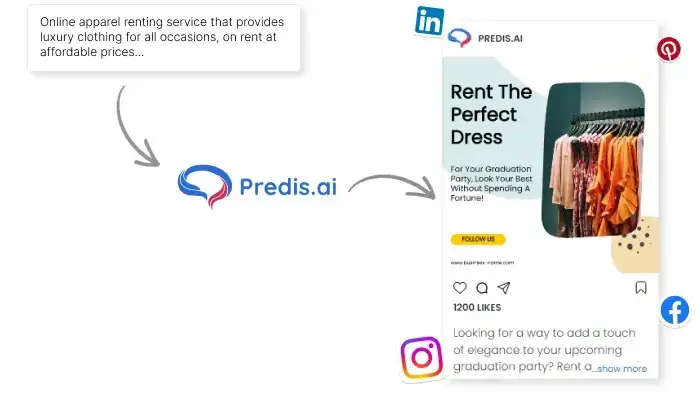 Users can generate custom social media content with just a simple text input. Predis.ai can generate templatized posts, reels, carousels, videos, captions, and hashtags. You can easily publish the content to your favorite social media channels like Instagram, Facebook, TikTok, Pinterest, Google Business, Twitter, and YouTube. You can also chat with the built-in social media assistant to generate content ideas. Analyze your competitor's social media with the help of AI.
Features
Use AI to generate reels, videos, posts, memes, captions, and hashtags.
AI competitor analysis.
AI social media assistant chat.
Plan, schedule, and publish content.
Pricing 
Free – 15 posts/month
Solo – $29 – 120 posts/month
Starter – $59 – Unlimited posts
Agency – $139 – Unlimited posts
Check out Predis.ai
2] TweetMonk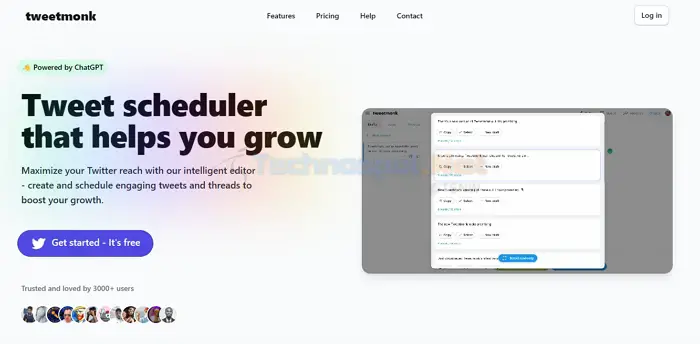 TweetMonk is an AI-powered web application that helps a tweeter paraphrase tweets and elucidates the written content. It helps users brainstorm on their tweet topics and produce meaningful results. It helps the writer deal with Writer's block by providing handy suggestions.
Features
It has an in-built AI tool that automatically helps users elaborate tweets with relevant information research from the web.
It also helps users to republish tweets at specific times or based on engagement. For example, you can set a particular retweet count or several days after which the tweet/thread will be republished.
It allows users to refine the images used, to some extent, with the help of some features such as padding, size, frame, radius, and a few other options.
The "Get Inspiration" button helps a tweeter quickly move out of writer's block with fluency.
Use Cases
Tweetmonk can be used to write long threads. It keeps them organized and allows you to edit and modify them. Moreover, it can also help you track the engagement of each thread and recycle those threads that get the maximum engagement.
Pricing
Explore- $0
Solo- $8
Creator- $19
Enterprise- $39
Check out Tweetmonk.
3] Looka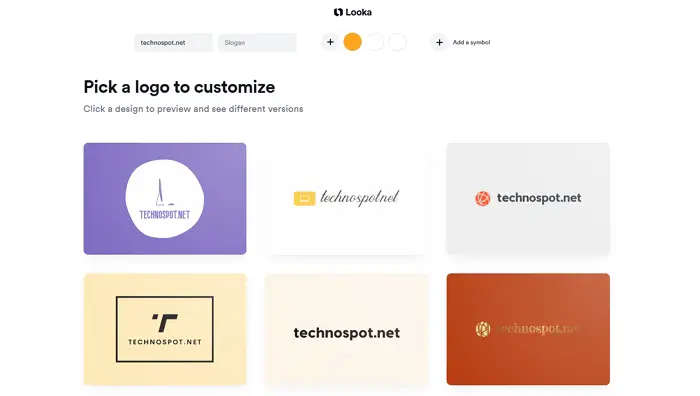 Looka is the one-stop solution to all your logo-designing requirements. It provides excellent value for money, saving you tons of work and time. Startups are starting to emerge from every time zone of the world, and the increase in logo demands has not been surprising. To help the cause, Looka has emerged as a promising hand. With the tool, you can easily create professional logos for your firm.
Features:
You do not require special skills to design a logo, unlike Photoshop and Illustrator.
It helps you integrate other platforms to use your logos anywhere.
It provides an in-built library, so you don't have to have an external website just for icons.
It provides unlimited revisions to your designs, so you can keep changing until it fits your requirements.
It does not have any hidden charges or taxes in its pricing, which makes it transparent and, subsequently, trustworthy.
Use cases:
Looka can be handy when creating logos without clear inspiration or skills. Moreover, the one-off logo packages offered by Looka are helpful when you want a logo. Although only a few people would use it because a monthly package would offer a higher value for money, it still sets Looka apart from others in the logo design industry.
Pricing
Yearly subscriptions

Band Kit Subscription: $96/ Year
Brand Kit Web subscription: $192/Year

One-off subscriptions

Basic Logo Package: $20
Premium Logo Package: $65
Check out Looka.
4] Tome AI
Tome AI is a website that uses artificial intelligence to generate PowerPoint presentations according to your input. The AI-powered system performs extensive research, optimizes, and improves all the slides. The result is a complete presentation that can be utilized in various settings, including corporate demonstrations and pitches to venture capitalists. This technology is precious to content creators and marketers as it saves time and money.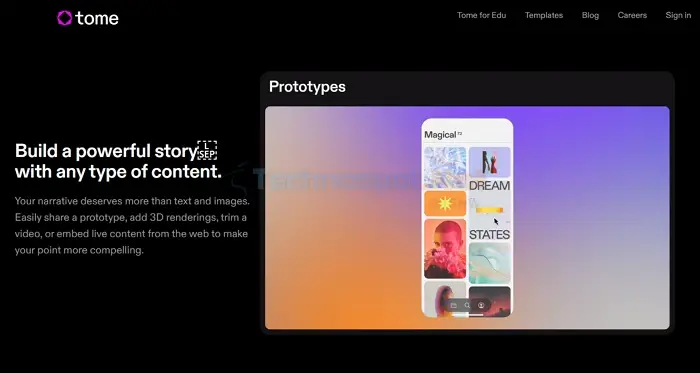 Features
Easily create and access all of your presentations
AI-generated images are used, so every image is royalty-free.
Timesaving
It can be tailored to fit requirements using text inputs.
In-app editing is available, so you don't have to copy and edit elsewhere.
Use Cases:
Tome AI can be your last-minute presentation solution if things go wrong. It can generate slides with decent accuracy and precision. Also, it gets them done quickly, which sets them apart from the rest. It finds extreme use cases incorporate where demonstrations occur and pitches where one needs them to pitch a business in front of the VCs.
Pricing
Tome is currently free.
Check out Tome
5] Synthesia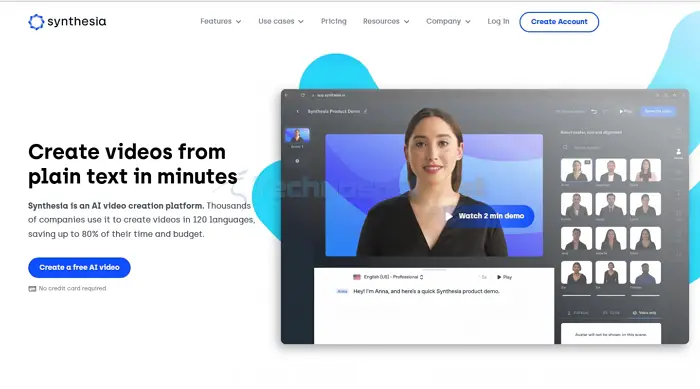 Synthesia is an AI-powered website that helps you to create talking head videos. It has customizable avatars, which you can select. The freeness that it offers lures users into using the tool. As it is entirely AI-generated, it is exceptionally economical because you will not have to purchase recording equipment to generate a video.
Features:
Diverse customization options allow altering the avatar, voice, and accent to fit custom needs.
An extensive library of stock footage, images, and videos reduces dependency on other apps and eliminates the need to connect them.
Brand Kit access allows users to access their brand colors, logos, and texts quickly.
Synthesia also offers an in-built video editor that allows users to change the video background, add statistics, share the screen, and do much more.
Different camera views are also available to use.
Use Cases:
Synthesia finds a lot of use cases in startups where the quality presentation of content is required but at low costs. It is used to generate videos for firms where expensive studios and production equipment cannot be afforded, but still, good content is to be put up for the audience to consume.
Also, it is a lifesaver if you are too camera shy 😛
Pricing
Personal Plan: $30
Corporate Plan: Negotiable.
Check out Synthesia here
Conclusion
Businesses are growing their reliance on AI tools. This is due to a variety of reasons. Firstly, AI tools can help companies analyze marketing data and create results personalized to users' needs. The personalized results pave a more straightforward pathway for the companies to move forward and expand their reach to boost profits.