Unable to find the relevant images online?  Finding perfectly suitable images that align with your content is not easy. The most common way is to search from the already available photos online. However, some images are restricted due to copyright policy, and others are not adequately relevant. If you face similar issues, this article will tell you about the five best AI-powered tools to generate Images based on your text, solving all your problems.
Best AI Tools That Can Generate Image Based on Text
The Internet is filled with AI-powered tools that can be useful to generate images, and it cannot be easy to find the ideal one. So, here are the five tools among them that will help you out:
Adobe Firefly
Stable Diffusion
Craiyon
Jasper
Canva
Let's dig into the details!
1] Adobe Firefly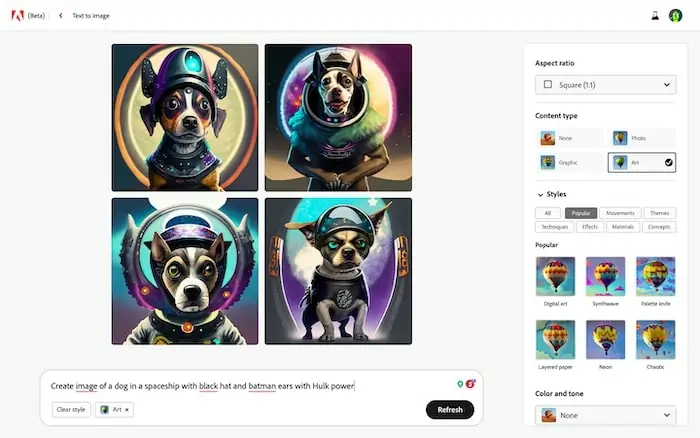 Adobe has a leading name in the world of image editing software. With the advent of AI, it has stepped ahead and brought Adobe Firefly. It is a generative AI-powered content creation tool from Adobe where you can use Simple prompts to generate images. You can experiment with words and put your creativity to the test by creating any photo using the tool.
Features
Detailed text description- You can add multiple details in your text prompt to get a precise image.
Generative Fill- If you are unhappy with any image element, you can use a brush to remove or paint and add particular objects.
Text Effects- For making flyers, banners, or social media posts, you can generate your preferred images and add word phrases with text effects.
3D to image- As a professional, you can generate images from the interactive positioning of 3D elements.
Why Do We Like It?
Supports multiple languages- The best part about Adobe Firefly is that it accepts commands in more than 100 different languages. So, you don't have to know a particular language to use it.
Extend image- You can change and extend the sizes of the AI-generated pictures using a single click.
You can check it out here.
2] Stable Diffusion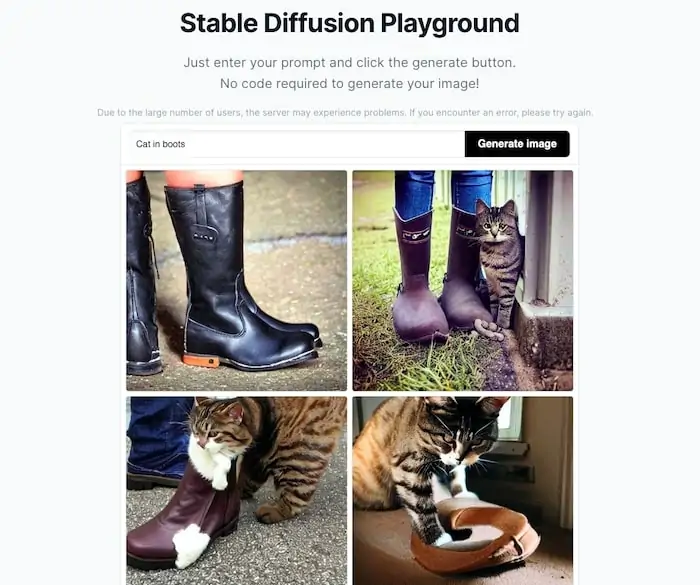 You can create quick custom images with stable Diffusion. It specializes in generating realistic photos using any inputs. So, you can use the pictures on your website, print material, social media posts, and any other place. Stable Diffusion allows you to use your creativity to make pictures within seconds.
Features
Secure privacy- The tool ensures your privacy as it does not collect personal information or store your text or images.
No restrictions- There are no restrictions on the kind of prompts you enter.
No code required- Unlike many other tools, you don't have to know about special code inputs to generate images.
Why Do We Like It?
Easy to use- Stable Diffusion is an easy-to-use tool suitable for beginners. You can create high-quality images using it efficiently.
Fast results- It has a GPU enabled that can quickly check your sentences for rapid results.
Free to begin- You can begin and Try using the tool for free.
You can check it out here.
3] Craiyon
Are you looking for a free AI text-to-image Generator tool? If yes, then you must try using Craiyon. It is a free AI art generator tool that will turn your prompts into images within seconds. Craiyon can help you generate art, photos, and even drawings from your text. It is a lighter tool than other tools on this list.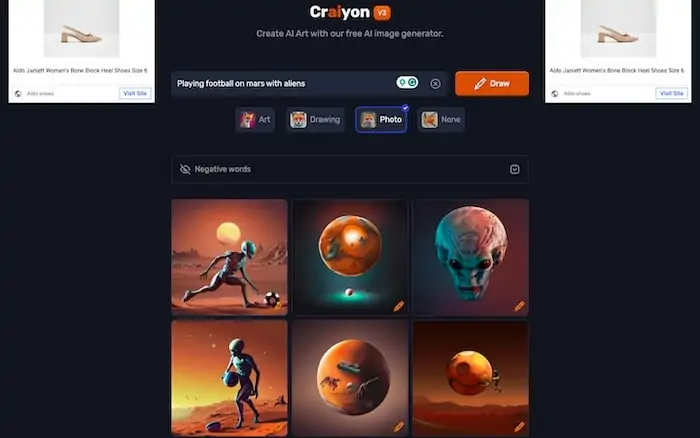 Features
Android App- There is an Android app for Craiyon for easy use on mobile devices.
Nine Output- The tool generates nine images from your output, and you can choose your preferred one.
Customization- Craiyon allows you to customize your images based on diverse styles and parameters.
Why Do We Like It?
Integrates ChatGPT for generating prompts- To help you make better prompts, you can use ChatGPT, which gives suggestions to create new prompts.
Simple interface- The Website of the tool has a Simple interface suitable for beginners.
You can check it out here.
4] Jasper
Jasper is one of the most popular AI tools on the internet. It is an AI writer and AI generator generating different kinds of prompts from your images. Jasper offers a free AI image Generator tool that converts text to images. You can get creative by generating original pictures for different purposes. It is used to create creative projects that are better than DIY image creation or simple stock photographs.
Features
Instant results- You can get original AI images instantly using Jasper for making unique projects.
Engaging prompts- Jasper can help you create creative prompts and choose your preferred Mood, Medium, Inspiration, Style, and Keywords.
Get a Demo- If you cannot understand how to use the tool effectively, you can see a Demo video on its website to learn more.
Why Do We Like It?
Access through your Dashboard- You can easily use Jasper by accessing Jasper Art on its dashboard.
Customization options- It offers you multiple customization options like color scheme and resolution to get desired images.
You can check it out here.
5] Canva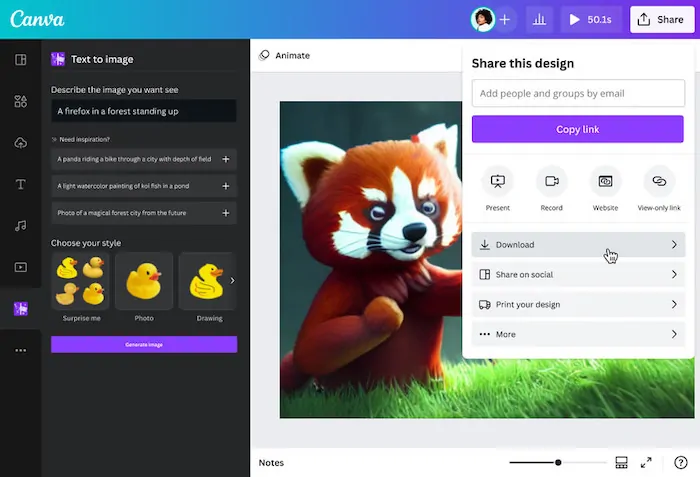 Canva is one of the top-rated graphic designing tools that can be used to create designs like banners, social media posts, videos, etc. It has recently integrated AI and offers you a text-to-image converter tool.
You can type whatever you want and see it come alive on images. Further, you can add those images to any of the designs you create or even upload them on the internet on your behalf.
Features
Editing options- Canva offers different editing options for your AI-generated image, like image enhancement, adding text and effects, or converting them.
Variety of outputs- It converts text into professional photos, 3D images, or drawings.
Why Do We Like It?
Free- The basic AI image Generator tool is accessible in Canva. You can access additional features by getting a Canva Pro.
Simple descriptions- You don't need to add any complex descriptions. It accepts simple illustrations or prompts to generate AI images.
Suitable for beginners- It helps you create unique images and art in easy steps.
You can check it out here.
Conclusion
Gone are the days when you had to scroll through stock images to find an ideal image for your website, brochures, social media posts, etc.
The AI tools will help you generate desired original images within seconds by entering simple text prompts. It will help you get authentic, unique, realistic, and customized images using these tools to enhance the visual appeal of your Content.