The scenario of being stuck in a boring conversation, or meeting is something ubiquitous, we all have experienced at some point in time, and most of us face this often. Here is a great way to escape from such conversations and meetings. Imagine, while you are into such a conversation, which you desperately want to quit. Now, if somehow your phone rings and you get an urgent call from your boss, your girlfriend or boyfriend, etc. You can easily escape, telling the urgency to receive the call. In this post, we will share some of the best apps to fake an incoming call on your Android smartphone.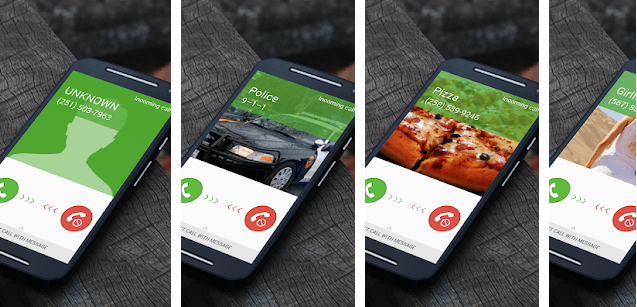 Best Fake Incoming Call Apps
Shake Fake Call Escape
Fake Call Prank
Fake Call by Developers Point
Fake Call by Yello Studio
Fake Call by Nova Labs
1] Shake Fake Call Escape
The best part of using this app is that it uses gesture. All you need to is shake the phone, and an incoming call would show up on the phone screen. It makes sure that suspicion of you making an excuse is nil.
Customize the required shake strength to trigger the call/message
Can also send a fake message
Replicates the call screen with the exact name.
It is my favourite of all the Best Fake Incoming Call apps here.
2] Fake Call Prank
One of the best fake call apps which are designed well, and ofcourse works better. You can Set caller name, number, picture, character, ringtone which can be different from the default, even set a voice for the called. So when you pick up, it sounds like an actual voice from the other side.
It is also the tricky part because you need to make sure that you record a real voice with enough gap, so it looks like an actual conversation.
3] Fake Call by Developers Point
Another gem in the Fake Call app list which makes sure the call gets an entry into the call history. Thats an important point as it makes it look legit.
It can play fake voice when you answer the call.
Simulate Fake calling screen as your different phone
Customize and manage the different in-call voice and ringtones for each fake call
Fake Caller Prank helps you to select a caller from your contact list or enter new contact.
One can also select a time for calling and set up multiple fake calls for different timings.
Get Incoming call with photo and customizable pre-recorded voice.
Download
4] Fake Call by Yellow Studio
Customize fake caller id, picture, the number for a new phoney call
Schedule multi counterfeit calls and a new fake call at a specific time
Create Fake call logs
Select fake caller id from your contacts
Download
5] Fake Call by Nova Labs
Start the application and fill in the caller name, number, and the time delay you wish to have for the call, then press Schedule calls.
We hope these apps will be good enough for making fake calls on your phone. Let us know if you spot a better app.