Do you always need clarification about what description to write with your YouTube Videos? Do you find it a hassle? If yes, then AI tools are a rescue.
It's no mystery that the viewers look at the video description to understand the contents of the video. Some even decide whether the video contains what they want by looking at the description. But writing an attractive description with proper keywords, links, hashtags, and a compelling hook can be challenging. If you are looking for the best free AI YouTube Description Generators, I have carefully handpicked and listed them!
5 Best Free AI YouTube Description Generators
There are many AI YouTube Generators where you must type a prompt and generate the description within seconds. But, the quality of their output differs.
So, the following are the most incredible ones under the category:
ChatGPT
Frase
SocialVideoPlaza
TuneRanker
Simplified YouTube Description Generators
So, without any further ado, let's dig into the details.
1] ChatGPT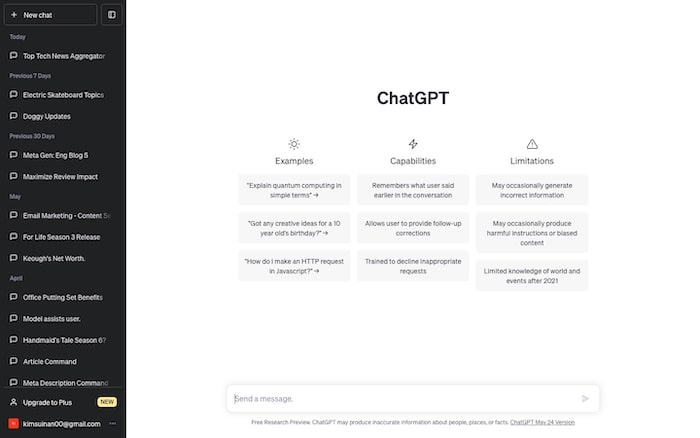 ChatGPT has been in the news for quite some time. It is one of the most popular AI writing tools, and every Content creator is talking about it. You can use it for writing YouTube Video titles, descriptions, alt text, tags, or other content.
Features
Helps to write YT descriptions in multiple languages
Works on natural language prompts
Gives instant results
Let you shape the description in relevance to the tone of your channel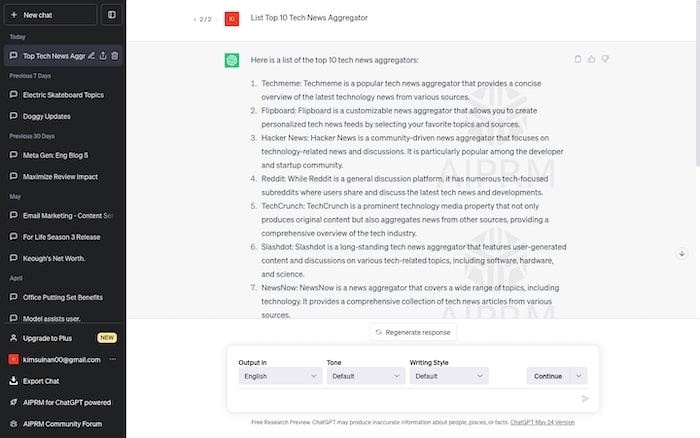 Pros
Have easy conversations to make changes
It lets you set the word count limit for descriptions
Generate personalized content with correct prompts
Cons
Often interprets prompts inaccurately if not described properly
Gives short descriptions, usually
You can check it out here.
2] Frase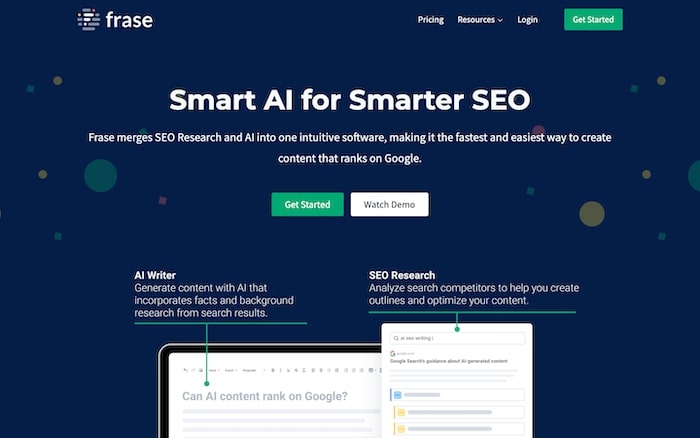 Frase is a perfect AI tool to help you quickly optimize your YouTube descriptions. It uses natural language processing to interpret content from the internet. Also, it enables you to produce descriptions based on your target audience, making it find a place in this list.
Features
Produces naturally readable content
Properly structures the YT video descriptions
Offers decent customer support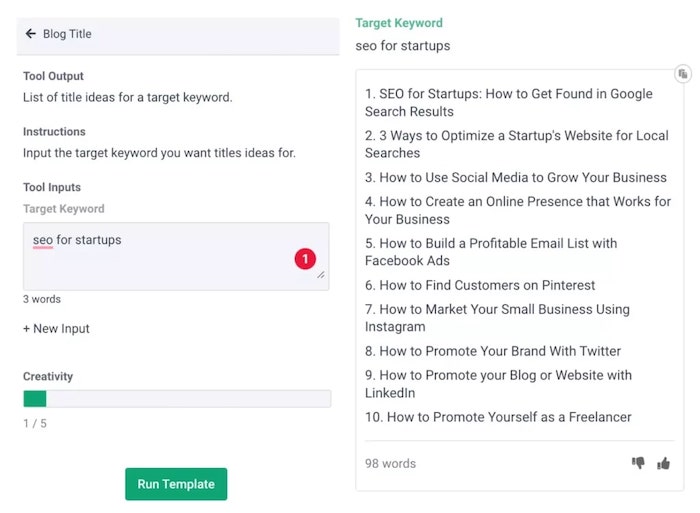 Pros
Easy-to-use
Have tutorial videos on how to use frase properly
Shows the score of how much SEO optimized is Youtube Description
Cons
Content can have a few grammatical errors
Descriptions may lack a human touch
You can check it Here.
3] SocialVideoPlaza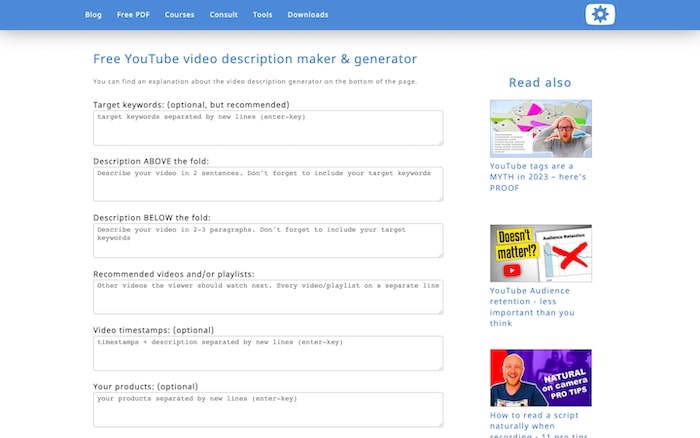 Social Video Plaza is a Youtube Video description maker and generator. You need to add a 2 line description of your video, timestamp, and target keywords, and it does the rest.
In addition, it gives you the option to add recommended videos, timestamps, social media links, about yourself, or a video script in the prompt. Thus, it yields a more personalized description.
Features
Multiple sections with a list of details that you can include in descriptions
Generates results without any time lag
It lets you generate customized descriptions depending on the video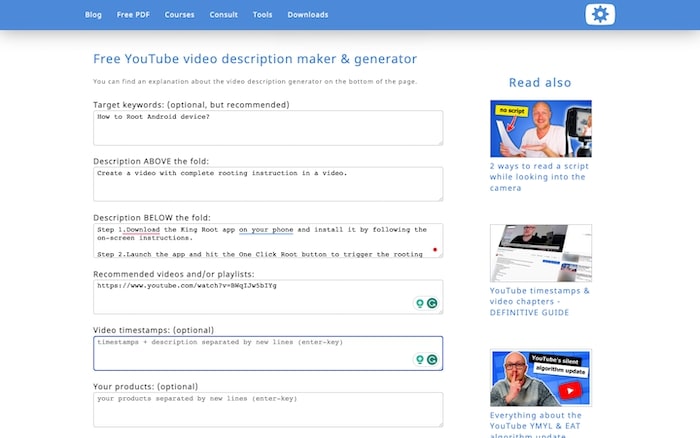 Pros
Easy-to-use interface
Adjust the description tone as per 2 lines shared
Is never high on capacity
Cons
It does not have extra features like other tools
No option to save the video description
You can check it Here.
4 ] TubeRanker
TubeRanker has one of the best ways to help you generate video descriptions. It has a plug-and-play template with multiple sections where you can add different details and your personalized description. Also, it enables you to generate SEO-focused descriptions to comply with your YouTube strategy.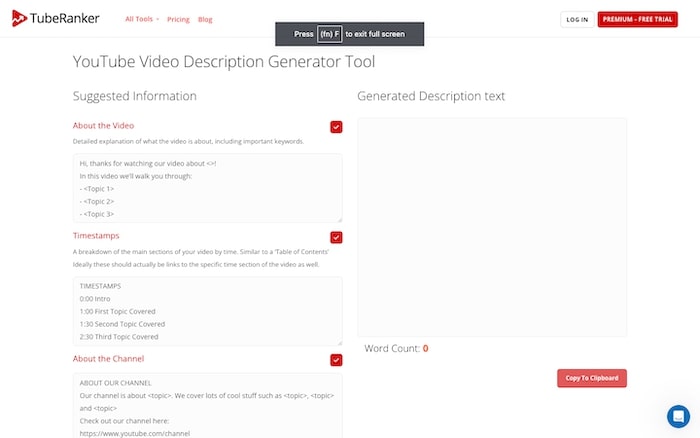 Features
Its template has multiple options to add a variety of details
It has several templates to choose from.
Easy template customization options.
Can generate hashtags and keywords for YouTube
Pros
It helps you target three keywords in a description
Easy SEO optimization
Cons
Sometimes doesn't uses aI but crawls the web for descriptions
Creates only basic descriptions
You can check it here.
5] Simplified YouTube Description Generators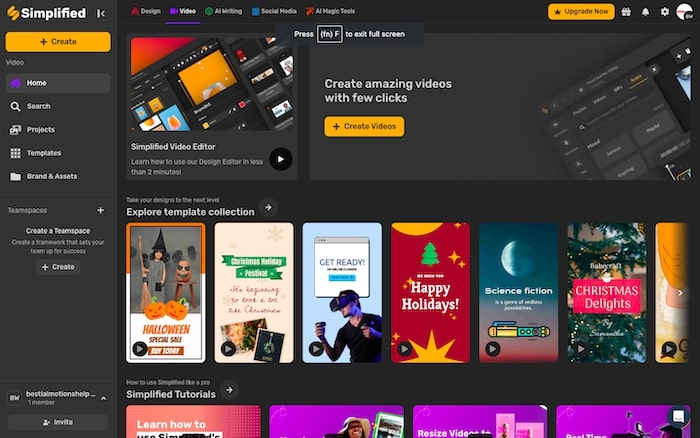 A simplified Youtube description generator is a tool that helps you generate description which drives more conversions. It has no limits to how many times you use it for free. Its advanced tools are why people (including me) love it!  Also, it has a rating of 4.5 stars with over 2 million users across all platforms.
Features
Choose from 70+ Ai templates and 30+ templates
Requires simple prompts for instantly generating outcomes
Produces plagiarism-free description
Gives the option to  collaborate with teams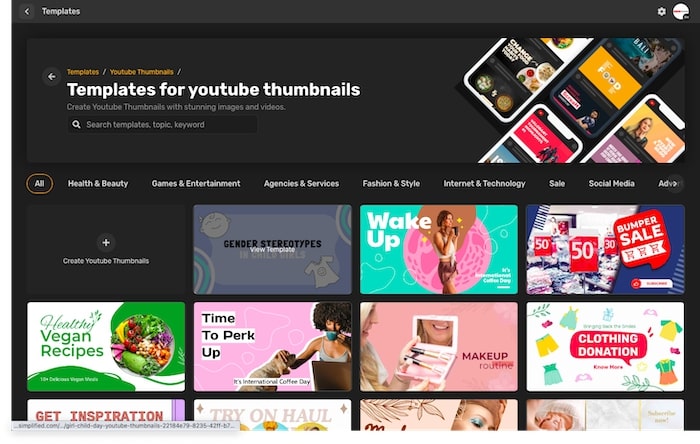 Pros
Easy to use
Customizes the tone as per your prerequisites
Helps to create YT thumbnails, edit videos, and schedule content
Generates error-free descriptions with Grammarly integration
Cons
You can check it out here.
Conclusion
Save your time writing Youtube descriptions and generate instant ones with relevant keywords using the free AI Youtube description generators mentioned above. It can help you craft creative and SEO-optimized descriptions with essential details like hashtags, timestamps, and external links.
If you are looking for a beginner-friendly ai YT video description generator, then you can use ChatGPT or Social Video Plaza. On the other hand, if you want an All-in-one tool for generating youtube content, then you can use a Simplified Youtube description generator. These tools reduce your work, help you focus, and give you more time to record and edit your videos.
Can I Copy the Description on YouTube?
You need to open the YouTube video for the description you want to copy. Select the text you wish to copy with the mouse pointer. The description can be copied by pressing CTRL + C. To paste the description, press CTRL + V.
How Long Is an Ideal YouTube Description?
Keeping the most critical information within the first 1-2 lines or approximately 100-200 characters is generally recommended. However, it's essential to remember that viewers may not read the entire description, so it's best to prioritize the critical information initially.
Please include a brief description of your video, relevant keywords for SEO, links to related content or resources, timestamps for each section, social media handles, and any necessary disclaimers or disclosures in your YouTube description to maximize its search engine optimization.