Gestures are becoming more common in upcoming Android phones and manufacturers are trying their best to attract users towards it. That said sometimes these features are only limited phones and who knows it might also come with future version of Android but the phones which cannot get these features at all, there are apps to get this done.
Magic Unlock :
This application runs in the foreground and can get your phone unlocked if it's locked when you wave. This will work when your phone is not sleeping i.e. you still need to press the lock to wake it up. However this will not work if you have anything other than slide set to unlock i.e. PIN, Voice, Face Unlocks.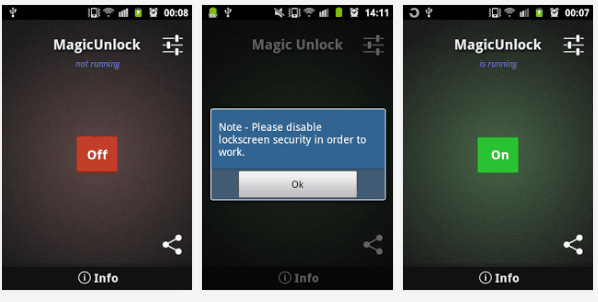 [appbox googleplay com.binarybuilding.magicunlock]
Air Call Accept :
Fancy accepting calls with style? Air Call accept lets you wave to accept calls as you wave over the sensor. IMO this is best used when you want a hands free experience like driving a car and you are already connected over Bluetooth earphones.
If you switch to paid version, you will also be able to reject calls, answer over speaker or send an SMS when you reject a call. I will suggest you to buy the paid version here as it gives more control when it comes to hands free driving.
However, you will have to configure these options before you start your drive. You can either choose to reject all calls or answer all calls and then send sms. There is no multiple gesture support here.
Free Version Download:
[appbox googleplay com.necta.aircall_accept.free]
Paid Version Download:
[appbox googleplay com.necta.aircall_accept]
Wave Control:
The above two apps are limited to particular actions. If you are looking for more here is multi-feature app with more control.
Change Music which includes Next (1 wave),  Preview (2 waves) and disable by waving thrice.
Call Controls: Silence Ringer with one wave or two to Answer.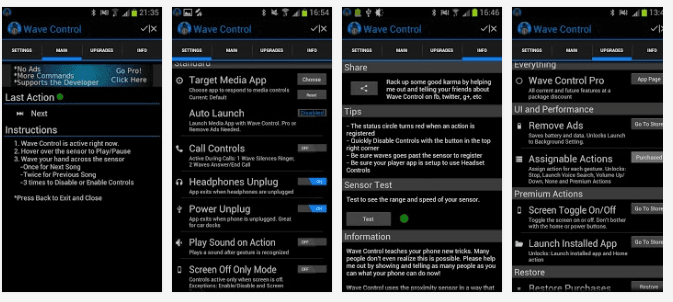 Apart from there, the app can be configured to
Give feedback for actions and turn itself off at certain conditions.
You can set to vibrate when an action is recognized or play a music. It can also be configured to disable when headphones are plugged in or when you put it on charge.
Set it to work when Screen is Off — This is good because this makes sure you don't accidentally launch it when you are casually using it.
Screen on Only mode disables all controls — When you are watching a movie.
Phone Flat Only Mode — Makes sure you aren't holding it and trigger false actions.
Wake Lock which is required on some phones for app to work when screen is off.
Run in background.
[appbox googleplay com.MarksThinkTank.WaveControl]
You may also choose to buy the pro version of the app which allows to configure some actions, launch installed apps, launch multitasker and remove ads. The pro version also makes sure that you will be able to restore settings when you reset your phone.
[appbox googleplay com.MarksThinkTank.WaveControlPro]
Wave Multitask
Developer who made the above app built this one too and it's just for cycling apps which are either your favorite or apps which are currently launching. This way you get rid of hitting the multi-task button every time. So using this you will be  able to bring up a list of apps
or  cycle through the apps.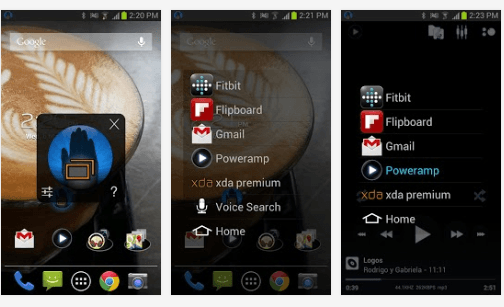 There is also a 24hr Full version mode for you to understand how everything works. If you are happy, go buy the full version.
[appbox googleplay com.MarksThinkTank.WaveMultiTaskerTrial]
How do these App work?
These apps make use of the same proximity sensor, which makes sure to turn off your display when you are over a call and hold it close to your ears. This sensor when senses darkness for a second and aware that it's a call, turns off. Other than that it never does that because its possible you accidentally have your finger on it.
When you download the application or the APK from the app store, make sure to try them out once and configure them properly. One simple warning will be not to run all of them together because then, you will see each of them taking action one after the other.