Windows users frequently experience the effects of corrupt system files. Serious performance problems or system failure might result from corrupt operating system files. Data and folders can become corrupt for various causes, including virus attacks, incorrect file relocation, damaged hard drive sectors, and never-ending computer crashes. Most of the time, it is impossible to fix the corrupted files manually. This post will share how you can repair Windows and fix corrupt files.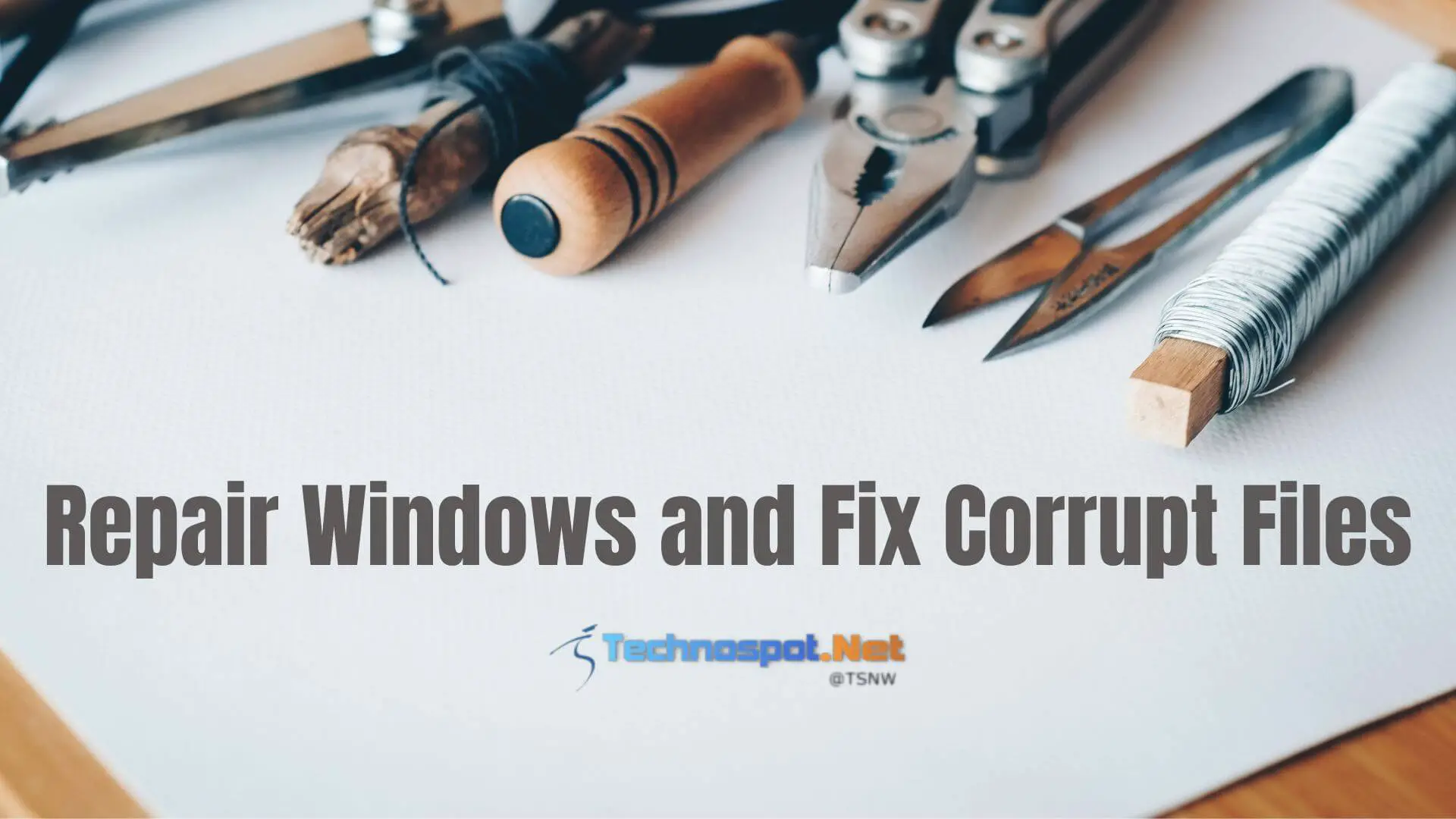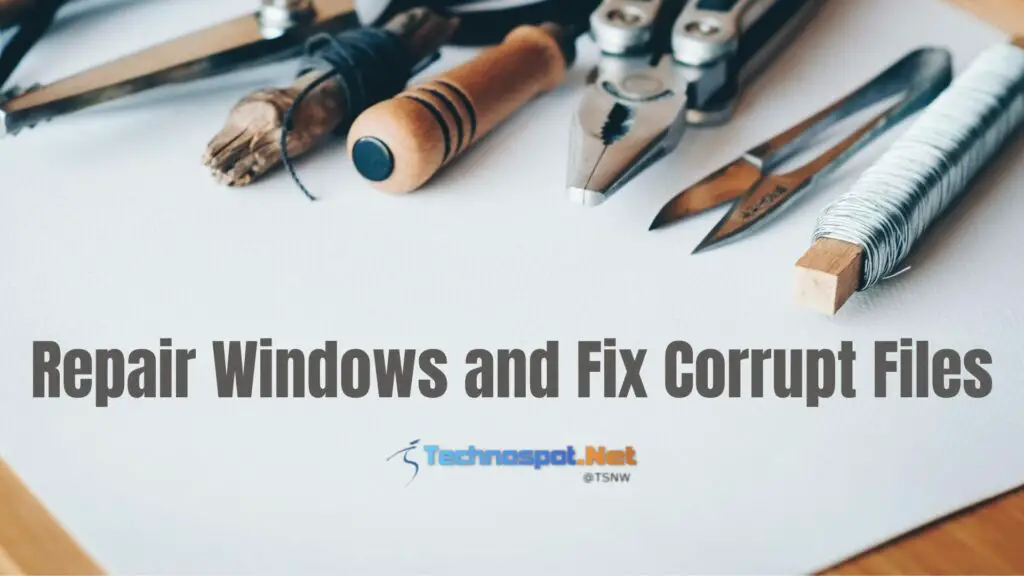 Best Methods to Repair Windows and Fix Corrupt Files
Depending on the version of Windows you're using, there are several ways to repair Windows and fix corrupt files.
 Automatic Repair or Startup Repair
 System Restore
 SFC (System File Checker)
 DISM (Deployment Image Servicing and Management)
You will need to clearly understand the technical aspects of the suggestions and an administrator to execute these.
1] Automatic Repair or Startup Repair
Startup Repair is a tool in Windows that can help fix specific boot-related issues on a computer. The list includes missing or damaged system files, startup configuration issues, and other problems that don't allow you to start the PC.
To access Automatic Repair, press the Windows key + I to open Windows Settings.
Click on the System option from the left pane. Next, click Recovery > Advanced startup and the Restart button.
On the WinRE screen, select Troubleshoot > Advanced Options.
Under Advanced options, select Automatic/Startup Repair.
Note: The Advanced Recovery will need your account and password before repairing. Make sure you have access to the admin account.
Pros of Automatic Repair:
Automatically fixes common problems on Windows.
It swiftly identifies and fixes difficult startup issues.
Con of Automatic Repair:
When Windows tries to boot yet fails, it forcibly launches the automatic repair tool and attempts to fix itself. However, at times, it never comes out of the loop. This issue is known as an automatic repair loop.
2] System Restore
System Restore is a feature of Microsoft's Windows operating system that keeps track of crucial system files that can be restored in an emergency. Despite being a useful tool, it can only fix damaged system files; it cannot fix damaged personal files. To return your operating system to a previous restore point, follow these instructions:
Start by tying Create a restore point into the Windows search bar and click on the result to open the System Properties window.
Click on the System Protection tab and click on the System Restore button.
Click on the Next button, choose the restore point you want to return to, click on the Next button again and then click Finish.
You have to wait; the Windows startup repair will take time to solve your issue. Additionally, if it indicates that it could not resolve your issue, there may have been no issue with the Windows operating system on your PC.
Pros of using System Restore
System Restore allows you to return your computer to a previous state where it was functioning correctly.
You can resolve any problems with your PC, including malfunctions.
Users can manually choose a restore point.
Cons of System Restore:
Any time you run a Windows restore, it affects every installed feature on your PC. The PC will immediately uninstall every Windows program added after the restore point.
The system files are where System Restore has the most significant impact. All modifications you made to the system files, registry settings, or system program until this point would be undone. You will need to start over with all the adjustments.
Any Windows updates you previously uninstalled would be reinstated, and any updates you added after the restore point would be removed.
3] SFC (System File Checker)
System File Checker, or SFC, is a powerful command-line tool that saves us from corrupted system files. To detect and replace corrupt files with cached copy files, issue a simple command via the Windows Terminal.
Follow our complete guide on using the System File Checker to repair Windows and corrupt system files.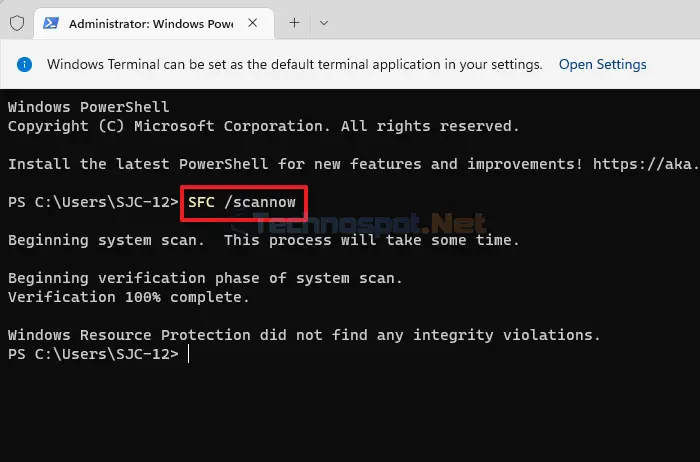 After the scan, if you get a message saying Windows Resource Protection did not find any integrity violations, the SFC program did not discover any corrupted system files. Your Windows OS is, therefore, in great shape.
Pros of using SFC:
SFC improves Windows speed since all the damaged system files are being fixed.
It is the simplest and quickest method for evaluating the stability of your PC, identifying issues, and, when possible, locating replacements for missing or corrupted files.
Cons of using SFC
The only disadvantage of using the System File Checker (SFC) in Windows is that it may take a long time to complete a scan, depending on the size of the system and the number of files that need to be checked.
4] DISM (Deployment Image Servicing and Management)
An SFC scan should often assist you in repairing damaged system files. An SFC scan may occasionally fail to detect the issue, or you may not be able to execute it at all. In this case, use DISM to fix the system image if you run into these situations. DISM can rapidly repair damaged system files.
Follow our detailed guide on how to use DISM to repair Windows, and fix corrupt system files.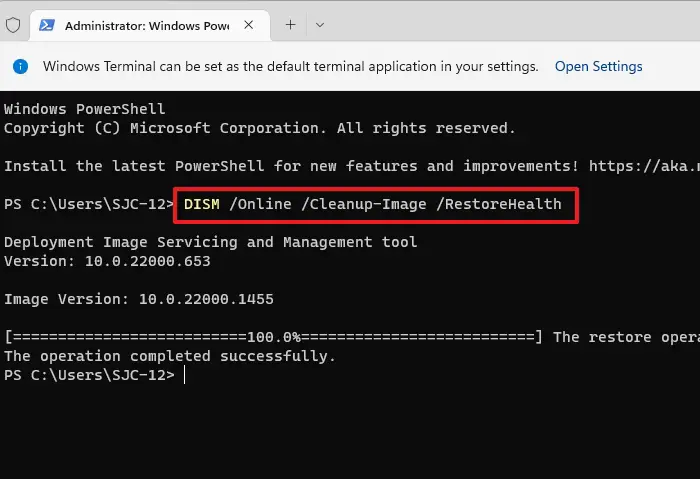 All damaged or corrupt files should be automatically replaced after the DISM program has finished scanning the system image. As a result, it might resolve the current problem, but if not, you can now run the SFC scan to fix corrupt data if you could not before.
Related: What is the difference between DISM and SFC?
Pros of using DISM:
Using the DISM servicing commands, you can install, uninstall, configure, and update Windows features, packages, drivers, and international settings in files such as wim or ffu file or VHD.
The DISM tool checks your PC for errors and corrects them as it installs. Any problems that the tool discovers or resolves are recorded in a log file that is created. None of your apps or data will be impacted. To correct the error, you can run the tool.
Cons of using DISM:
You must download the latest version of the Windows ISO if DISM cannot use the cached or backup version of the Windows System Files.
Takes a long time.
Conclusion
So, as mentioned in this article, you can use the built-in tools in Windows like Automatic Repair, System Restore, SFC (System File Checker), and DISM (Deployment Image Servicing and Management) to get rid of all the corrupted files on your system.
When fixing corrupted system files can be challenging. If the SFC tool cannot fix the files, you must use the DISM program. These techniques will assist in free file repair if problems persist; otherwise, you may need to restart your PC or carry out a clean installation. So, try out all the solutions mentioned in the article, and I hope this article helps.