We often come across the need to sign documents by our hands or get them signed by someone else. However, in this era of digitalization, most document-related tasks have also shifted to being digitally handled. Signing a document by printing it, physically signing it (or getting it signed by someone else), and then scanning the signed document to get the work done is too much hassle. That is why there are specific online tools designed to get documents digitally signed with ease, and in this article, we'll be taking a look at some of the best online tools to get digitally Sign Documents.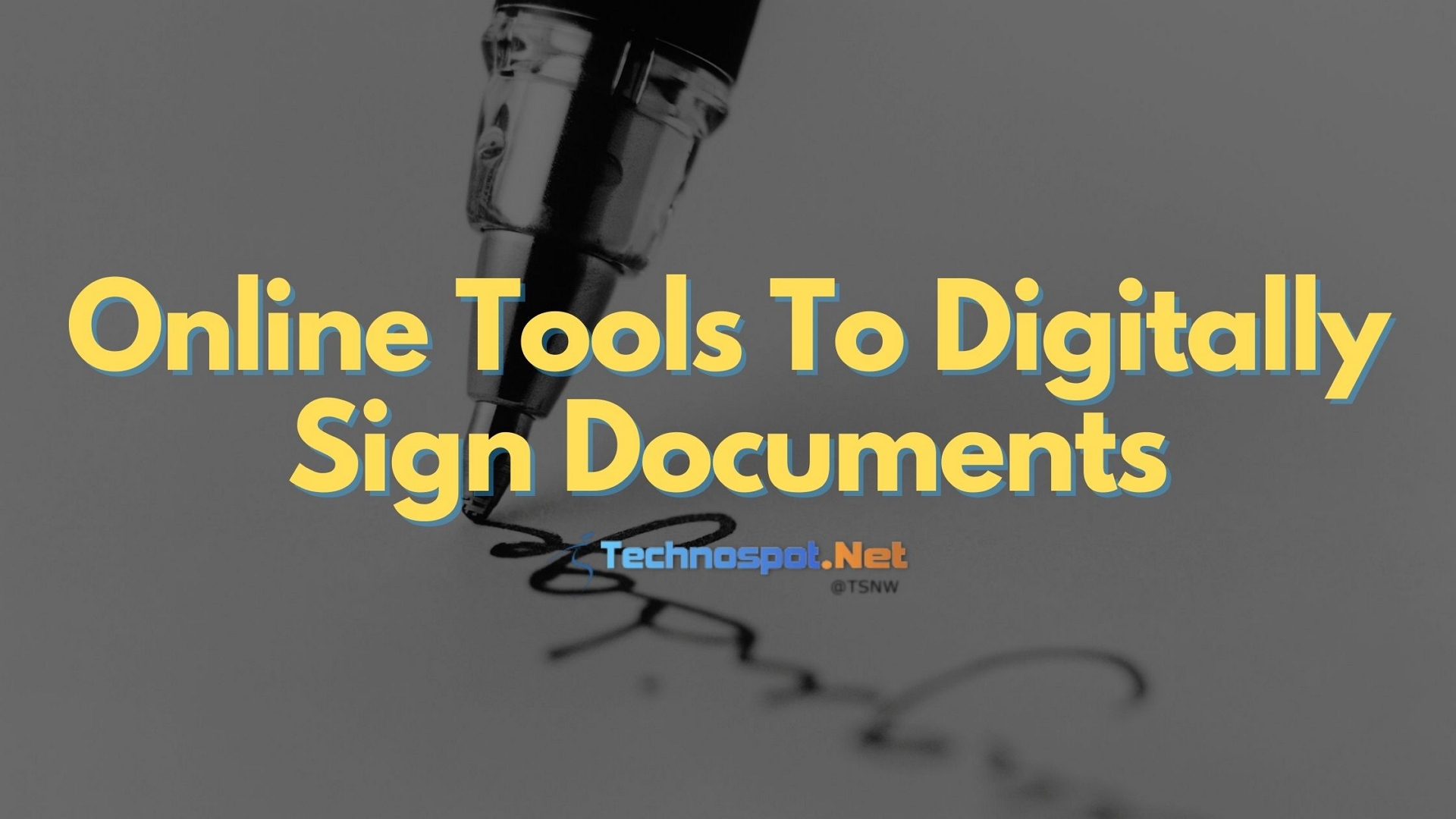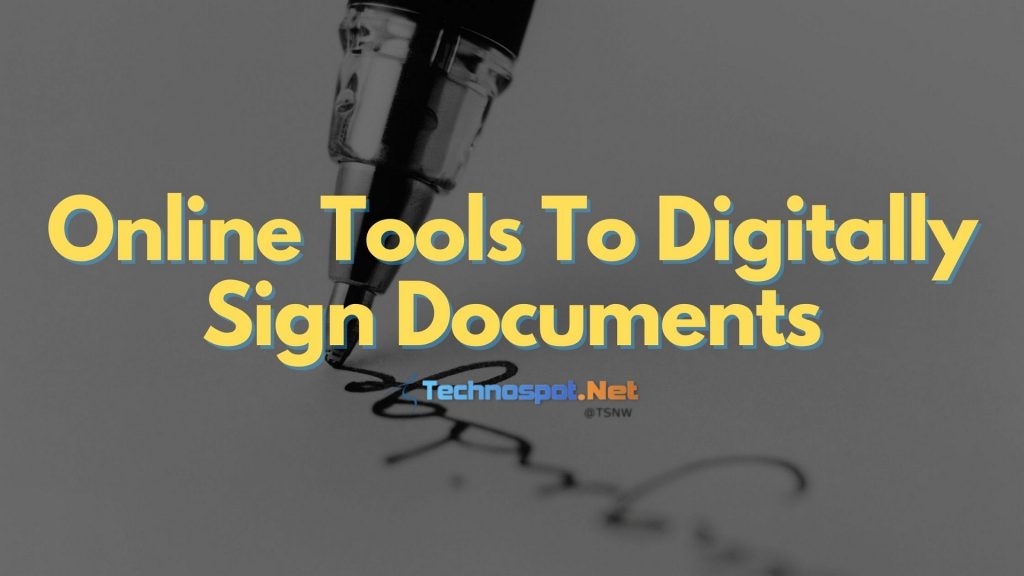 Best Online Tools To Digitally Sign Documents
Below are some of the best online tools to sign documents digitally; these tools are trusted by professionals and are used by thousands of people every day. Make sure to check all of them out:
Adobe Sign
HelloSign
Signaturely
OneSpan Sign
DocuSign
SignWell
Signable
SignEasy
SignNow
Let's know more about these tools.
1. Adobe Sign

We are starting with a tool from one of the most renowned brands in the digital world today, Adobe. With a mobile app for iOS and Android platforms, Adobe Sign has made the task of signing documents digitally reasonably easy. It is an excellent eSignature platform known for offering features that cover electronic and digital signatures.
Its integrations with other big names such as Microsoft, Salesforce, etc., make the overall workflow more functional and the other features of this tool live up to the name of Adobe. The plans for Adobe Sign start at 14.99 USD per month, and it could be the tool that suits your needs and requirements.
2. HelloSign

The second online tool on our list of the best online tools for digitally signing documents is HelloSign, which is widely known for being one of the most time-saving and efficient eSignature platforms. It is incredibly viable, mainly because of the features that make it a complete tool for all needs when considering eSignature and concerning elements.
It is equipped with various signing options for your documents that contribute to its overall functionality. Its compliance with other brands and online services also acts as one of its best-selling perks. HelloSign is free for a single user/3 documents, and its monthly plans start at 15USD per month for a single user.
3. Signaturely

This online tool may be just the right thing you're looking for. Signaturely is an entirely web-based tool that is great for signing digital documents yourself or getting them signed by someone else. Its efficiency and quick speed make it one of the most trusted and reliable tools out there.
Being a web-based platform, navigation in Signaturely is a piece of cake, and it continues to guide a user throughout the whole document signing process, which is like a cherry on the cake top. It has a free plan and a paid plan as well. The paid plan of Signaturely starts at 10 USD per user per month.
4. OneSpan Sign

What makes an online document signing tool viable is its efficiency, and OneSpan Sign sets the bar relatively high when it's efficiency we're talking about. The best part about OneSpan Sign is that it is also available for smartphones (iOS & Android) and desktops. With a powerful API and robust security system, OneSpan Sign ensures that your digital document signing task is carried out smoothly, without any issues. It also allows itself to be used as a cloud-based service, which is brilliant from security aspects. One can contact OneSpan Sign for the details of plans and their prices.
5. DocuSign

DocuSign is a globally popular eSignature platform trusted by many people worldwide for their digital document signing needs. It has a mobile app for both iOS and Android smartphones, and it is pretty simple to use. It has a beginner-friendly user interface and is known to have an efficient security system to protect documents and their integrity. It also allows custom integrations with the users' current systems, which increases its functionality. The plans of DocuSign start at 15 USD per month. DocuSign has been around for quite a while now and is recommended by many satisfied users.
6. SignWell

As the name suggests, this online eSignature tool might be your one-time solution for all your digital document signing requirements. Just like Signature, SignWell is also an entirely web-based digital document signing tool equipped with many features that make it a great tool overall. What makes SignWell different from other tools mentioned in this list so far is that it treats documents differently based on their type. Legal documents and Sales documents are treated in different ways for convenience, and the recipients also get the feature to customize them as per their needs. SignWell online tool comes free for one user/month/three documents, and its paid plans start at 10 USD per user per month.
7. Signable

Signable is also slightly different from the other digital document signing tools mentioned in this list. What makes Signable unique is the payment manner it works with. When using Signable, you will follow a unique manner of payment where you'll have to pay for every envelope that you use. The plans start at 1.50 USD per envelope. Using this way of payment ensures the safety and validates that the users' documents follow set laws and regulations. As far as the features are concerned, Signable offers you outstanding functionality and adds security, making it an ideal digital document signing tool.
8. SignEasy

SignEasy is one of the most easy-to-use eSignature tools out there. With a minimal complete user interface, SignEasy makes sure that you're done with your digital document signing task as soon as possible while ensuring the process is done efficiently and securely. You get the option of creating documents from within the platform itself, and you can also add them to SignEasy using other means. SignEasy allows you to sign the documents digitally in several ways. The plans for SignEasy start at 8 USD per month, which is cheaper than most of its rival eSignature tools.
9. SignNow

SignNow has a mobile application for both iOS and Android devices. The application is mobile-friendly and is reliable for every type of business out there. A simple user interface and robust suites of API make it an ideal tool for digitally signing documents and customizing them as per our needs. However, it is unique because, just like SignEasy, it is also incredibly affordable.
With plans starting at just 8 USD per month, SignNow has quickly gained a massive user base all across the globe, and the simple navigation makes things easier for all of us. SignNow also has a 5 USD per month plan, which allows its users to send infinite documents & templates. However, that is not all there is to it. SignNow also offers more features with its premium plan that starts at 15 USD per month per user. Simple navigation, an efficient signing process, and affordable prices make it one of the best eSignature platforms out there.
Conclusion
In this article, we went over several signature tools that are immensely efficient and secure. Choosing one among all of them can be a tough job, but you can't go wrong with any of them. With that being said, we'll wrap this article up, hoping you can now Digitally Sign Documents quickly.
What Does It Mean to Sign a Document Digitally?
Similar to how physical paper and already signed documents are hard to forge, it is almost impossible to forge a digitally signed document. When a document is digitally signed, a certificate is attached to it, and it is encrypted. The service achieves this by generating a unique hash and strong encryption using the sender's key or private key.
Is It Legal to Digitally Sign Documents?
Unlike early days, Digitally signed documents are not valid globally. The services have the right set of technology and authorization to sign the documents and be treated as legal digitally. They are treated the same way as paper documents.