Tracking an incoming package is always a restless job. This gets even messier when you have loads of coming every week. So what most of us do is get in the carrier website and start tracking. This goes on and ends up in a lot of wasted time which cannot be recycled.
So today, for Windows 8 Users, we are introducing an excellent app, Package Tracker. This app does all the job which you do manually and keeps you updated with any change. Good thing is it can sync your data online, so you never lose any tracking details.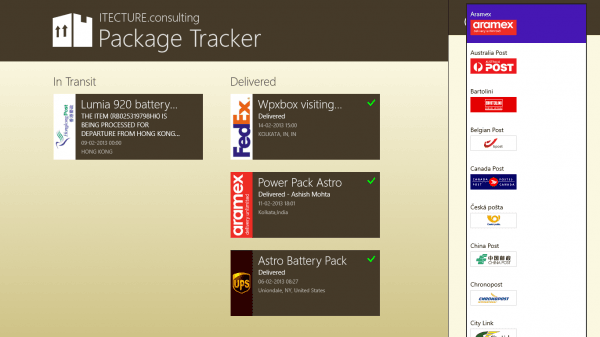 Features:
Supports over 60 international carriers. In case you cannot find yours, email them, and they will add it to their list.
It uses the carriers API to get every detail that gets posted on their website and shows you here. This means as soon as it gets update there you get it here.
Lists down all the parcels into two sections. In Transit and Delivered
It's beautifully designed so by looking at the list you can know the date, location, tracking no etc.
Every listing has the carriers logo on it's left side. This makes it clear for you identify things immediately.
You can pin each of the parcel listing to your Windows Start Screen.
Share the status over email.
You can custom name each of the parcel.
Companion App:
The app has a companion app on Windows Phone which can sync your data instantly if you use the same account on both of them. In case you don't, you can use the same Microsoft Account on Windows Phone which you used on your PC. So yeah it's not tied up with your default account.  Check out the complete review here.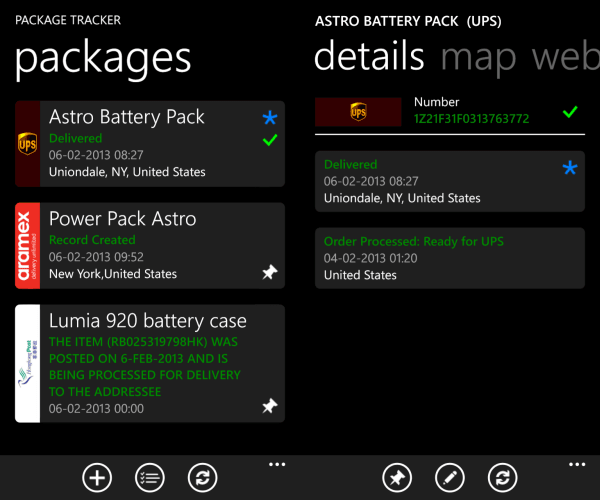 The only thing which is not working, in the Windows 8 app, is the Maps Section. Its expected to get a fix which will then allow you to see the location on the map itself.
Download:
Search this app with name "Package Tracker".