PDF (Portable Document Format) is a widespread file format that can be used across multiple platforms with no issue. PDF files can be huge, but sometimes the size restriction doesn't allow you to upload a PDF file with a size more than a specific limit (500 KB or less). In this guide, we will tell you about some of the Best PDF compressor tools.
What is a PDF Compressor?
PDF compressor is used to compress the PDF files without affecting the output quality optimally. It allows sharing wherever there is a limit easily. It can be sent via email, stored online, or uploaded to a website without wasting space. If PDF files are compressed, no information will be lost; instead, it will reduce the PDF size.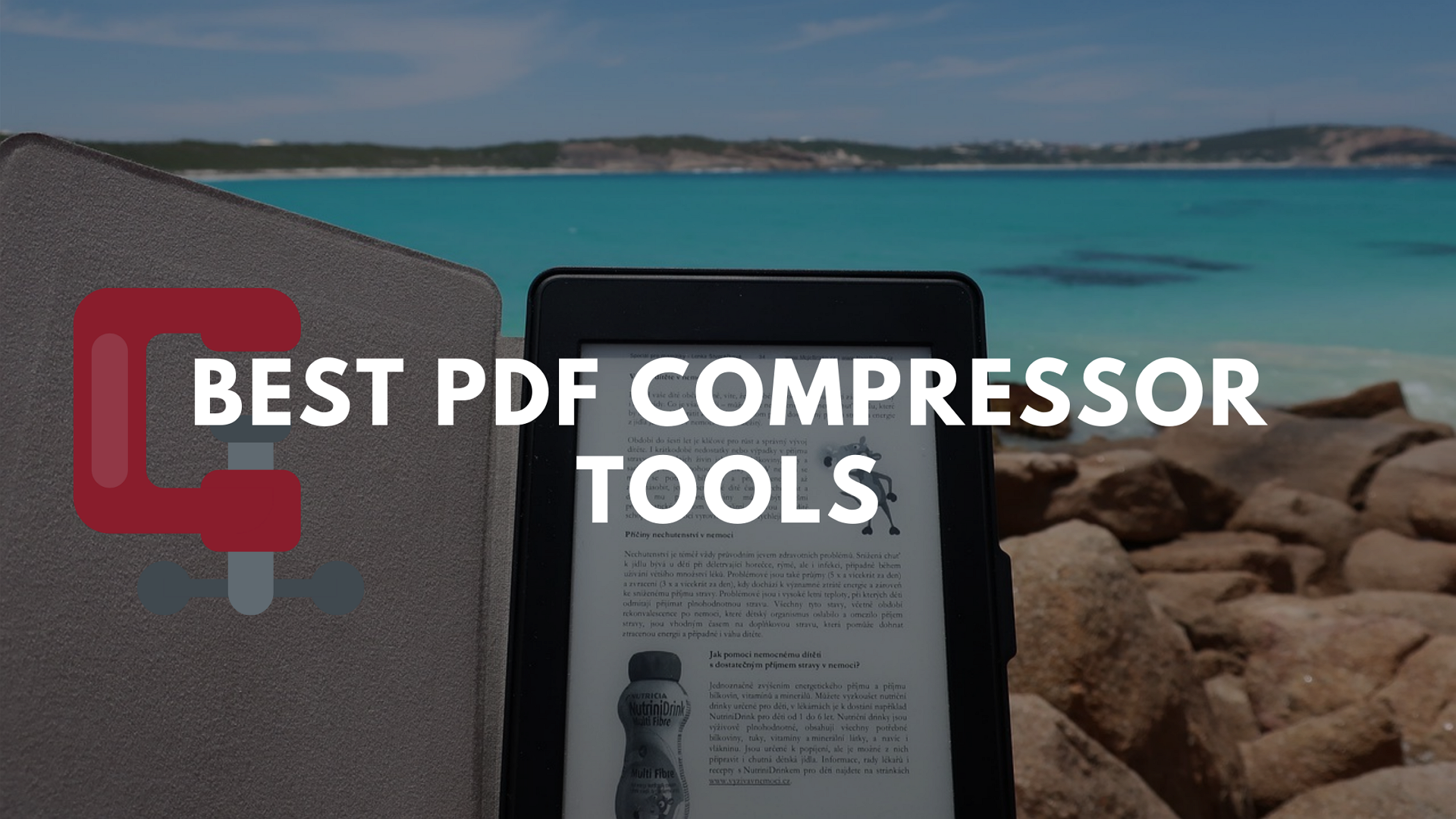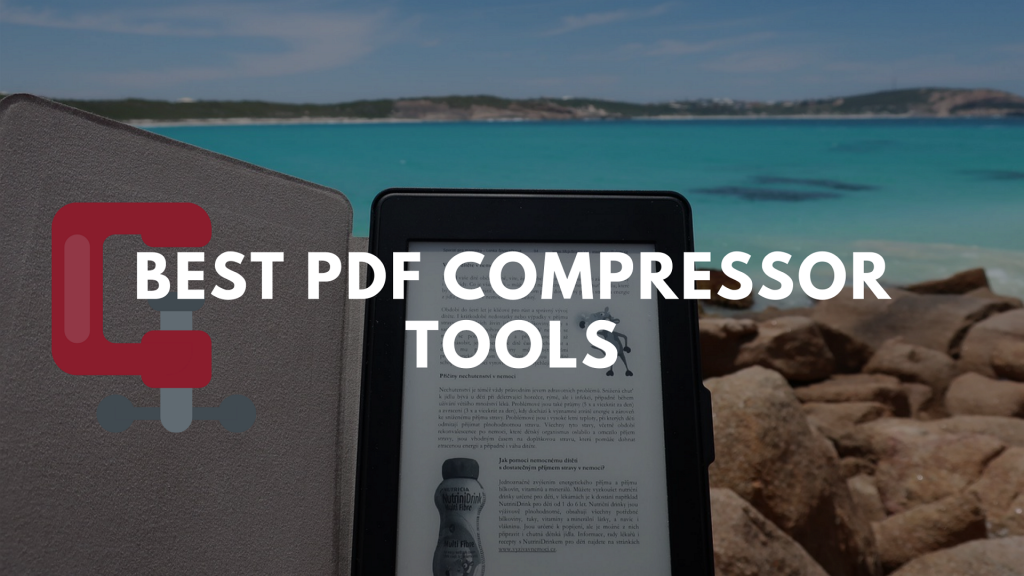 Best PDF Compressor Tools to Reduce PDF File Size
Some of the various tools that will help you to compress your PDF file and make it smaller are given below:
Smallpdf
PDF Compressor
PDFelement
Adobe Acrobat DC
Sejda PDF Compressor
Let's discuss them one by one.
1] Smallpdf
Smallpdf is one of the most popular PDF compressors available. This PDF compression tool is easy to use and is extremely fast in its execution. Unlike most online tools, Smallpdf has limited editing options in its free version. Smallpdf also offers paid subscription with a 14-day free trial that includes its intuitive PDF compression and other functions. The tool does have some great features that are unique to it.
It includes PDF compression, PDF conversion, Split and merge PDF files, Organize PDF files, Browser extension, Digital Signature, and Electronic Signature.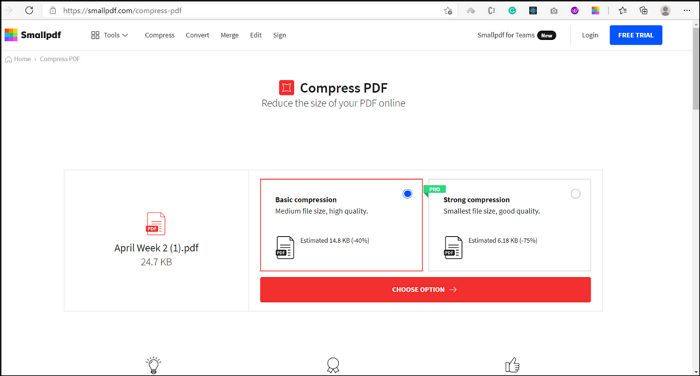 Pros
Lots of conversion options.
Cloud-based.
Drag and drop functionality.
Effective in compressing large PDF files.
Cons
No free version
Speed depends on your network; large files can be slow
Lacks editing features
No mobile application
Steps to compress PDF in Smallpdf
Step 1:  Open the Smallpdf website and click on Explore all PDF Tools. Now from the tools list, select Compress PDF. 
Step 2: Select a file from your desktop or Google Drive to compress. Choose the compression method to determine the final size and quality of your file.
Step 3: Download and save the file to the desired destination.
2] PDF Compressor
PDF Compressor is the most straightforward file compression tool you can get. It is online software so that you can use the platform directly from your web browser. In addition to compressing thousands of PDFs at a time, this program can shrink encrypted and protected PDFs, too.
The compressor offers pdf conversion, batch processing, comprehensive user interface, along with pdf compression.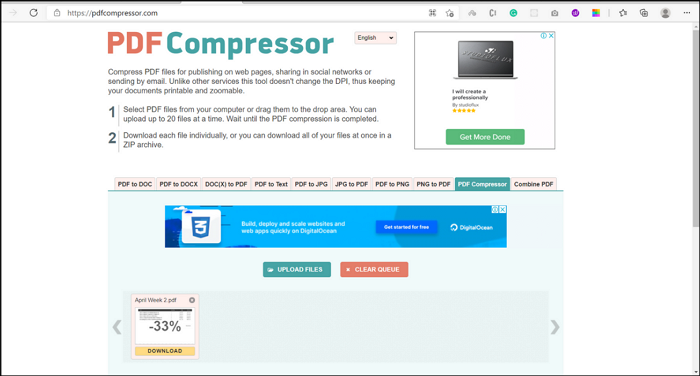 Pros
Available to use free and anonymously
Easy to use
Accessible everywhere via a web browser
Cons
Uploaded PDF is temporarily saved on an external server
Fewer settings
Steps to compress PDF in PDF Compressor
Step 1: Drag and drop a PDF file to the dashboard or upload it from the system.
Step 2:  PDFs will begin compressing automatically.
Step 3: Download compressed files. You can download multiple files together through a zip archive.
3] PDFelement
PDFelement is a powerful and reliable compressor tool. It features a familiar ribbon-style design, making it easy to use. You can use it for collaboration, especially where prompt feedback is essential.
Since its a software, you can zoom, scroll smoothly, and on top of it, it offers an enhanced reading experience. It is a powerful PDF editor, just like any other word processor.
Some of the important featured include PDF conversion to other popular types, digital and handwritten signature, password protection, redactions, data extraction, and OCR support to create editable PDF documents.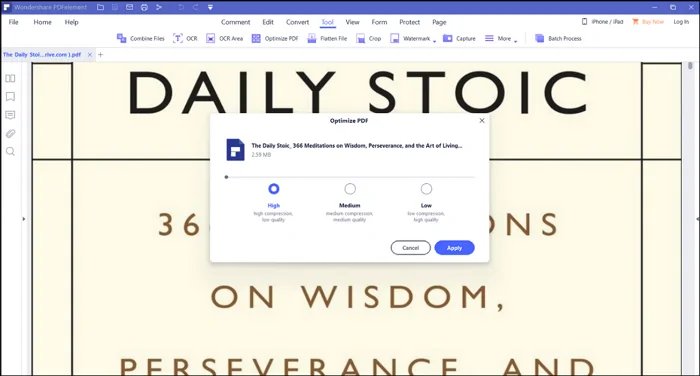 Pros
Simple and intuitive user interface.
One-click tasks.
Full-featured software.
Affordable price.
Regard as top-rated document management systems in TrustRadius.
Member of PDF association.
Cons
It is only available with PDFelement Pro
Steps to compress PDF in PDFelement
Step 1: Click the Open File button to import a PDF into PDFelement
Step 2: Select Low, Medium, or High quality from the Optimize PDF tab under the Tool menu.
Step 3: Click on the Apply button, and you can then save it as a new PDF or replace the original one.
5] Adobe Acrobat DC
Adobe Acrobat is the best software platform for designing, editing, and managing PDF documents, including PDF conversion. The software has a unique design and is easy to use. As for individual features, Adobe can help you customize your toolbars.
Adobe reduces your file size within seconds without breaking a sweat. It is the most expensive PDF compressor tool. Any layperson can compress files using Adobe, even if they have no experience using the software.
Some essential tools include PDF compression, drag, and drop use, file conversion, and easy online sharing.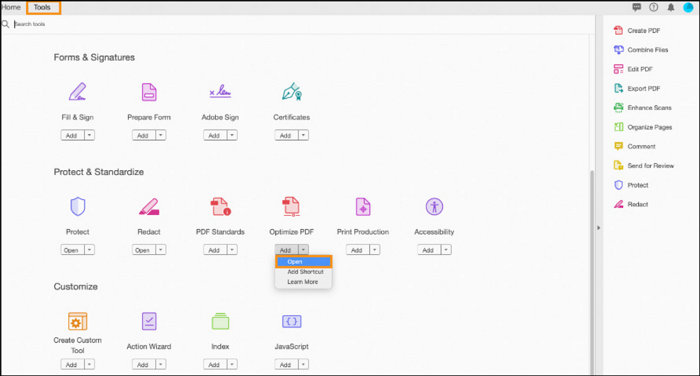 Pros
Complete Forms quickly and easily
Customize Toolbars
Touch-enabled functionality.
Highly versatile software.
Cons
Searching can be challenging.
The original document might have to be modified for graphic changes.
Features can be overwhelming.
High price tag.
Steps to compress PDF in Adobe Acrobat DC
Step 1: Click on the Tools menu and select Optimize PDF from the list. Click the Select a file button above, or drag & drop files into the drop zone.
Step 2: After uploading, select the resize PDF option. Click OK, and your compressed PDF will be ready.
Step 3: Download the file, and you can then compare it with the original file.
6] Sejda PDF Compressor
Sejda is a simple and intuitive PDF compressor. You can use the Sejda to convert directly, edit, merge, compress, split PDF files freely by selecting the tools on its homepage. It is free software with limited tasks; you can only do three tasks per day.
The features list includes text-adding features, marks important points using highlighting. You can also delete the original text of the file.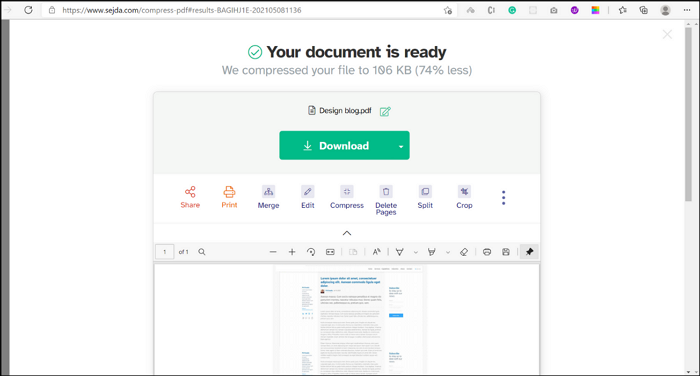 Pros
Easy and safe to use
Supports all platforms.
Supports OCR technology
Integrates with cloud storage services
Practical editing tools
Free for teachers
Cons
Limited on processing three PDF files per hour.
It is limited to PDF files with no more than 200 pages.
All the tutorials are not classified.
Lack of Some Popular Tools: PDF to EPUB, EPUB to PDF, PDF to PNG, PNG to PDF. PDF to TXT, RTF to PDF, etc.
Steps to compress PDF in Sejda PDF Compressor
Step 1: Drag and drop a PDF file to the page or upload it from the system.
Step2: Click the Compress button > Download your PDF.
Step 3: You can also select the advanced setting option by clicking the More options button.
Here are some tools that may help you compress the file easily in an effective manner. I hope this post will help you in knowing about Best PDF Compressor Tools.
Are PDF compressors safe?
Despite widespread belief, online tools for compressing PDF files may be unsafe to use, and their content could be compromised. Nevertheless, many PDF Compressor online tools are available over the web to encrypt your PDF files most securely. As such, the best online PDF Compressor will not compromise the confidentiality of your content.
How do I open a PDF file in Windows?
You can open any PDF file either using Software or using your Browser:
Using Software:
Install and open Adobe Reader or another PDF program on your computer.
You can then select Open from the file menu near the window's top-left and browse to the PDF file's location.
Choose the file you wish to open by clicking on the file name and clicking the Open button.
Using Browser:
Open Windows Explorer and locate the PDF file.
Double click on the PDF file, and then when asked for which program you want to use the open it, select your preferred Browser.
How do I convert a PDF to Text?
You can convert your PDF files to text reasonably easily by following the methods below:
Open your Browser and visit PDF2go
Either drag or drop your pdf file to the website or click on Choose File and select your desired file.
Once selected, click on Start.
That's it. It will convert PDF to test.