Website safety and security is constantly writhing through all sorts of challenges. It appears that adware, malware, viruses, and Trojans are evolving at breakneck speed. Yet, antivirus software is struggling to keep up. We all know that a chain is only as strong as its weakest link. Websites are no different, particularly those with e-commerce operations.
Back in the 1990s, when websites were the new normal, scant attention was paid to the safety and security features of these sites. Owners of SMEs simply did not believe that bad actor would go to all the trouble of trying to infiltrate code and hack websites for their own gain. Unfortunately, the e-commerce world rapidly wised up to the reality of website hacking and its devastating impact on global commercial activity.

A year ago, in October 2019, CNBC small business writer Scott Steinberg inked an op-ed titled, 'Cyberattacks Now Cost Companies $200,000 on Average, Putting Many Out of Business'. According to Accenture, just 14% of businesses are prepared to 'defend themselves' against cyberattacks, despite the fact that 43% of these attacks target SMEs. Of the SMEs that are infiltrated by attackers, 50% + are breached within their first year of operation. Stunningly, a recent report by SMB Cyberthreat Study found that a total of 66% of top-level managers at SMEs believe that their companies are unlikely targets for hackers.
Leading statistics portal, Statista published a report by IC3 detailing the prevalence of cybercrime back in 2018. At the time, a total of $2.7 billion in damages was caused by online hackers, with California bearing the brunt of the cyberattacks at $450.5 million. For 2019, the total damage caused by hackers amounted to $3.5 billion. Negligent employees have been blamed for a large chunk of security threats to endpoint security in US companies, and just 48% of US SMEs have first responder teams in place to guard against cyberattacks (2016 stats).
Workable Solutions for Protecting E-Commerce Websites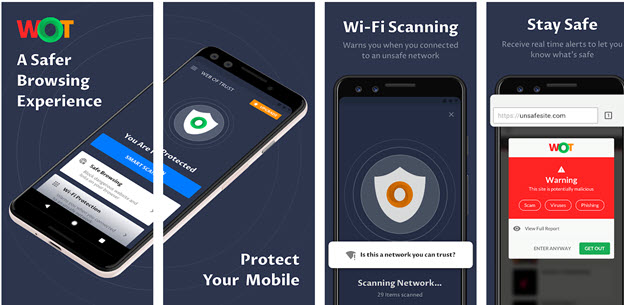 Source: WOT Mobile Security Check & Website Protection
Back in 2019, an estimated 480+ high-tech security threats were identified every 60 seconds (McAfee). This terrifying prospect is exacerbated by another worrying reality: human error is largely responsible for the shortcomings in the safety and security of SMEs. The majority of employees do not undergo extensive cybersecurity training and awareness.
The threats to websites cover a broad range of topics such as cross-site scripting, which redirects traffic to another site, zero-day hacks, brute force attacks, malware infections, SQL injections, and DDoS attacks by universally-feared Trojan viruses.
Among the many workable solutions in place for protecting e-commerce websites against threats are the following:
Installation of powerful antivirus software. It is equally important to update the anti-virus software regularly.
Applications for safer browsing experiences, including mobile protection, Wi-Fi scanning, and blocking of potentially harmful sites. One such system WOT is expressly designed for enhanced web safety. Typical features include filtering harmful content, Wi-Fi scanning for network hijacking and encryption, malware protection and phishing protection, app scanning and app locking, et al.
Strict controls in place regarding the number of IoT devices that can be connected to the company's network.
Safeguards to restrict employee access to higher-level files, systems, and gateways on the network.
Implementation of artificial intelligence software to fully analyze user accounts, applications, networks, and forums for assessing abnormal behavior online and identifying it where necessary.
The performance of a security audit by IT staff using a wide range of software resources.
Why Is Website Security is So Important to Modern-Day Businesses?
Website safety is one of the most important aspects of online operations. Secure URLs are absolutely essential; that's why HTTPS protocol is preferred over HTTP. Additionally, SSL protocols (Secure Sockets Layer) is necessary for encrypting information between the user and the business server/website server. This prevents their parties from intercepting personal, sensitive information.
Of course, secure web hosts and randomly generated alpha-numeric passwords are vital to creating an ironclad security presence. For added protection, all SMEs with an online presence should make it a point to regularly back up their servers. Of course, sensitive, critical information can be stored off-line, off-site to guard against adware, malware, hacks, and system failures.
Data breaches may seem rare for SMEs, but they are incredibly common. The top 10 biggest data breaches of our time include the following:
Adobe (153M user records in 2013)
Adult Friend Finder (412.2M accounts in 2016)
Canva (137M user accounts in 2019)
Dubsmash (162M user accounts in 2018)
eBay (145M user accounts in 2014)
Equifax (147.9M user accounts in 2017)
Heartland Payment Systems (134M credit cards in 2008)
LinkedIn (165M accounts in 2012 & 2016)
Marriott International (500M user accounts in 2014-2018)
My Fitness Pal (150 million user accounts in 2018)
Website safety and security is not a static, once-off activity. It is part of an ongoing process of safety and security protocols that together form an impregnable fortress of protection for your business. The objective is to build trust between the website and the public, such that the integrity of personal information is protected at all times.
This is particularly true with e-commerce websites where the money is changing hands, and all manner of sensitive information is stored in databases. Web application firewalls (WAF), strict controls on who has access to a network, and the level of accessibility available to them, as well as knowledge of Web server configuration files for enhanced website security. Viewed in perspective, these measures will protect websites against malicious online attacks.