It's always better to have a dedicated driver software updating tool for your Windows PC. This tool ensures that your PC hardware uses the advanced and attest version driver, which helps run your computer smoothly. A reliable third-party update driver tool saves a lot of time on searching and downloading hardware drivers manually.
Now the question is, what is the best third-party tool for the windows driver updates, and does Windows methods work appropriately for the latest driver update? Everything you will get to know on this post, so read the full post! Here you will also get the top seven recommendations of third-party tools known as the best third-party software to update drives on Windows. So let's go into more details.
Windows Method of Updating Driver does not work.
Some users are still trying to use Windows methods of updating drivers. If you want a stable system, never go with the Windows methods like Download and Install button under the new Optional updates section for Windows. You may unconsciously download drivers that you don't need.
In an aggregate update, Microsoft presented a new feature known as Optional updates, and it shows up only when your system drivers updates are available.
According to Microsoft, users can straightforwardly and quickly download and install drivers and review updates monthly if required with an optional updates page.
As Microsoft retired the automatic driver updates support in Device Manager, all your system drivers now can easily be found and installed via this Optional update screen. The Device Manager method is not working anymore.
This page also provides unwanted drivers, and if you don't pay attention, then there is a good chance that you may download a driver that you don't need!
Why do you need to update Drivers on Windows?
Sometimes you may find your system has been running slower than usual. It may be because of outdated device drivers. Usually, when system drivers are obsolete, the system can start becoming slow and cause obvious performance issues that can be a severe annoyance.
No doubt, system drivers are the essential software that helps a lot to run your system smoothly. When these drivers are updated, your computer will run smoothly, but if outdated, then you may mark performance issues. In such cases, updating drivers can efficiently resolve this issue.  So it's always better to keep your Windows system drivers updated.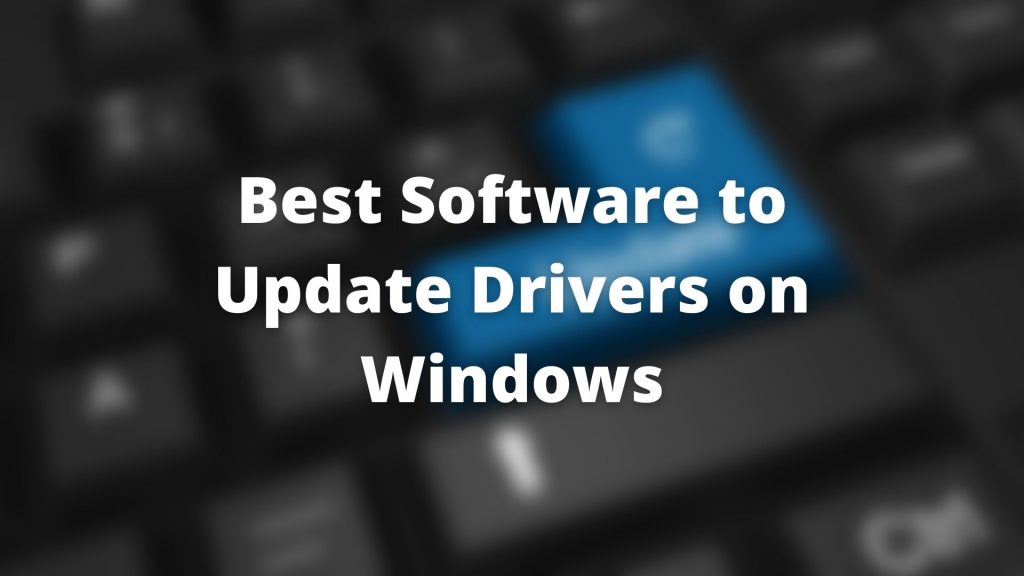 Best third party Software to Update drivers on Windows 
Check out these applications that can help you update drivers.
AVG Driver Updater
Driverfix
Driver Reviver
Driver Easy
Driver Booster
Driver Finder
Driver Genius
Make sure to evaluate each of them, and then choose what works best for you.
1] AVG Driver Updater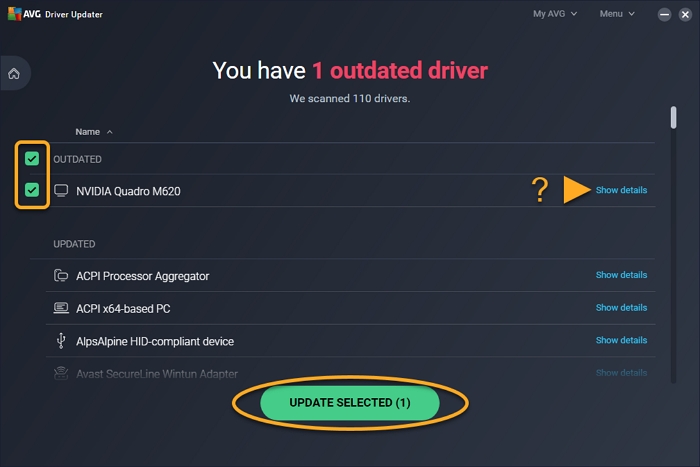 AVG is a well-recognized antivirus suite for PC. It offers a driver management tool, AVG Driver Updater. This tool scans the whole system and identifies drivers which are outdated and replaced with the latest versions.
This software checks more than hundreds of hardware makers to get the latest version of the official drivers. AVG driver updater has a good reputation for making trustworthy code.
The user interface of the updater is simple and easy to use. It updates driver engine scans and updates drivers automatically in real-time in the background. The troubleshooting helper of this tool helps users diagnose and resolve driver issues and allows you to return to the old version of the driver.      
Pros 
Improved Performance, less crashing
Fully automatic
Provides free scans
Backs up existing drivers
Cons
A bit expensive
No additional features and options
Not available for macOS or mobile platforms
Download: AVG Driver Updater
2] Driverfix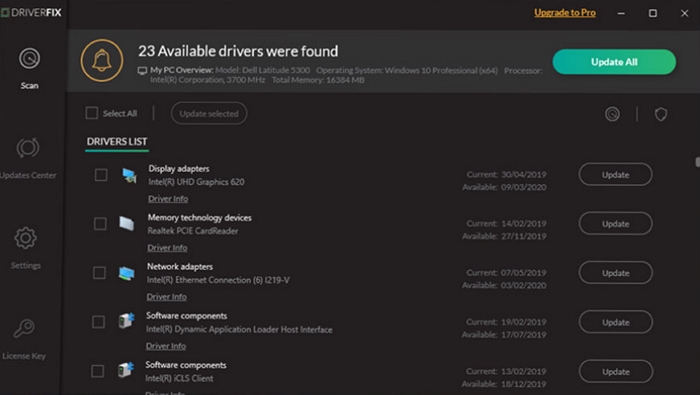 Driverfix software is specially designed to find out and update all the outdated drivers on a computer. This tool quickly and efficiently scans the PC, maintaining a database of over 18 million drivers.
If any driver issue is found, you can see how the download is progressing. The good thing about this tool is before updating any drivers. This tool will execute a backup as a standard Zip archive which the user can access later. You will get a scheduler on Driverfix which means you can perform the backups anytime at your convenience.
When it comes to the interface, no doubt it has a trendy dark mode interface that looks cool, and all the available features are apparent and easy to use. This tool only focuses on driver update. It's highly recommended for all users who want a proper driver update tool for their system.
Pros 
Detects and download the latest drivers
Replaces missing device drivers
Straightforward user Interface
Almost completely automated
Repairs damaged drivers
Cons 
May need to be allowed by specific antivirus tools to work
Not supporting macOS
Old Drivers need manual removal
Download: DriverFix Home
3] Driver Reviver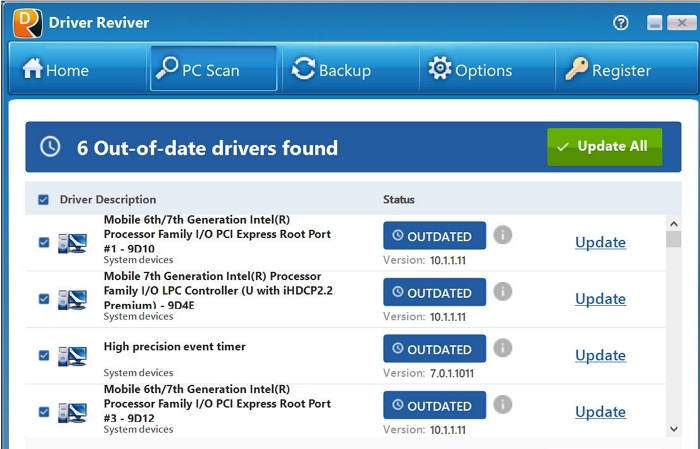 If you are looking for genuine software to update drivers on Windows, then Driver Reviver is always a better option for you. Driver Reviver is a reliable driver maintenance tool introduced by ReviverSoft. This tool is specially designed to keep all the system drivers updated on Windows. This tool will create a restore point before installing the drivers.
The auto-scan option of this tool automatically works when Windows start and allows drivers to be updated before users have started working on the system.
According to ReviverSoft, its driver database contains more than 10 million files and includes all versions of many drivers. Overall this is a user-friendly tool having an easy and smooth interface. The database of this tool is very comprehensive and supports several languages.
Pros 
Instinctive user interface
Hassle-free driver updates
A vast database of driver files
It creates restore points before installing drivers.
Cons 
No scan scheduler
Email support is unresponsive
Download: ReviverSoft Home
4] Driver Easy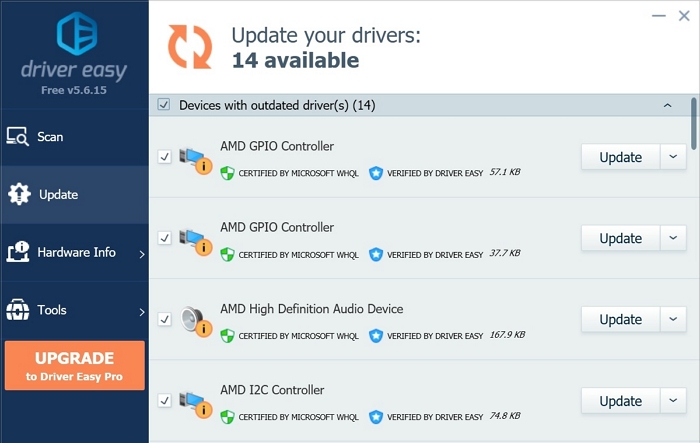 Driver Easy is another top-rated and highly recommended tool when it comes to updating drivers on Windows. It is a tool that resolves all the driver-related issues, making the whole process straightforward. Currently, this tool has millions of users, and it's only because of its advanced auto scanning driver software system and one-click update feature.    
This tool has a vast database, and you can scan the system driver updates with one click. This tool provides a free as well as paid version. The free version offers scan and manual updates of the latest drivers, but everything is automatic and straightforward if you are a paid pro version user.
As already mentioned, this tool has an impressive driver collection, and the interface of this software is simple and easy to use. This tool also offers a 30 days 100% money-back guarantee on its paid version.
Pros:
Larger driver database
User-friendly interface
Schedule your driver updates
Automated driver scans and updates
Easy on system resources
Fixes conflicting and incompatible drivers
Cons:
It only works on Windows OS
Auto updated driver installation available only on Pro version
Below average download speed in the Free version
Download: DriverEasy Home
5] Driver Booster
Driver Booster is a product of IObit and is undoubtedly one of the best tools that provide drivers update service on Windows. It is a reliable driver maintenance tool that supports all Windows versions.
This tool comes with a free as well as paid Pro version. The free version comes with a driver updates feature, but two times a day. On the other hand, the pro-paid version has no such limit. This tool always initiates a backup before installing new drivers. Driver Booster comes with silent mode, which never creates any interruption when applications are in full-screen mode.
The user-friendly interface always offers a great user experience, and simple clicks download and update drivers make this tool outstanding.
 Pros:
Automatic tool
It can fix and repair broken and outdated device drives in a single click
Compatible with all Windows version
Cons: 
Not compatible with Mac, Android, and Linux 
It doesn't provide details of all missing drivers
Download: IOBit Home Page
6] Driver Finder
If you are looking for a primary driver update tool for windows, it is the best option for you. This tool scans your device drivers and detects all missing and outdated drivers.
As this is a simple tool, you will get a user-friendly interface that comes with basic features. Though this tool has a few weaknesses, there is no install option, which means you have to update each time the agency finds any driver update.
There is no scheduler to run scans automatically, but the best part is it runs automatically when Windows launches. Overall the user experience of this tool is excellent, and no doubt this is a value for money tool if you are looking for simple software to update drivers on Windows.
Pros 
Huge database
Simple and user-friendly interface
It comes with backup and restores driver features
One-click scan
Cons 
No, install all option
No scheduler to run scans automatically
Download: Driver Finder Pro
7] Driver Genius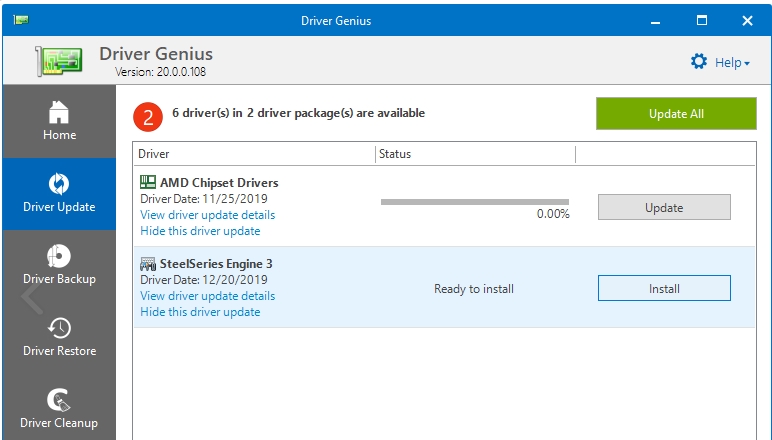 Driver genius Platinum is an effective and top-rated driver maintenance tool by Avanquest Software. The tool offers very low user intervention and manages driver updates amazingly. It provides practical solutions once you install it. This application scans the drivers and installs the latest version of the driver from its vast database.
The best part of this tool is that the user can easily schedule and control all the activities. This tool will bundle all the drivers into one executable file for users. It also purges the old drivers so that Windows can't reinstall them unintentionally. This tool has extra features like a system booster that tweaks a system for better performance and SSDs optimization features.
Overall the user experience of this tool is fantastic, and it comes with a simple, straightforward interface that is worthy for users.
Pros:
One-click driver update feature
Clean and impeccable interface
Detailed yet straightforward driver restoration
Optimizes PC performance
Automatic scan scheduler
Cons:
Sometimes the utility provides false scanning results
Download: Drivers Genius
How do I enable third-party drivers in Windows Update?
To enable third-party drivers in Windows Update, you must select Configure Site Components and select Software Update Point. Now Switch to the Third-Party Updates Tab. Selecting the option enables third-party software updates.
Can outdated drivers cause crashes?
Yes, an outdated or missing driver in your computer can cause a system crash, so it's always recommended to keep your drivers updated on your computer.
Should I update CPU drivers?
CPU drivers updating is crucial for confirming that your system's hardware is compatible with the latest Windows updates. CPU driver update also fixes bugs and errors with the previous CPU driver.
Conclusion 
If you expect the best performance from your Windows system, you need to have updated drivers. Updating drivers frequently helps you to get the utmost performance of your system. It's challenging and time-consuming to update drivers manually one by one by downloading and installing the latest version from the official sites. That's why it's better to use reliable third-party software to make your job quick and straightforward. Here you have seven top-rated software to update drivers on windows. Try every tool and see which one worked better for you.