Today photo editing is not limited to retouching certain details of the photos but creating montages and some authentic works of art. The photo editing has advanced to the next level that, until a while ago, was unbelievable. Now, there is no need to use the computer to make montages of your photos. You can use various software and apps to fulfill the task. Here, we have compiled the best to create photo montages to combine your photos with various frame patterns. These tools offer various layouts to choose from.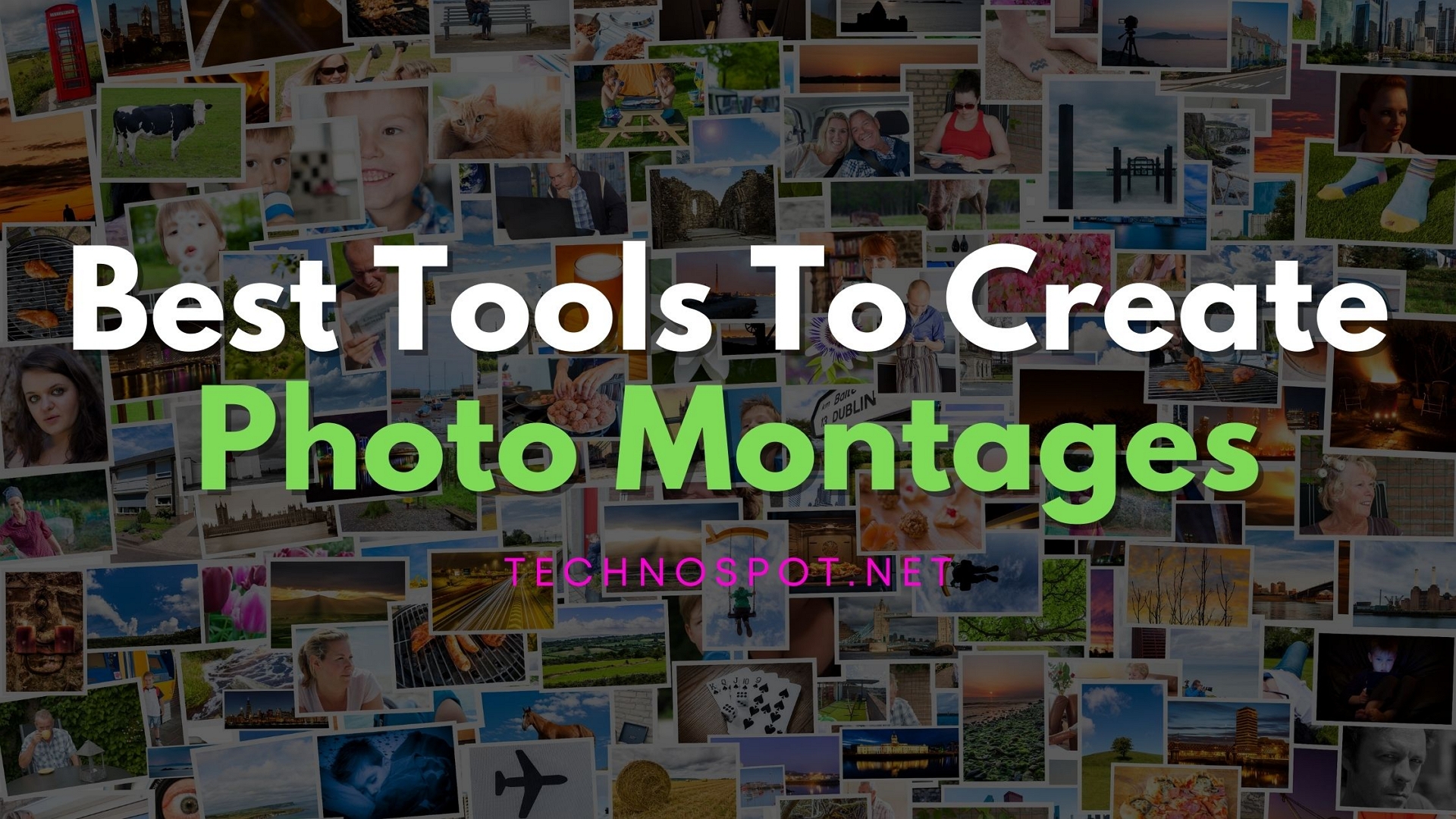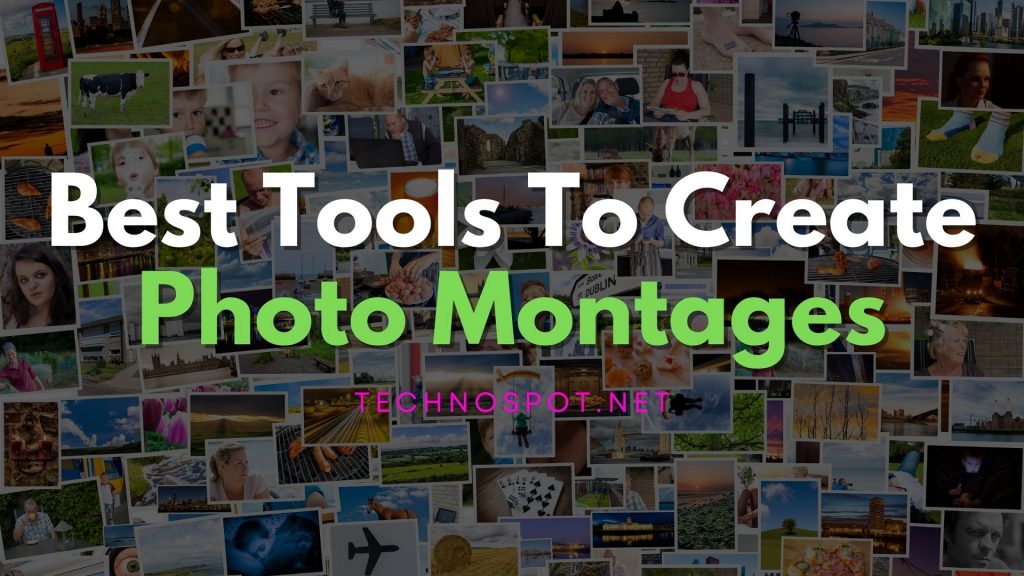 Best Tools To Create Photo Montages
Photo Montages are perfect for showcasing multiple photographs in a single image; besides being popular on social media, photomontages also prove to be great gift options when printed and framed.
Below are some of the best tools to create photo montages.
Photo Lab
Faceapp
Adobe Photoshop
Fotor
Xara Photo & Graphic Designer
1] Photo Lab
Photo Lab is a popular, fun photo app that takes your photos to a new level. It helps to add realistic effects and stylish filters and make funny and beautiful photos with the help of various stylish or funny effects. Now you can convert your simple photos to amazing photos by using different types of photomontages.
Pricing – $4.99 per month (with a 3-day trial) and $19.99 per year
Features Of Photo Lab:
The photo lab app is available for both iPhone or Android users.
This app offers more than 900 stunning photo effects and templates to give a professional touch to your photos.
It offers photo montages with automatic face detection with a single tap.
Allows you to add text onto the picture, along with text style tailored to each template.
For high-quality and realistic montages, you need to buy its in-app purchase plans.
2] FaceApp
FaceApp is one of the best face editing apps and also offers beautiful photomontages. Now you can easily change your face and beautify your photo by using this amazing app. This app offers you everything you need to create social media-worthy edits for free. Now you can use an extraordinary set of AI filters, effects, and backgrounds to create a photorealistic edit in just a click.
Pricing for FaceApp PRO subscription options:
Monthly subscription at $4.99.
Annual subscription at $29.99.
Lifetime license at $49.99.
Features Of FaceApp:
More than 60 highly photorealistic filters.
Allows you to make amazing photos by adding your photo to different types of backgrounds (montages).
Offers some more amazing features such as face editing, photo filters, face morphing, light adjustment, and photo collage features.
If offers to share your edits directly to your social media platforms.
It is available for both iPhone or Android users.
3] Adobe Photoshop
Adobe Photoshop is the world's best imaging and graphic design software. Besides the standard features of a photo editor, Adobe Photoshop allows you to combine photos and create a montage seamlessly. Now you can also add each new photo to the collage as a separate layer.
It also allows you to rotate, resize, and reposition your photos. You can also rearrange the stacking order of the layers to create a perfect montage of your photos.
Pricing: Photoshop subscription costs $20.99/mo, including 20+ Adobe desktop and mobile apps.
Features Of Adobe Photoshop:
It offers one-click selections, unlimited layers, and easy masking to create what your camera can not capture.
With Adobe Photoshop, you can pick a perfect sky for your photos with the Get More Skies feature.
It comes with modern presets such as fresh patterns, swatches, layers, shapes, and styles.
The object selection tool helps to make fast and precise selections by drawing a rectangle.
The new transform warp feature offers more flexibility and achieves transformations inside a split warp grid.
4] Fotor
Fotor is a free photo montage software, highly used by professional creative artists to create photo montages. It is a cloud-based software and can be used on any web-enabled platform, including tablets, laptops, desktops, and smartphones.
Fotor comes with a highly intuitive UI and a large supply of customizable backgrounds and filters to choose from. It allows you to create amazing montages with a blend of creativity. For exclusive support and access to advanced features, upgrade to the paid edition.
Pricing: Fotor charges $8.99/mo for a subscription
Features Of Fotor:
Offers a 4-step montage creation process.
Comes with many amazing filters and 19 sets of various effects, including background remover,  photo collage maker, one-click image enhancement, cropper, resizer, retouching, wrinkler removal, and blemish remover, etc.
It also offers some advanced features like photo stitching, image reshaping, and teeth whitening.
Multilingual support in 9 languages.
The free version offers quick editing of raw images, color correction, and fixing white balance. It allows you to blur the background and change the focus point.
Open and edit RAW files and save processed photos in four JPEG, PNG, BMP, and TIFF formats.
5] Xara Photo & Graphic Designer
Xara Photo & Graphic Designer, from Magix, is a photo montage software designed exclusively for Windows PC. Xara offers highly optimized dynamic features to speed up montage making. Xara is well equipped to execute all types of graphic design functions.
Pricing: Xara Photo & Graphic Designer offers an initial 30-day free trial and is available at a fixed price of €59.99.
Features Of Xara Photo & Graphic Designer:
It has amazing features like customizable templates, magical erases, background erasers, photo grids, photo heal functions, and stunning filters.
Photo designer is supported on all 64-bit Windows PCs.
All-around graphic design tool.
Multilingual support in more than 30 languages.
What Is Photomontage And How To Make One?
Photomontage is a photo manipulation technique. It is used to generate a composite photo from chunks of individual photos. The whole procedure of making a photomontage is generally very technical, which requires some level of expertise. However, with the help of various photomontage apps and software, it can be created instantly.
What Are The Common Features Of Photomontage Tools?
Some common features of photomontage maker tools are:
Easy to use user interface.
Offers a wide variety of photo frames.
Provides many free images and stickers to use.
It helps you to share your work on social networking sites.
Add customized texts to your photos.
What Is The Difference Between Collage And Photomontage?
Photo collage and photomontage both are an arrangement of photos combined in a common background. However, photomontage sticks to its multiple modes within a single frame. At the same time, a collage is made up of pieces of photos with sharp cut or torn edges.
If you are looking for a durable photomontage tool, choose anyone from the recommended ones. All of these photomontage tools are selected based on convenience factors like affordability, features, and pricing.