When using Windows, you have the option of using a variety of tools for editing videos. An effective video editor will aid in showcasing your product from all angles, for making professional promotional videos, or anywhere else where you wish to share your videos. IN this post, we will check out some of the best video editors for Windows 11/10
There is a variety of editing software that works on desktops for those who want to create videos. The free video editing software that works on Desktops includes more features and is easier to use than mobile video editors.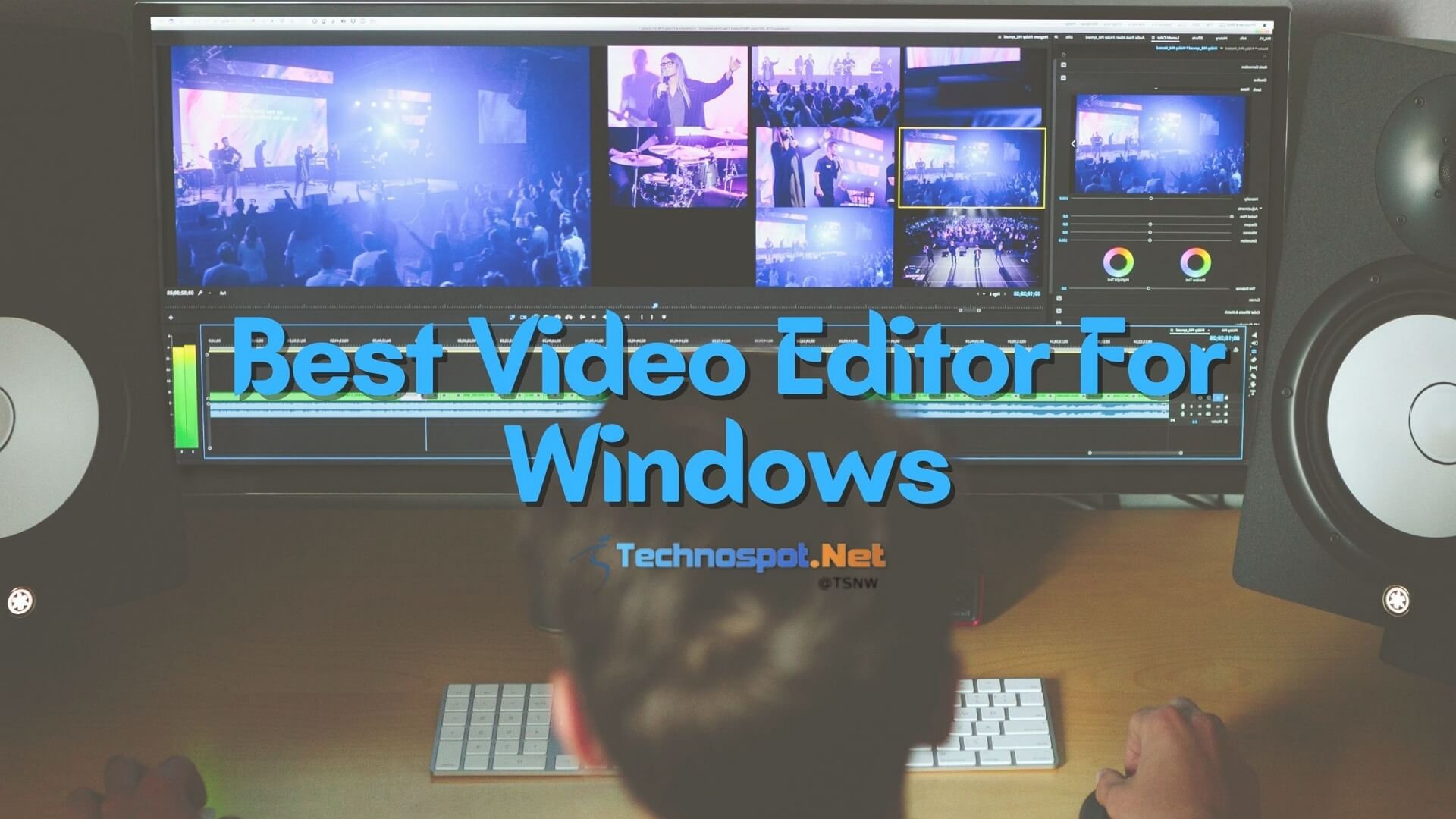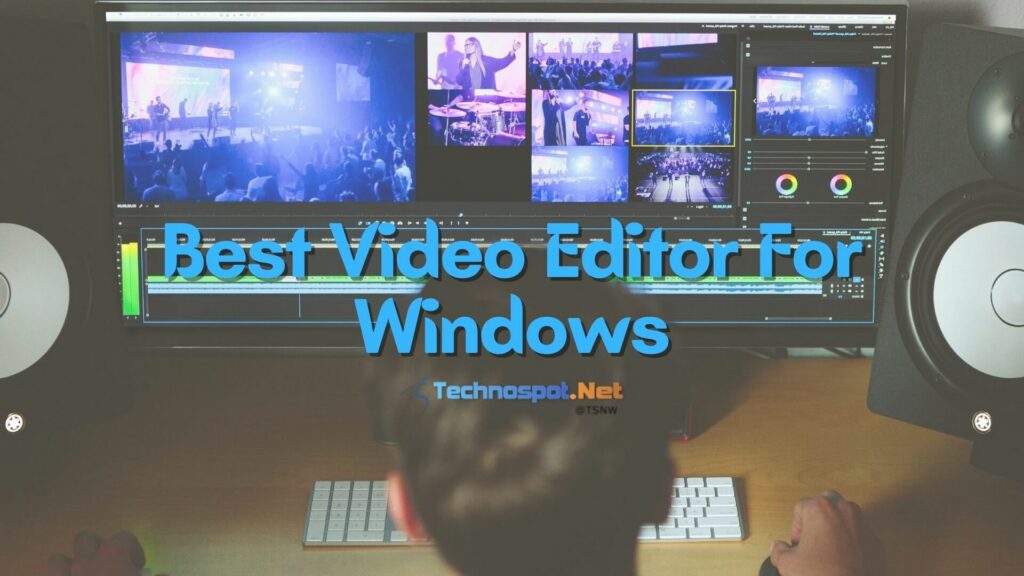 Best Video Editors For Windows 11/10
Below is the list of some video editing software. These applications are trusted by thousands of users, including industry professionals too.
Videopad
IcecreamVideo Editor
Clipchamp
LightWorks
DaVinci Resolve
VSDC Free Video Editor
Shotcut
OpenShot
Hit Film Express
For choosing the best-suited video editor for Windows, you can look for the required features and start testing them out. While each option comes with its features, advantages, and disadvantages, you can better understand which video-editing program is best suited for you.
1] VideoPad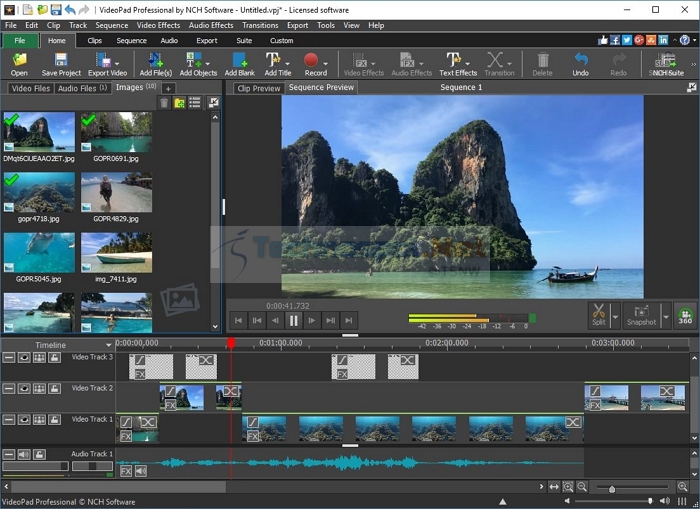 With VideoPad, there are many primary and user-friendly options, including 3D video editing and an audio effects library that lets you explore various video compositions and styles. Edit your videos using different sound effects, color adjustments, texts, overlays, and transitions. You can choose to include lighting effects, fine-tuning of colors, and overlay pictures and text.
Features
An extensive collection of video transitions and visual effects to personalize videos.
Publishing and sharing social media tools for sharing videos online in a matter of minutes.
Double built-in screen to make it easy and user-friendly editing.
Customized, ready transitions which impart a professional appearance to your videos.
Exporting presets allows you to create optimized videos for specific platforms and then publish them directly within the program.
It comes with video optimization tools.
Pros
It is loaded with professional video editing features.
Free to use for creating high-quality videos.
Cons
Too simple for advanced video editors.
2. Icecream Video Editor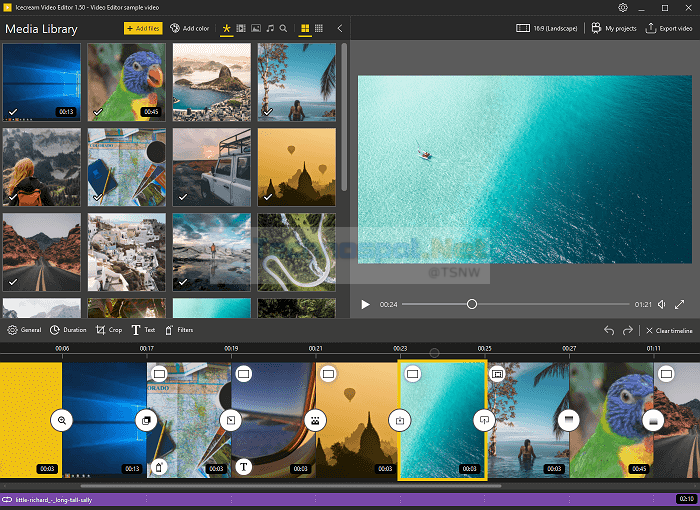 The Icecream Video Editor is for users who do not know much about editing videos. It can edit video in 4K. If you are looking for affordable video editing software, you can check the features offered by this software and decide if it's right for you. The available filters can be applied to video to help make it stand out and more vivid.
Features
The software has a timeline option, allowing you to manage all the videos.
Title maker within Icecream Video Editor.
You can trim a video using this software.
Create slow-motion or time-lapse videos using stock footage.
It can be used to create 4K footages.
Pros
Cons
Sometimes the audio gets distorted.
More features to come.
3. Clipchamp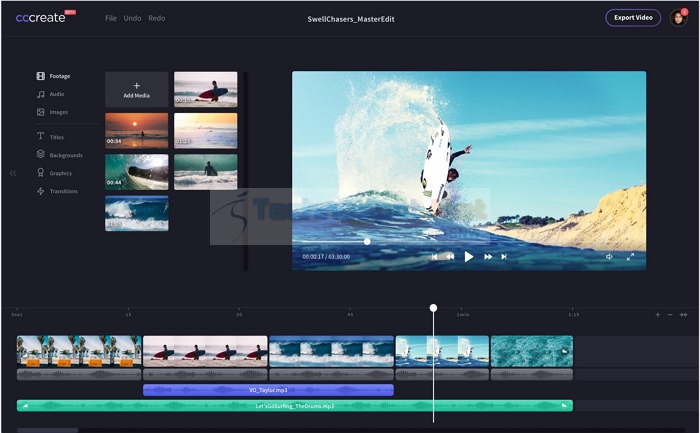 Clipchamp is a combination of a webcam recorder and video converter. You can use it to edit all your videos on any computer that has an internet connection. It lets you upload, edit, and download your videos or post them directly to YouTube, Facebook, or Google Drive. You can select from a range of editable templates and it also comes with many photographs and free stock footage to use in your video.
Features
Upload video files directly to a YouTube channel or Google Drive.
Users can request videos from their friends, clients, etc
Ready templates for creating different kinds of videos
In-browser video converter and compression tool
Supports webcam recording to record video directly in your browser
Built-in converter to compress the video into a compact file for faster upload and distribution
Pros
You can use Clipchamp right in a browser without downloading anything.
Easy-to-navigate asset library.
Top-notch transitions and filters.
Recommended for personal or professional use.
Easy to use the browser-based tool.
Cons
At times an audio lag or do not line up correctly with the video media.
Restriction of quality output for lower-level subscriptions.
4. Lightworks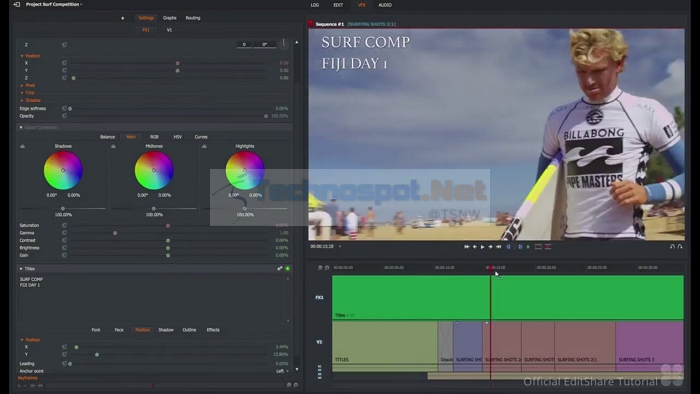 Lightworks is a professional editing suite for everyone. It also offers a library of detailed video tutorials. The library has original stock videos and music clips licensed for use in videos you edit on the software, letting you give a polished look to your video.
Features
High-End tool
Provides simple trim functions for quick and precise video editing
The speed optimization features allow editing while importing new content.
Multicam editing to sync clips from multiple cameras
A lightweight video editor that can run on old hardware
Pros
Professional-grade video editor.
Offers a lot of free features.
Add real-time effects.
Cons
To access full functionality, you need to buy its paid version.
No call or email support.
5. DaVinci Resolve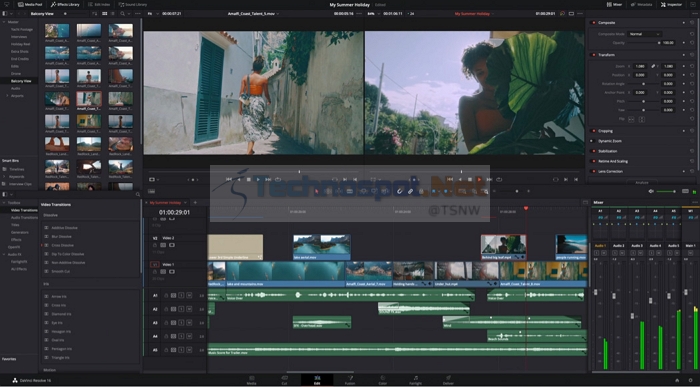 DaVinci Resolve is software that integrates a variety of tools needed to make videos of high quality. It is cutting-edge editing software that is a favorite among editors. You can now work remotely and collaborate using this software, with no additional cost. It permits offline as well as online editing. Its high-performance playback engine helps you save time while editing and trimming.
Features
Control edits with fusion nodes and keyframes.
Dual timeline for quick navigation and trimming
Supports multi-user collaboration
An intelligent auto editor that syncs both audio and visual clips
Built-in tools for text, audio, stabilization, picture-in-picture effects, retiming, and dynamic zoom
Facial recognition feature that detects faces in your video clips
Object removal, title animations, and adding characters in 3D scenes.
Pros
Advanced video-trimming features
Node-based editing to reduce the file size
Supports Mac, Linux, and Windows
It contains modules from beginner to professional
Cons
Do not have ready-to-use templates and stock library.
Customer support is only by email.
Need heavy-duty hardware.
6. VSDC Free Video Editor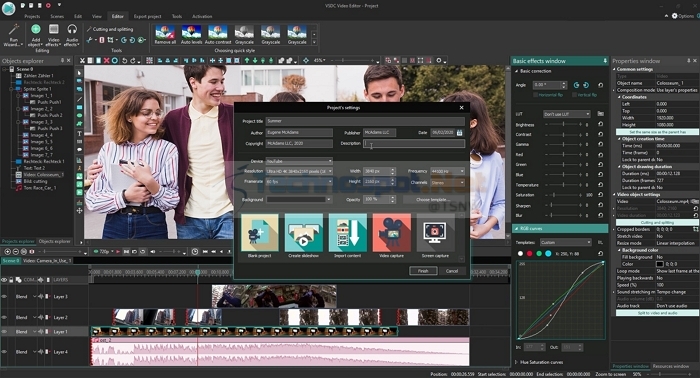 VSDC Video Editor is an easy video editor with professional capabilities like video stabilization. Its user interface is a little complex. It allows you to stabilize the images captured by drones and action cameras. The program includes a premium edition that provides various advanced video editing options. It is a fantastic choice for professional video editors seeking greater control over their video content.
Features
Easy-to-use image filters, transitional effects, and color-correction tools for a more professional look
Pro features like masking, AI art filters, and video stabilization.
Masking tools can be used for blurring, hiding, or highlighting specific things.
Social media links can be created for sharing videos on Twitter, Facebook, Instagram, YouTube.
Supports HD and 4K resolutions.
Pros
Unique features
Easy to use
Non-linear editing
Cons
7. Shotcut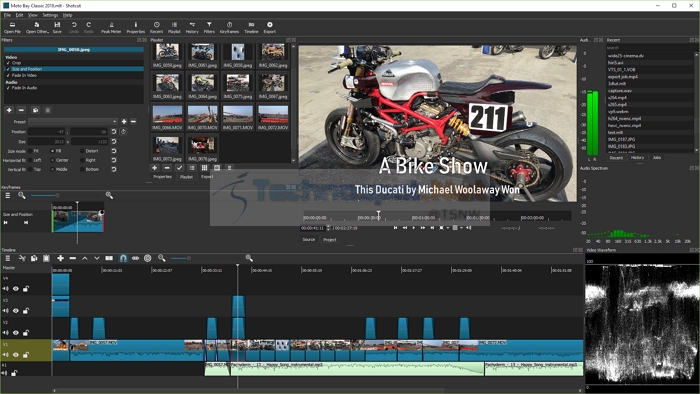 Shotcut is one of the oldest top-notch video editors. It's an open-source editor that runs across platforms and has an extensive library of instructional videos. It was designed specifically for Linux, and some people might find the interface strange.
Shotcut also offers a variety of editing options for audio which makes it ideal for audiophiles. Its fine-tuning tools let users adjust treble and bass, create bandpass filters, add dynamic compression, adjust gain, etc.
Features
Supports the latest audio and video formats via FFmpeg
The native timeline editing feature lets users upload the video file directly into their projects.
It comes with a webcam, filters, transitions, and audio capture
Wide-format supports 4k ProRes
Cross-platform support and codec independence
Pros
There are no features hidden behind the paywall
Advanced filters
Great for both beginners and experienced
Cons
Limited free stock library
No ready-to-use templates
The customer support is only through the website
8. OpenShot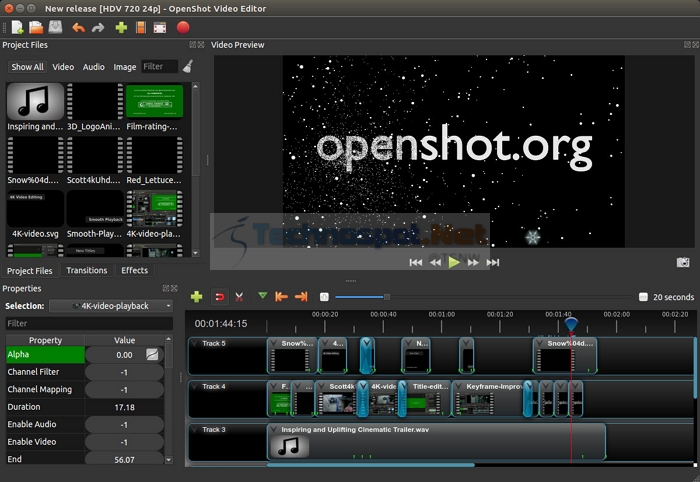 OpenShot is a fantastic video editing software for novices. It is an excellent choice for small businesses. Its minimalist design is perfect for editing simple videos. It's the best choice for trimming, clip resizing, scaling, rotation, and snapping.
The interface is straightforward and clean, with lots of icons. It also allows frame stepping, credit scrolling, audio editing, real-time preview, and time mapping.
Features
Unlimited layers/tracks.
Customizable title-card templates.
Allows drag-and-drop to add audio, video, or images easily.
Its keyframe animation helps in making animated videos.
Digital video effects include brightness, hue, gamma, greyscale, and chroma keys compositing to create green-screen effects.
Cross-platform support.
Pros
Easy user interface.
Massive tool catalog.
Intuitive features.
Cons
 No professional editing tools were provided.
9. HitFilm Express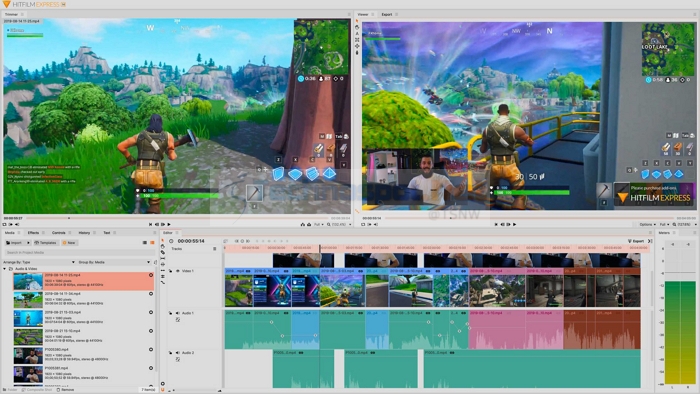 If you do not have much experience in video editing, HitFilm Express may feel somewhat complicated initially. It is worth learning since it's one of the top all-in-one video editors available. HitFilm comes with animation tools to create and edit video and audio transitions without creating composite images. It is a significant time-saver while editing.
Features
360-degree video making.
Color grading features.
Auto-stabilizer, which can make shaky footage look smooth.
Unlimited timeline video and audio track creation
More than 400 free visual effects and presets.
Customizable panels for easy use.
Pros
Import 3D models.
Unlimited audio editing features.
Classy modern interface.
Cons
No free stock library.
The output file is heavy.
These are the best video editors for Windows 11/10 you may use. Based on your needs, you can find a range of video editing software to suit your needs depending on whether you're looking to do professional work or edit some of your videos. If you're looking for video editing software compatible with Windows, these video editors are excellent options.