Many Windows 7 Themes become a perfect choice when you consider the overall sound scheme, colour combination, screen saver, wallpaper etc.  However if you want to just change the set of wallpaper i.e. remove wallpapers of the existing theme or add your wallpapers to the current wallpaper of theme, below is the quickest way which is like one click solution.
Right click on your desktop > Personalize > Select theme for which you want to change.
Select Desktop backgrounds.
Open the folder which has the wallpapers or the image you want to add.
Keep this window right next to the Desktop backgrounds window.
** I have assumed here that you have already applied the theme to Windows. In case you want to copy wallpapers without applying the theme, follow the steps as below:
Make a copy of it and rename the file to .zip from .themepack e.g. BlueWater.themepack to Bluewater.zip.
Now use a uncompressor like WinRar or use windows default to extract into a folder.
Now look for DesktopBackground folder and you will find all images there.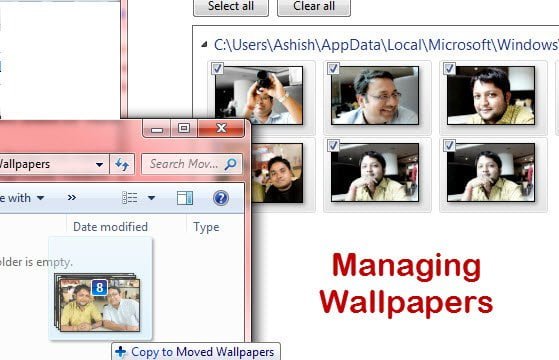 To Add Wallpapers to current windows theme :
Select Wallpapers which you want to add.
Drag and drop it into the Desktop background Screen.
Save Changes
To Copy Wallpapers  from current windows theme  :
Select Wallpapers in the Desktop background screen.
Press Control + C and paste into any folder or just drag and drop it to another folder.
To Delete or Remove Wallpapers from current windows theme :
Select wallpapers which you want to delete, you can select control + A to select all.
Press Delete Key to remove wallpapers.
Yes to confirm.
Below is a video demo of what I have talked above ( Direct YouTube Link )