Windows 11 was recently launched and is now available with its many new capabilities and latest features. It has a whole new look and design, and like Windows 10, you can upgrade to Windows 11 for free. If you are using Windows 11, you should know some of the best Windows 11 Tips and Tricks.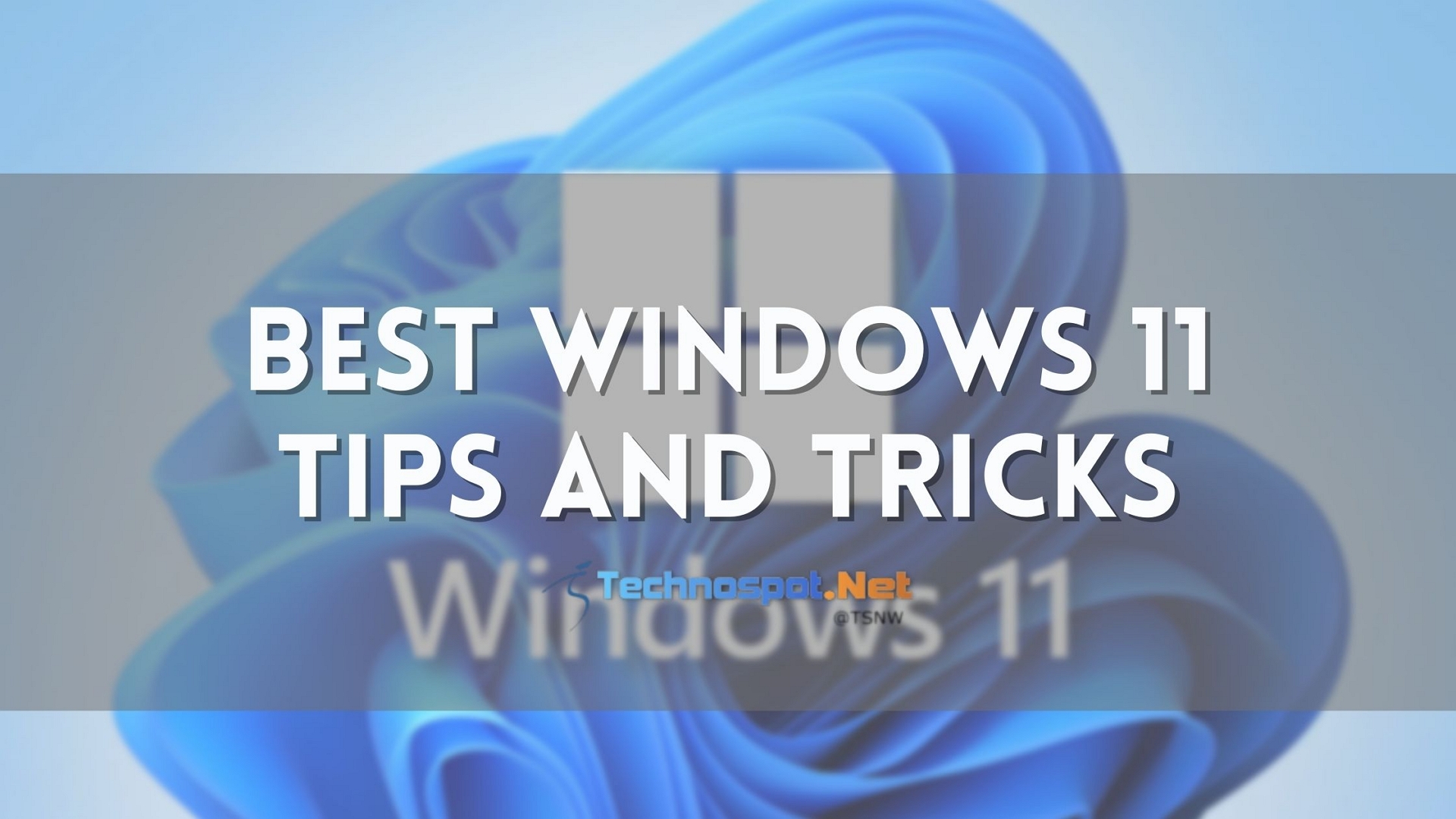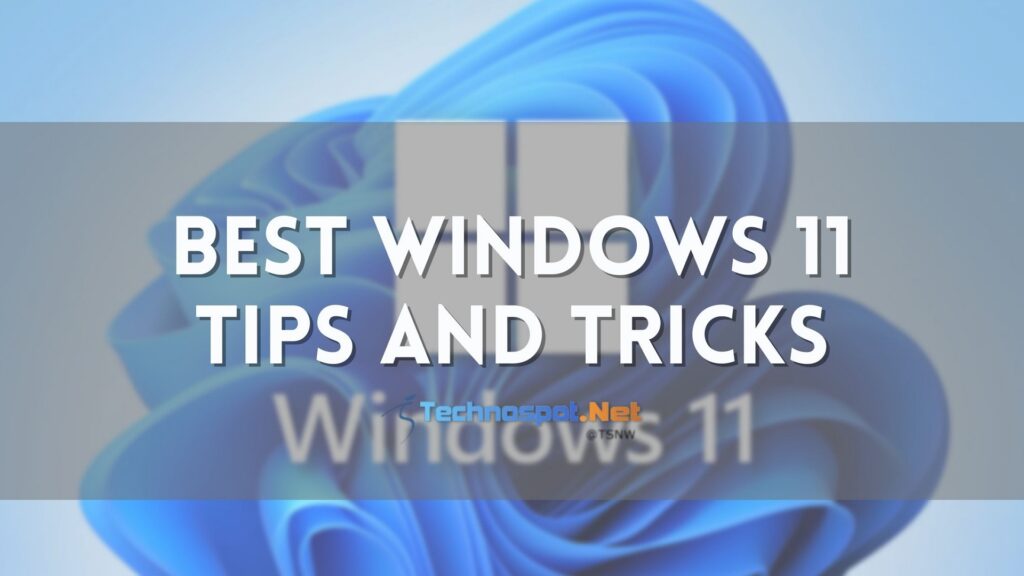 Best Windows 11 Tips and Tricks You Should Know
Each new Windows version has its fans and critics. Few features are more valuable than others, and some people don't enjoy losing their loved ones. Check out these tips if you have made the Windows 11 upgrade and are looking around.
Since October 2021, millions of people have adopted Microsoft's new desktop operating system. We are now more familiar with Windows 11 and can now explore all of this platform's unique features. Windows 11 includes a Tips app that is accessible via your widgets panel. Hit the Widgets taskbar button. Click Add widgets on the screen, and then choose tips from there. You can then read about Windows 11 hints within the Tips widget. Click the Tips link near the top of the widget and launch its application.
It is unclear whether Windows 11 is an entirely new desktop operating system to some users. It is a subtler upgrade to Windows 10 than the giant leap forward. But the Windows 11 version has come up with unique features as below. Here's what we will cover in this article:
Use Widgets and Chat App
Use Snap Layouts
Select Different Wallpapers for Alternative Virtual Desktops
Customize Your Quick Settings Panel
Customize Touch Keyboard Theme
Change Shortcuts of Your Screenshot
Show Complete Right-Click Menu
Night Light
Restore the Classic File Explorer
Pin Folders on Start Menu
Try New Keyboard Shortcuts
Dark Mode
Toggle Recommended Files And Apps
Create Virtual Desktops
Customize Windows Terminal
Xbox Game Bar
Change Taskbar Alignment
Type With Your Voice
Let's try to understand these Windows 11 tips and tricks in detail.
1] Use Widgets and Chat App
Windows 11 has two core features: Widgets and Chat, which allow you to stay in touch with people and the things you care about most. You can turn off these Widgets and Chat features if you don't like them.
Widgets make it easy to see updates and information from all your apps, websites, and devices in one place, and you need not keep switching between them. To suit your tastes and preferences, you can add or remove widgets and change their appearance and size.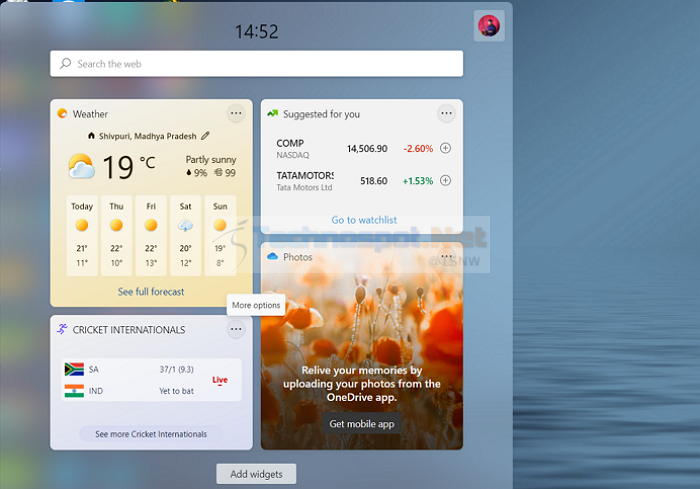 You can keep up with all the Windows apps tips, latest news, sports, weather, and other information. Also, see any upcoming appointments in your calendar. You can check your stocks online and determine how much traffic you have before heading to work. If you'd prefer to have more taskbar space, you can disable it in the settings.
Access Widgets using the following ways:
Access Widgets using the Widgets option from the Taskbar.
Swipe left from your touch screen using a touch device to open the widget panel.
Press the "Win + W" keys to open the widget panel.
To customize the widget's size or other options, tap on the three dots icon.
To Hide Widget or Microsoft Team Chat App:
Use the Win + I keys to open the Settings panel.
Next, go to Personalisation and then open Taskbar.
Toggle the switch for Chat and Widgets on your Taskbar and turn it off.
2] Use Snap Layouts
Windows 11 now comprises Snap Layouts, allowing users to organize their windows more efficiently. Hover your cursor above the Maximize button in the top right corner of a window to activate Snap Layouts. Next, you will see the Snap Layout options below. You can then choose from one of four layout options.
You can arrange multiple software windows side-by-side on your system screen without overlapping. Snap Layouts can also group the windows in the Taskbar.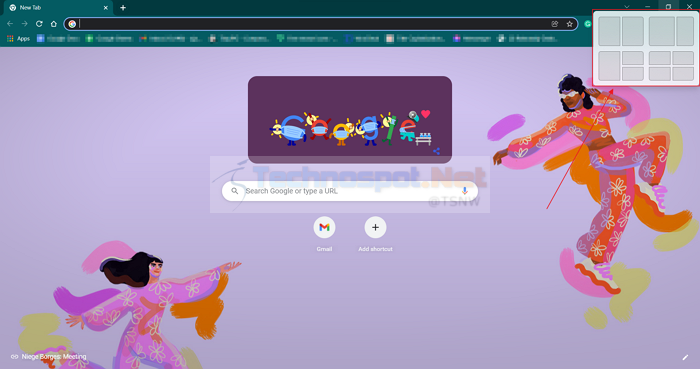 Once you have arranged several windows using this feature, you will see a Group thumbnail preview of the layout on your Taskbar. Clicking on the thumbnail preview will open all grouped windows in the order you have arranged those windows.
3] Select Different Wallpapers for Alternative Virtual Desktops
In Windows 11, you can have a new Choose background option to change the wallpapers on alternative virtual desktops. You can add new wallpapers by hovering your cursor above the taskbar button.
Press + New desktop option in the task view to add one.
On the new desktop, right-click and select Personalization.
In the personalization menu, select the Background option and then choose a wallpaper.
You will then have two virtual desktops, each with a different wallpaper, as shown in the screenshot below.
4] Customize Your Quick Settings Panel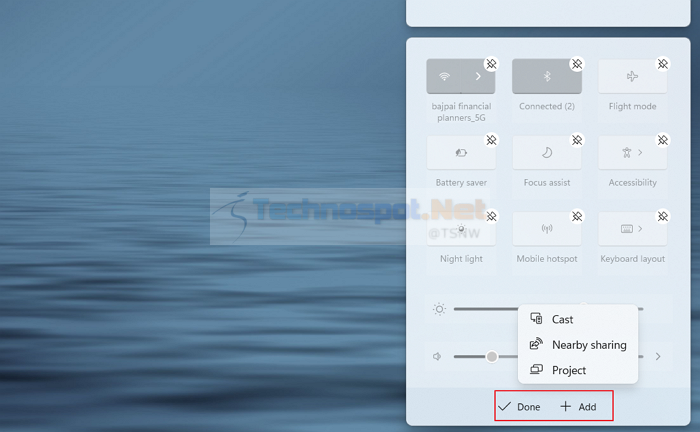 Microsoft has split the Action Center into two pop-ups within Windows 11.
Navigate to the Time and Date button to open the Notification Panel and the Calendar.
To access the Settings panel, click on the Network, Speaker, and Battery icons. This panel contains your brightness and volume controls, connectivity options, and other accessibility features.
To add more features, click the Pencil icon to Edit quick settings. Next, click Add and select the feature you wish to add. To remove a feature from the panel, unpin it.
5] Customize Touch Keyboard Theme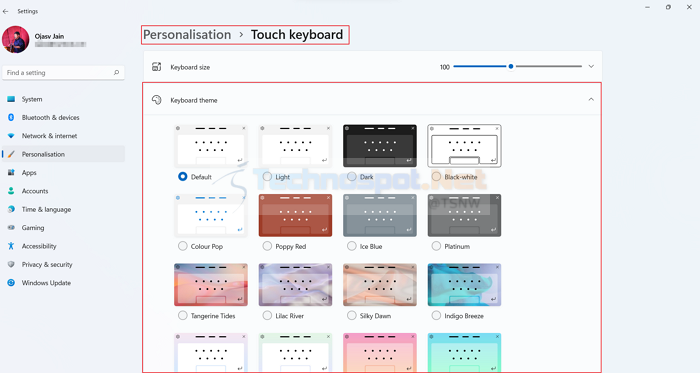 Windows 11 brings many new changes that can make your operating system more user-friendly on devices that use touch, such as Microsoft's Surface Pro 8. One of these changes is the possibility of modifying the keyboard's layout. Instead of using the default black or white keyboard, you can change how it appears and feels you like it.
Go to Settings press on the Win + I keys altogether.
Go to the Personalization option.
Within the Personalisation tab, double-click on Touch on the Touch keyboard.
You can now select the new color scheme you want on your touchscreen.
There are 16 pre-designed themes; however, you can also create your theme, change the sizes of the key, and much more.
Once you've set up your keyboard's theme, click save it.
6] Change Shortcut For Screenshot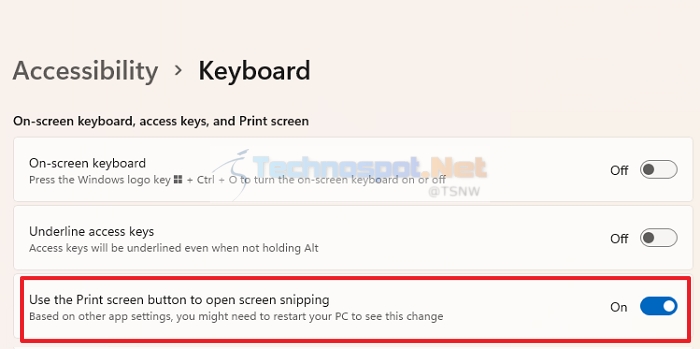 Windows 11 includes a quick-access feature for screenshot functioning. To modify the shortcut to your screenshot, follow these steps:
Open Settings using Win + I
Go to Accessibility > Keyboard.
You can turn the switch to Use the Print Screen button to open screen snipping.
You can also lunch the snipping tool using Shift + Windows + S keys.
7] Show Complete Right-Click Menu or the Old Right-Click Menu
Windows 11 brings a new intuitive right-click menu with standard features for copying, pasting, and renaming files at the forefront. Being a power user, you may want to think about the possibility of a new shortcut that will bring back the traditional right-click menu hidden beneath the Show More Options.
It's also possible to access Task Manager settings, Disk Management, Desktop, Computer Management, Windows Terminal, File Explorer, Run, Search, or Shut-down/sign out. Click above the item in the same way you usually would, and then press Shift+F10 on your keyboard to display the old right-click menu that includes the entire list of choices.
First, click the "Windows + S" keys to open the search box.
In the search text box, enter "Registry Editor" and click it to open.
Find the registry key location by the below-given command:
HKEY_CURRENT_USER\Software\Microsoft\Windows\CurrentVersion\Explorer\Advanced\
Right-click on the Advanced key > select New > select the DWORD (32-bit) Value option.
Name The DWORD Key as TaskbarSI and double click the newly created key to open the D-word edit menu.
Enter 0 (to reduce its size) in the Value data box or Enter 2 (to expand the Taskbar).
On the Edit DWORD window, Press OK to exit.
Close the Registry Editor.
Restart your computer, and now you will be able to see the complete right-click menu and every menu that has been reduced with complete options.
8] Night Light
If you work until midnight or late at night, you can take advantage of the Night Light feature in Windows 11. Windows 11 is better than previous versions of Windows in utilizing the numerous features of the modern display. It is possible to adjust the system's intensity or even set a schedule. It functions as a blue light filter changing to warm colors if enabled.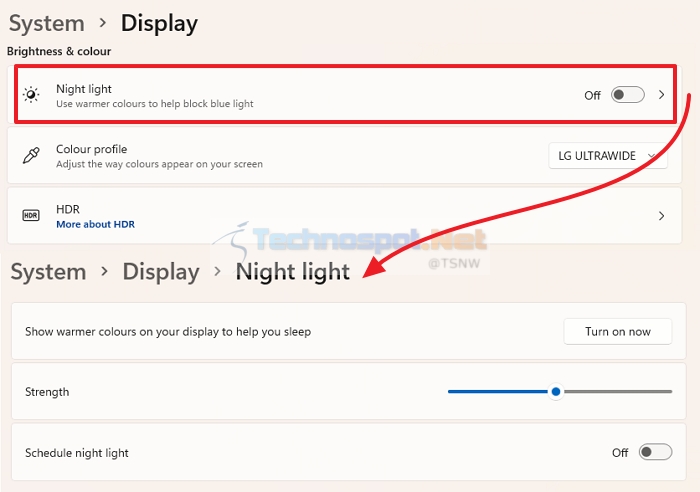 To access Night Light:
Open Settings using Win + I
Navigate to System > Display > Night Light
Toggle on to enable it
You can also expand it to configure strength and schedule night light
9] Restore the Classic File Explorer
There can be several reasons for you not to like the new file explorer on Windows 11, maybe you don't like the unique and colorful icons, perhaps you don't like the features, be it anything, here's how you can restore the classic File explorer:
Open Run prompt, type regedit, and press the Enter key to open the Registry Editor
Then open the below-given registry key:
HKEY_LOCAL_MACHINE\SOFTWARE\Microsoft\Windows\CurrentVersion\Shell Extensions
Right-click on the Shell Extensions key on the left side of the Registry Editor and select New.
Choose the key option.
Input Blocked for the latest registration key's title.
Right-click the key you added earlier in step 5 and choose the New> String Value option for it.
For the string value's name Enter e2bf9676-5f8f-435c-97eb-11607a5bedf7.
After that, exit your Registry Editor.
Reboot your computer by choosing your Power > Restart
10] Pin Folders on Start Menu
Windows 11 does indeed have a built-in setting that shows folders right next to the power button on the Start Menu; however, only the system ones. Many people have experienced the inability to pin folders onto the Start Menu who have upgraded from Windows 10 to Windows 11. Windows 11 do not allow you to pin folders to the Start Menu. You can pin systems folders, including Settings, File Explorer, Documents downloads, Music, Pictures, Videos, and the Personal folder to the Start Menu.
To display your system's core folders in the Start Menu, follow below process: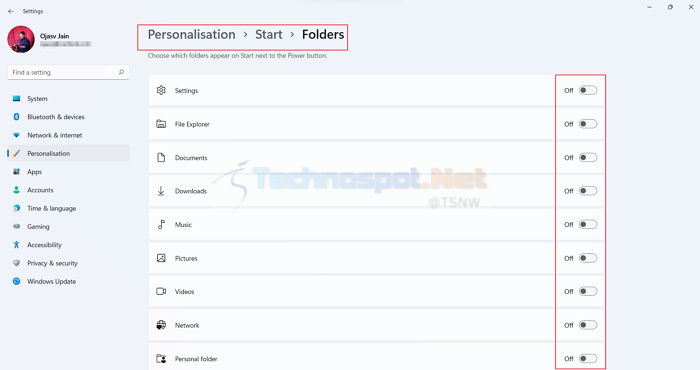 Hit the "Windows + I" keys on your keyboard
Select Personalisation.
Next, you can select Start, after which you can choose Folders.
Turn the switch to On for the various folders on your system that you would like to view in the Start menu.
You can select which folders will appear on Start just below the power button in this section. To include them, toggle the switch of each folder, and change it to On.
11] New Keyboard Shortcuts in Windows 11
Windows 11 comes with a brand new set of keyboard shortcuts. You can make use of these shortcuts to cut down on time spent in your busy schedule. They cover things like Widgets and the chat application notifications center, quick settings, Snap Layouts, and other things. It's also important to note that Windows 11 still features some of the keyboard shortcuts present in Windows 10. The shortcuts for pasting, copying, the emoji selector, and screenshots are the same as before.
We have included a few keyboard shortcut functions to help you with the following table.
Win + W keys to open the Widgets Pane
Win + A keys to open the Quick Settings for brightness, WiFi, etc.
Win + N keys to open the Notification Centre
Win + Z keys to open the snap layouts
Win + C keys to open Microsoft Teams
12] Dark Mode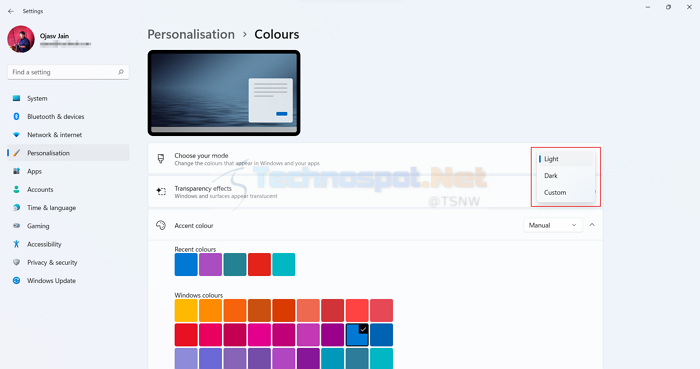 Another helpful feature coming to Windows 11 is selecting different display options in the user's interface.
Go to Settings > Personalisation> Colors
There is a section called Choose your mode.
Select default Light mode or change to Dark mode or Custom mode.
Custom mode lets you choose different types (dark and light modes) for the default App and Windows mode.
13] Toggle Recommended Files And Apps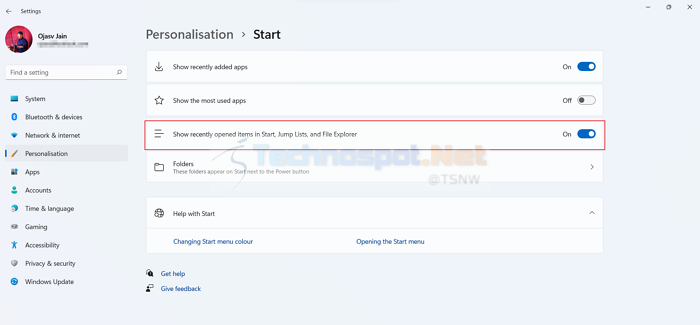 The recommended section of the Start Menu will show you your most frequently opened and recently opened files. Many people dislike this feature and choose to disable it, which leaves a space in their Start Menu. It can be challenging to see, so we usually disable it to show recently added apps to save space.
It displays your open files, most recent apps, and other recommendations. This setting is available across Windows 11 and will not affect File Explorer. However, it will remove the file recommendations from File Explorer if you choose to do so. You can disable this feature in the settings if you don't wish others to see your most recent activities. Follow these steps.
To open Settings, press the Win + I keys.
Next, click on the Personalisation tab located in the left pane and click Start.
Toggle the switch Show recently opened item to off in Jump List, Start, and File Explorer.
14] Create Virtual Desktops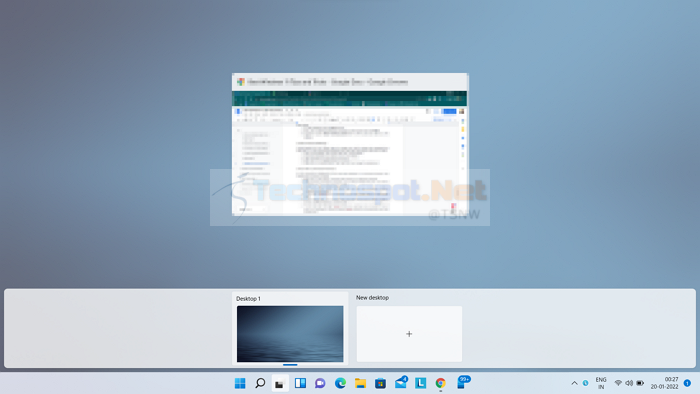 Virtual desktops can be an excellent option for managing your stuff or separating work from other tasks. You can easily switch between them when the need arises. Here's how to start:
Click on the Taskbar, and choose Task view > New desktop.
Open the applications you wish to run on your desktop.
Utilize Task view to toggle between desktops.
Right-click on a desktop within Task view, and then change the background.
15] Customize Windows Terminal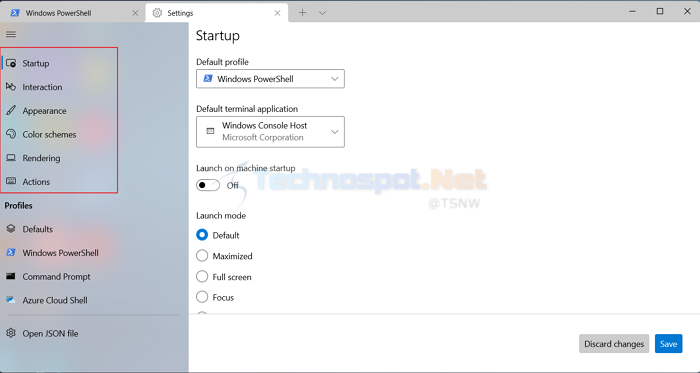 A new command-line application you can use within Windows 11 is Command Terminal. The easiest way to access it is below:
Right-click on the desktop, and then select Open in the Windows Terminal.
Once Command Terminal is launched, you can keep multiple tabs open. You need to choose the + Open a new tab button for this.
Hold the tiny Arrow button and select one from the menu to choose a different command-line shell option.
You can then customize your Command Terminal by clicking options on the Settings menu.
On the Settings tab, you can choose the drop-down menu from the Default profile to choose a different standard command shell.
You can also alter the app's color scheme by selecting Color schemes on the left side of the Settings tab. Select a different color scheme in the drop-down menu and choose Save.
16] Xbox Game Bar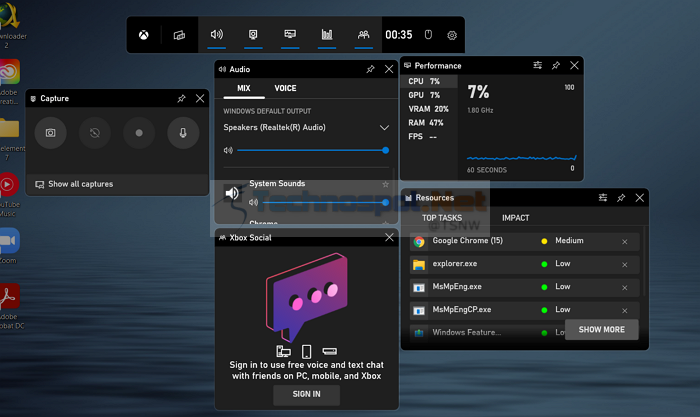 If you are not a gaming enthusiast and do not plan to play games on the Windows 11 computer, you must still take a look at Xbox Game Bar. Although it's designed to provide games-related functions, it can be utilized by any person for various circumstances.
Hit Your Windows Key + G to start the Xbox Game Bar. There's a Widget Menu, audio (for input and output of audio using speakers and microphones), and you can capture (screen recording and video), Resources, Performance, and Xbox Social.
Resources and Performance could be helpful to anyone trying for an accessible look at the applications that are making use of the most resources on your computer, including CPU, GPU, RAM, and the DISK. Performance provides your current CPU GPU, VRAM, RAM, as well as framerate.
17] Change Taskbar Alignment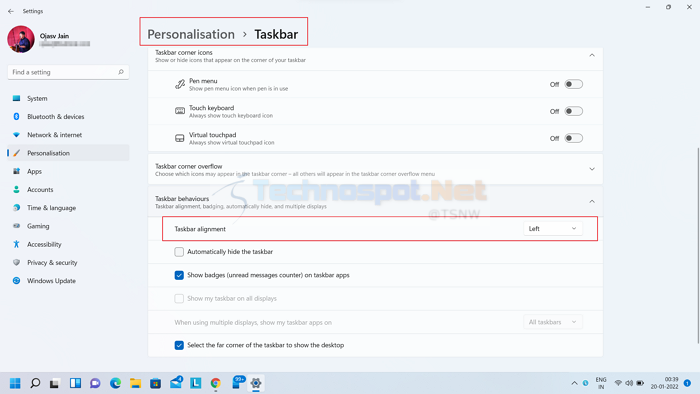 One of the most significant distinctions in Windows 10 and Windows 11 is the placement of The Taskbar and the Start Menu. In Windows 10, the Taskbar and the Start Menu are off to the left of the screen.
Windows 11, though, alters this by moving them towards the center. If you are unhappy with this, it is possible to modify it.
Press the "Windows + I" keys to launch the Settings application
Next, select Personalisation and then select Taskbar.
From there, select Taskbar behavior and then select left under Taskbar alignment.
It will create Windows 11 feel a bit more similar to Windows 10.
18] Type With Your Voice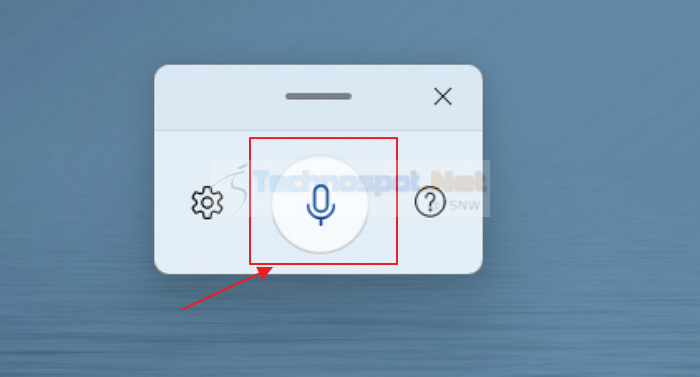 The most remarkable feature that comes with Windows 11 is its voice-typing feature. It's probably something you have used feature on an iPhone and Android device; however, Windows 11 also has voice typing integrated,
Press Windows+H to open the Voice typing menu. You have to choose the microphone option in the pop-out menu before using the option. It is then possible to alter it according to your preference by selecting the settings icon and then tweaking the voice typing to ensure that it inserts auto punctuation depending on the pace of your voice.
It was previously available as a feature in older versions of Windows. However, it's now known as Voice typing.
What are some of the cool features of Windows 11?
Windows Terminal
Better User Interface
Centralized Start Menu
Virtual Desktop
Snipping Tool
Windows Clipboard
Better security
More control over updates
Is Windows 11 upgrade free?
Most of the devices can upgrade to Windows 11 for free, and it will stay for a long time. It is something Microsoft did for Windows 10 as well. Maybe we will see subscription-based upgrades in the future, but that will take some time.
If you want to check if the upgrade is free, download the Windows Upgrade Assistant, and check if it allows you to upgrade to Windows 11. If you do not like it, you will have ten days to roll back to the previous version.
Conclusion
Windows 11 might not be substantially different from the previous version; however, there are many new features to learn about the latest desktop operating system. While some of the tricks are an update to what was in Windows 10, the newest version has various new tools to enhance your experience. Therefore, it's worthwhile to upgrade from Windows 10 to Windows 11, especially since it's accessible for download.
Users who don't have installed Windows 11 can do so through The Settings Windows Update tab. The tab will offer the Windows 11 Download and Install option for those who wish to upgrade to the latest version. You can take a look at the new features of Windows 11 and customize it in your way by using these best Windows 11 tips and tricks.