Amazon India has finally made it's way into India starting today and its time we will see good completion around with Flipkart. Even thought with limited stock but Amazon making its appearance in India is a big deal. Almost a year back Amazon did appear for India in form of Junglee but it seems it was done for getting some analysis done.
The Press release says :
On June 5, 2013, Amazon launched its newest online market in India. The marketplace provides Indian customer with a shopping destination to purchase products from third party sellers. India represents Amazon's 10th marketplace launch. How has this program grown over time, and what does it mean for customers and sellers.
That said, Amazon has big competition ahead because not only Flipkart has high level of reputation but their delivery services and customer care just rocks. Moreover, Flipkart recently opened up their market for selected third party seller and already building an Amazon there.
So  what is available on Amazon right now?  They  are Books, Movies and TV Shows which you can buy and ship it to your address. All pricing are listed in INR unlike Junglee. So you might have to wait for more products to show up which  I am sure is in the plan.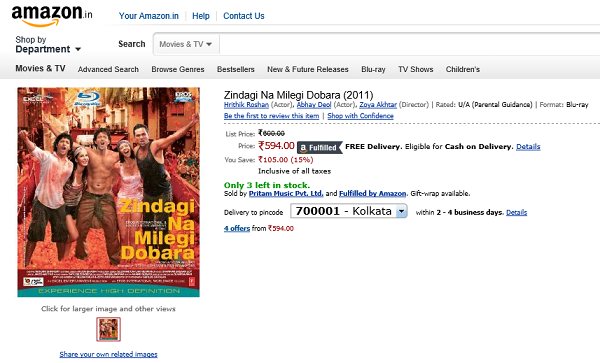 Who is handing courier service for Amazon in India?
If you check out some listings, you will notice something like Sold by X Fulfilled by Amazon. This is for most of the listing unless I missed something.  This clearly points out Amazon has their own service in place which will get the delivery done. Something like Flipkart recently started with their own branding.

Options for Cash on Delivery and Free Delivery is also available with Amazon India. As a matter of fact Amazon India is encouraging sellers to use their service instead of their own service which will help them increase focus, trust and their FBA's flexible rate structure means they need to pay as they use their service.
Thanks Kuntal for the Tip