If you have ever used Windows Phone, the vision feature or the camera lens allows you to translate text from any language to your language. Something similar has come to Windows 8 via Bing Translator which was already available in Windows Phone. This app will allow you to translate any written text into one you want.
The best part of this app is that it works completely offline if you download the language pack making sure you still get the job done without Internet. Apart from this you can snap it wherever you want and still do your work. This is particularly useful if you are working in respect to translation.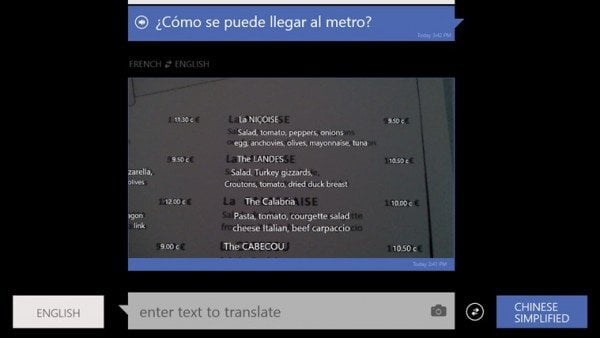 What Else? You can use Text to Speech to hear translations in your native language (40 language supported). The application integrates well with share charm to help you translate text from other Windows Store Apps.
That said, the applications seems to be working with only specific camera types which  I am not sure of. When used with my HP Envy X2, it throws up an error saying that "Your Camera does not meet the requirements of Camera translation". I am not sure what that means. It surprises me because I never thought there has to be a requirement type here. HP Envy X2 has 8MP camera in rear.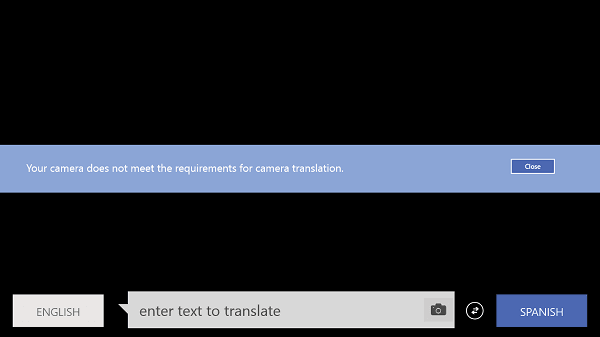 When using the app you can  switch language using the quick switcher. The camera icon sits right where the text box is. If you want to download the new language pack, click on any of the language and it takes you to language management screen. You can choose to download using the "Offline Download Available"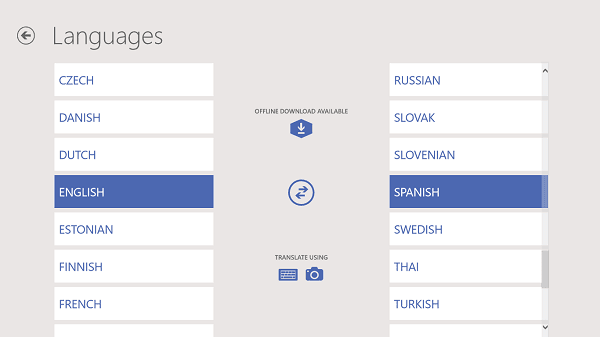 Download from here. Via Bing