While Microsoft provides a version of their Windows Defender: free antivirus protection with Windows 10 and works — up to a certain degree; However, for maximum protection from ransomware, it requires a third-party antivirus. While there are some paid options available out there, you don't really have to pay for it. Bitdefender Antivirus provides all the main malware-fighting elements along with added security functionality for free. In this post, I will list everything you need to know about their free antivirus.
Setting up Bitdefender
The installation of Bitdefender is free, simple, and convenient. Users need to sign up for a Bitdefender account to use it or sign in if you already have one pre-registered. There's a full system scan button, a drag/drop spot for scanning specific files or folders, and a timeline for recent activity. Interestingly, Bitdefender's Antivirus Free Edition doesn't require to be manually turned on all the time. It can check for malware viruses, worms, Trojans, rootkits, and more all the time.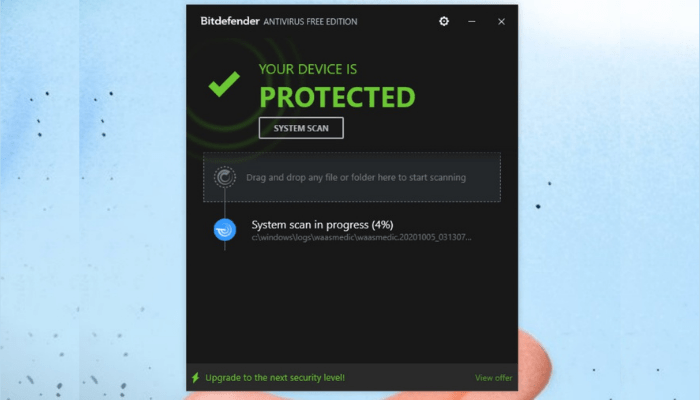 Bitdefender Free Antivirus Review
As a top-10 antivirus, Bitdefender incorporates a range of sophisticated anti-malware security strategies. It has a scanner that operates 24/7 and scans for any identified threats included in the database. The so-called "heuristic" monitor backs this "standard" scanner. This module detects behavioral signals and takes a particular approach to the identification and removal of viruses.
Virus Protection
According to research undertaken by AV-Comparatives (AVC), a world-renowned firm that implements large-scale research of security solutions with live malware attacks, Bitdefender has consistently performed as one of the best in the field of malware defense.
Test findings also indicate that Bitdefender offers a high degree of protection. A percentage of 0.70 percent for "device infected" indicates that AVC checks revealed that malware could harm the device in just 0.7 out of 100 cases.
In terms of user dependency, Bitdefender performs well at 0 percent. This means that Bitdefender did not give the user the option to run the detected malware on their device. In other words, blocked malware is made harmless by Bitdefender.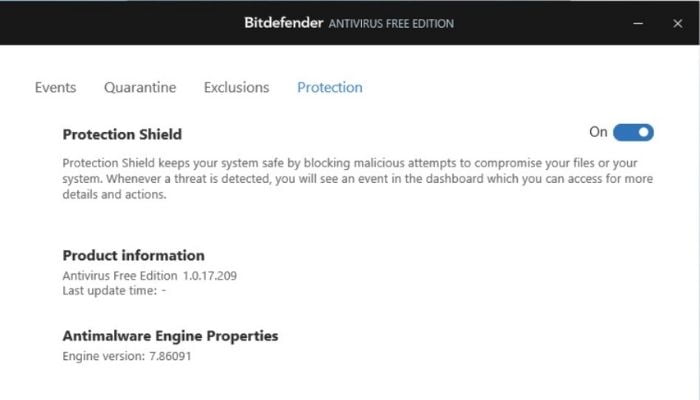 Whenever a new potentially malicious file is found, it is immediately submitted to the servers. If the update is ready, it is sent to every single Bitdefender user in the world. This antivirus software is running a total of 500 + million machines. A simple note: if you don't like the concept of a third-party program that gathers data from your smartphone, you can turn it off at any time.
Installation and User Interface
Bitdefender Antivirus feels modern, beginning with a software installation that automatically loads the newest version and definitions. When installed, it takes over the Windows Defender, which used to appear in Windows Security settings.
Besides an intermittent warning, one can quickly forget that you do have this antivirus app installed. The icon is placed in your notification tray for easy access to the device dashboard. You can launch a manual machine check here if you wish and change any settings you might have, including adding exceptions. I like the options menu's functionality, and while it's far from important, I'd like to see the GUI turn to a dark mode for my device settings.
One thing to remember is that you need to be online to activate this antivirus app. While this is not likely to be a concern for most individuals, it does mean that if you are trying to update the software on a computer that has already been breached, there may be an issue there. Typically, this isn't going to be a major concern, so it's worth bearing in mind.
Note: Since its antivirus and not a security solution, it is recommended to manage the firewall through Windows's security feature.
Additional Features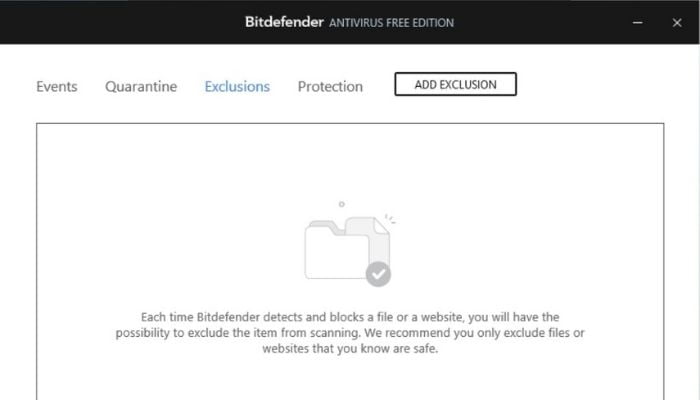 In contrast, when it comes to real-time protection, there are even fewer choices for Bitdefender Antivirus Free Edition than with paid editions.
One can only turn on or off real-time detection in a free version. There are no additional configuration services available. It is feasible, though, to add exceptions in the free service. This enables you to call those documents, archives, and websites that you want to miss when checking and detecting real-time threats.
This way, users will make little changes to both scans and real-time threat monitoring to accommodate their own tastes. However, we suggest that you only use this option if you know what you're doing and are confident that the exceptions you're implementing are fully free of malware.
In addition to that, the Bitdefender Antivirus Free Version interface has a window labeled "Quarantine," where questionable files end up. One can also find items like scans done here.
In general, we have found that Bitdefender Free is far more restrictive and provides fewer options than Bitdefender Total Security.
On the other hand, the free edition feels much more accessible and easier to use. This could be particularly helpful for inexperienced antivirus users who are not so educated about machines and networks. However, we still suggest Bitdefender Total Protection for the most comprehensive and efficient Bitdefender antivirus solution.
Customer Support
Bitdefender's customer relations has it's pros and cons. First of all, the benefit is that you can approach customer service in a plethora of forms. You may send an email, call customer support (9:00 a.m.-6:00 p.m., Mon-Fri), use live chat, or post your questions in one of Bitdefender's forums. Unfortunately, not all of these solutions can be used in all languages.
Bitdefender's live chat response time is really fast — much better than sending an email. In less than two minutes, we got straightforward answers to all our questions. If your issue is a little more complex, it may take a little longer. However, we were delighted with Bitdefender's live chat feature.
Overall, it is a promising Anti-Virus solution that you can install on Windows 10. It doesn't take many resources; performance is consistent and has great customer support. If you are looking for alternatives, you should give Bitdefender a try!