Windows 8 still in development preview has many features locked for good but if you are one of those power users ready to take drive on rough rodes, Guys at windows8italia.com have just the right kind of application ready for you. This application named as Bluepoison, can turn on and turn off features with a click and without any restart and bring you new Windows 8 Themes, which can be downloaded and applied with a restart.
PS : This not an official app from Microsoft for Windows 8. So use it as your own risk
Feature List of latest update
Enable Application Folder.
Enable Snap
Enable Classic Start Menu When you disable Metro Start Menu having the application folder gives you access to all the metro apps.
10 Themes ready to download.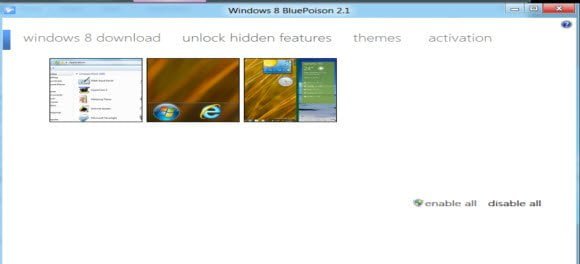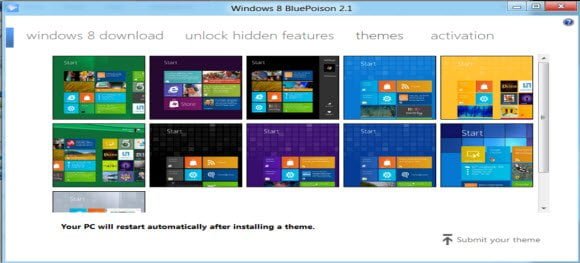 It will also update you when a new build is released but you dont have to worry as Microsoft will be sending updates to even developer preview also.In their previous builds they had options to activate Ribbon Menu, Metro Login,  Modern Task Manager, Reader etc which was there before.
Depending on what build you have, the application can show different hidden features. So dont worry if you cannot see some as it might be already enabled for you.
Below is a video demo of their latest version 🙁 Watch on YouTube )
If you have just started using Windows 8, here are the latest Windows 8 Tutorials for you to read on :