When you are not satisfied with the security of your cloud drive, you will want to switch to a better one. The Box is one such cloud drive whose security makes it a go-to tool. Whether you're wondering what purpose it serves, how to use it, or what features it supports, we have reviewed everything and will take you to it. In this post, we will share a detailed review of Box and why it's an impressive file sharing solution.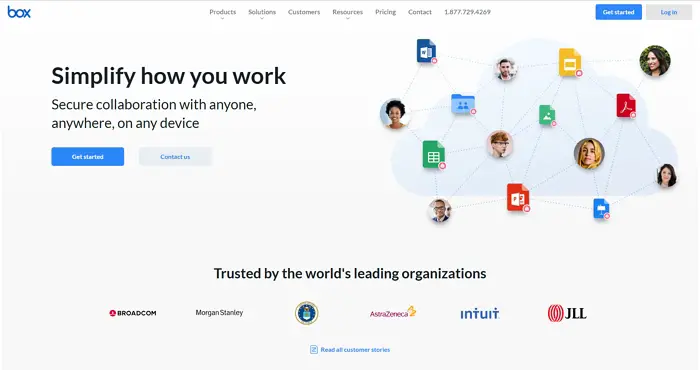 Review: Box – Why It's an Impressive File Sharing Solution
What Is Box, and What Can It Be Used For?
How Does Box Work, and What Are Its Main Features?
Setting Up Box Account
Using Box
How to Access Boxes from Different Devices?
Collaborating With Others Using Box
Advanced Box Features
Troubleshooting Box
Conclusion
1] What Is Box, and What Can It Be Used For?
The Box is a cloud drive tool for file syncing and storage. Enterprises use it primarily for storage, and few use it for personal use. There are a lot of paid plans, but despite the price, there is little storage available. In its free plan, you get 10GB of storage. Moreover, you can upload files of only 5GB at once. Security is the primary concern regarding cloud storage, yet there's nothing like that on Box. Its security is advanced, and that's why organizations rely on it.
2] How Does Box Work, and What Are Its Main Features?
While Box stands out to be an incredible tool, there are several reasons which make it possible. Let's roll on to them:
Security: Box ensures excellent security standards. Further, you can secure your files by controlling their access and access rights or encrypting it.
Prevention against Data Breach: Using Box Shield, you can secure your organization's data against a breach. It's available in the free plan and keeps your data safe in case of a security breach.
Box Keysafe: The Box keys are let's you let you have greater control of your encryption keys. Further, it is a crucial safe and complies with the highest security standards.
More you can learn about it here. 
Now, let's learn about how you can set up your Box.
3] Setting Up Box Account
There are three steps to set up a Box account. You have to create an account. Next, you must install it on your device if required and set it up with your account.
How to Create a Box Account?
You can easily create a Box account by visiting the signup page in your browser. Further, you must choose a plan to proceed, free or paid. The latter has many options; you can choose according to your organization's needs.
Follow the steps given below to create a Box account: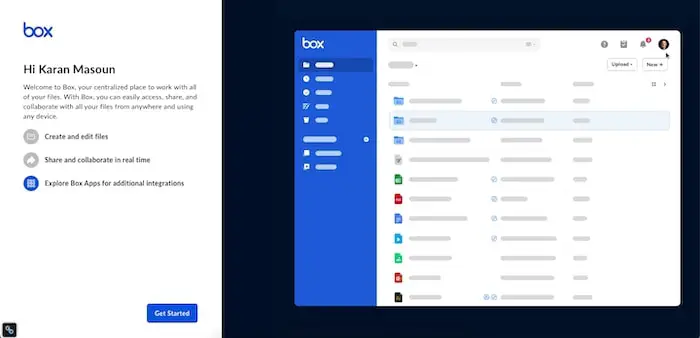 Open Box website in your device browser
On the Sign-up page, enter the details that Box asks like Name, Email address, and password.
Now, fill out Captcha and click on the Get Started button
Select a Plan to proceed with
Box will now display—We've sent You a Confirmation Email; check your inbox and follow the link to proceed.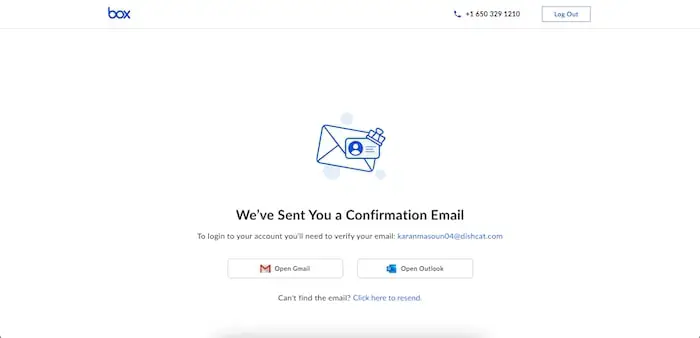 Since you created an account, installing the Box app on your device is always convenient. Let's proceed to the installation part.
How to Install Box on a Computer or Mobile Device?
Box has an application for Windows, Mac, Android, and iOS. The installation files differ, and the after-process depends on your device.
Follow the steps given below to install Box on a computer or mobile device:
Visit the Box download page on your device browser

In mobile, you will see Download Box for Android that will redirect you to PlayStore
If you have a computer, navigate to Desktop & Mobile Apps
In Box Drive, click on Download Box Drive for Mac or Download Box Drive for Windows (64-bit), depending on your OS.
It will download the Box app on your device, and you can then setup
Now that you have installed the application let's start with its setup.
How to Set up Box on a Mac or Windows PC?
The setup process on Mac and Windows in the Box app is quite similar
Follow the steps given below to setup Box on a Mac or Windows:
Open the installed Box file on your device and click on Sign-in
Enter your email address and press the Next button
Input your password and click on Login
If you have enabled 2FA, Box will further ask you to complete the order securely by logging in to your account. Do so, and then you can use Box.
3] Using Box
Unlike most other cloud drives, Box has a slightly different interface. Besides, if you are a computer novice, you will find using the service challenging. We will help you upload, download, manage, share, and more.
How to Upload and Download Files to and from Box?
The best part of Box is that its Drag and drop feature of upload download is quite efficient. Yet, you can upload with the conventional method, also.
Follow the steps given below to upload and download files to and from Box:
Head to Box on your device and open Box and your Files manager in a multi-window view.
Drag your files and drop them into Box to upload
Alternatively, you can click Upload and select Upload files or folders per your requirements.
It will open your PC files and folders, and you can choose them
If you need to download any uploaded files to your device, here's how to do so!  You can download files and folders either singly or multiply.
Open Box and click on the right-side of a File
A toolbar appears at the top. Press the Download icon to download the file on your device.
To Download multiple files, press the Shift button and simultaneously click on multiple items to select them.
Tap on the download button in the action toolbar
Box will download these files as a zip file to your device and extract them at your preferred location.
Downloading files becomes way much simpler if you have managed them properly.
How to Organize and Manage Files and Folders in Box?
To organize and manage files and folders, you can create and categorize separate folders.
Follow the steps given below to organize and manage files and folders in Box:
Press the Ctrl or Cmd key and select the file(s)/folder(s) to add them in a separate space
Below your profile button, click on the star-shaped icon in Box and select from existing collections to add to or create a new collection.
Alternatively, you can click on New on Box home, select New folder from the menu, name your folder and drop your preferred files and folders using drag and drop.
How to Share Files and Folders with Others Using Box?
Box file sharing is much simpler. Yet, when sharing links, the option is not enabled by default. Therefore, you have to turn it on manually.
Follow the steps given below to share files and folders with others using Box:
Head over to your file/folder in Box,
Near the file, click on Create and Copy Shared Link
Select Link Settings
Toggle on the Shared Link is enabled, modify its access and access rights, and copy the link on your keyboard.
You can paste the link and share it on any platform you want.
4] How to Access Boxes from Different Devices?
The Box is available for Windows, Mac, and Android as well. However, you have to log out from one device, and only you can log in to another.
Besides, if you want to access between different computers, then install a Box account and Box sync app for syncing files on the latter. For that, you must make the selected files available on Box sync.
5] Collaborating With Others Using Box
Collaborating for teamwork has become much simpler on Box. You can coauthor and collaborate on your files and view or edit them simultaneously.
How to Use Box for Teamwork and Collaboration? 
You can collaborate on Box with your team, enterprise, or others.
Follow the steps given below to collaborate with others using Box:
Hover your cursor over the file or folder, and click on the Share button
A sharing window opens, click on the text field in Invite people and add the name or email addresses you want to collaborate with
Click on Invite as Editor to modify the access rights
You can even co-auco-authorr documents in real-time using Box.
How to Use Box to Co-author Documents in Real-Time?
Co-authoring helps you know who has modified the document and who's working on it. Besides, when you want to pass your document through multiple checks, then it helps. Coauthoring also allows you to add comments.
Follow the steps given below to co-author documents in real time using Box:
Go to Box, click on your profile icon, and navigate to App Center
In the My Apps section, click enable the Box for Microsoft Office checkbox.
Sign in with the Box Admin console
Go to Apps and choose Box for Microsoft Office coauthoring and sco-author users in it
Head over to Box, open an Office file in it, Co-authore top-right, you will seeCo-authoringediting the document
There are several more advanced features to it. Let's have a look at it.
6] Advanced Box Features
You can back up and recover, restore Co-authoringrsions, and encrypt files. Everything is simple, and we will guide co-authorgh it.
How to Use Box for Backup and Recovery?
Box does not allow direct and automatic computer backup. Yet you can back up all your computer files and folders to it.
Follow the steps given below to use Box for backup and recovery:
Open File Explorer and Box in a multi-window view
Drag and drop your computer files in it, select them and create aco-authoringlder
Thus, these files will be backed up to your Box Drive after upload.
To recover these backup files:
Go to the created folder in which you have added backed-up files
Hover over the folder and click on the Download button from the action-toolbar
This will download the files on your device and move them to your preferred location to recover the backup
It's noteworthy that you check for a stable internet connection during backup. Else, there would be an error that you often won't notice, and while restoring, you won't get it.
How to Use Box for File Versioning and Restore?
When any of your files on Box has multiple versions, you can restore any of the initial ones. Further, you can even preview them before doing so.
Here's how you can use Box for file versioning and restoration:
Open Box, click on a file, and preview it in Box
Tap on the three-ellipsis icon, select Properties, and choose Version History
Different versions of the file will appear; click on any
Tap on the three-dotted icon near that version and select Download from the submenu
The previous version will be downloaded, and you can restore it accordingly.
How to Use Box for File Encryption and Security?
Surprisingly, Box also lets you encrypt files for better security. So you can secure it with a password. You can also turn on two-factor for your device for more enhanced protection.
Follow the steps given below to encrypt files in Box:
Preview a file in Box-drive and click on the Share button
Toggle on Enable Shared Link in the pop-up menu
Click on Invited people only, set it to People with the Link, and tap on Link Settings.
You can Toggle on Required Password, enter one, and click Save if you want to password-protect your file. However, this feature is only available on the premium version.
7] Troubleshooting Box
Box varies from most other cloud drives out there. Besides, you would face some issues using it, and being new to it; it would be difficult for you to fix them. We have helped you with some of ,the recurreones.
Why Is the Box Not Working?
When your Box does not work, clear your browser's cache. On the other hand, if you use a desktop application, then clear the app's cache. Besides, if you use a mobile app, go to Apps settings, clear cached, and remove it from the recent apps. Try again, and your Box will now work.
Why Are My Files Not Uploading to the Box?
Your Box won't be uploading files due to two reasons, namely. Either your internet connection is unstable, or the file size is more than 5 GB. In the former scenario, fix your internet connection, while in the latter, split your files if possible or use them somewhere else.
How to Troubleshoot Box Sync Issues?
You will be notified when there are Box sync issues, and a red dot will appear. You will see the Error syncing notification, inspect it to check the cause, and you will then troubleshoot accordingly.
How to Recover Deleted Files from Box?
Every folder in Box contains a trash bin. To recover deleted files from it, go to My Libraries. In it, select the folder whose files you want to recover and tap on the bin icon. Click on the file(s) and then select restore. Your file will be restored to its previous location.
Conclusion
Box pricing starts from USD 20 per month for business while its free for individuals with a limit of 10GB storage. There are other plans as well, and it looks at par compared to other services.
The Box is a file-storing and syncing tool with freezer security. You can download it for your Windows, Mac, iOS, or Android devices. Further, setting it up is pretty simple. You can upload files from it. Besides, you can also encrypt them or restore their previous versions. You can upload all your computer files for backup and restore them in need.