Bubble Ball is a puzzle game where player uses  physics ( remember those gravity and lever fundamentals !! ) to get a ball to a flag crossing the obstacles that come in between. This brilliant game is available free for iPad, iPhone and iPod but for iPad you need to increase the resolution.

How do you play it :
So like I said you need to get a ball to a flag to complete one level but there will be a couple of obstructions in between them The obstructions can be in any form like a pillar and you will need to make the ball jump above it. For clearing these obstructions there are two types of help : A wooden Plank and a bolted metal sheet.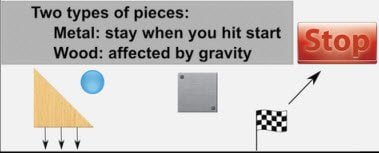 Since it uses physics, the wooden plan falls under gravity but metal sheet don't as they are bolted. Most of the time you will be using the Metal sheet to create fixed support and use the wooden plan to give directions.
Apart from Wood and Metal Sheet you also have power up to slowdown or move right to move left the ball. This is must without which some levels are completely impossible. However make sure you do use the right one at the right time. Below is a video demo of the app.
Video Demonstration ( Direct link )
How many modes or levels it has :
There are 21 levels in this game and all of them are unlocked. So if you get stuck at one level you can skip to next.
You can download Bubble Ball from iTunes