Digital frames are one of the common gifts gives these days but you always want to fill them with images that the person would love to experience when he or she gets hand on it. Though importing images to these digital frames is not touch at all but if you add very high-resolution into them, the viewing experience is ruined.
FotoFrame is a free software which mass re-sizes images on your computer into predefined size popular among the digital frames. All you need is to make sure what is the max resolution your digital frame supports before resizing them. Also if you have tons if images are digital frame is running out of space, you can choose a lower size.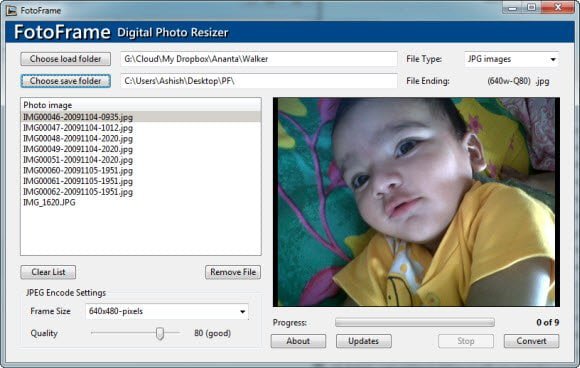 Using this application is very simple :
Select the path where your images are, select file type.Select All if you have images in different format.
Select folder where you want to save.
In case you want to remove certain images, you can select and click Remove File button.
Select Frame Size, Quality and hit convert.
As such there is no drawback except that the photos are not loaded directly when you copy paste the path in Choose Load Folder text area. You will have to change the file type to load it.
If you are wondering that you can do the same with any image re-sizer, you are right. This tool is particularly very hand for computer users who do not want very complex thing to move images to their Digital Photo Frame. Download it from here