Techsmith is yet to come out a true screen recorder for iPad but they do have an app which can record what you can draw on the apps white board. Screenchomp is a free iPad screen recording app which helps you create simple tutorials like say on Maths or Mind maps or use a background image and then let you draw on that. The best part is that it records sound also and produces videos in MP4 format. You do not need to Jailbreak your iPad to use this.
The apps has a White Dashboard, Pens which can change color, a cleaner which replicates the exact things used in a classroom. The video created here are uploaded to screencast.com of which the URL is given to you once the upload is complete. The page where your video is uploaded has link to download it in MP4 Format.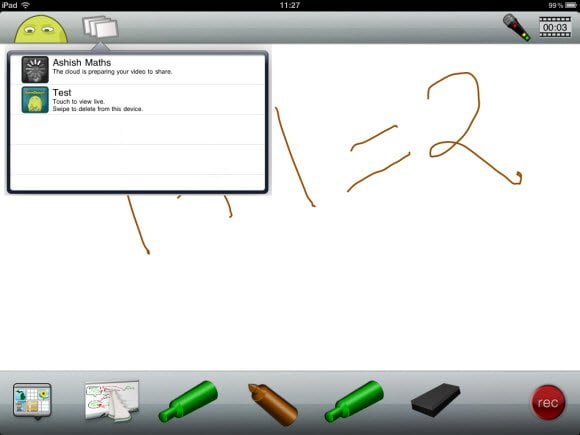 ScreenChomp Video Demo :
Now since the app doesn't start recording as soon as you launch it, you should first practice a couple of time before you hit the record button as once recording is complete, it is uploaded to the video server and is not stored on your iPad.
This app proves that a screen recorder is possible from Techsmith but a true recorder might take sometime or it may never come out at all. And since Apple will bring an integrated feature of Airplay in iOS, it will be possible that you can stream what you do on your PC or Mac and record it using the desktop version of Camtasia or Jing itself.
As of now the only way to record the screen is either using a Handycam or plugin the out put using HDMI out to TV Tuner card on your PC and then record it which is a very costly business.