Windows 11 will be rolled out this holiday which should be around October or December, and Microsoft is offering this as a free upgrade. But can your Windows 10 PC run Windows 11? This post helps you figure out if your PC can upgrade to Windows 11.
Minimum system requirements for Windows 11
Processor: 1 gigahertz (GHz) or faster with 2 or more cores on a compatible 64-bit processor or System on a Chip (SoC)

8th-gen Core CPU and above
Ryzen 2000 series and above

Memory: 4 GB RAM
Storage: 64 GB or larger storage device
System firmware: UEFI, Secure Boot capable
TPM: Trusted Platform Module (TPM) version 2.0
Graphics card: DirectX 12 compatible graphics / WDDM 2.x
Display: Greater than 9″ with HD Resolution (720p)
Internet connection: Microsoft account and internet connectivity required for setup for Windows 11 Home
Can your PC Upgrade to Windows 11?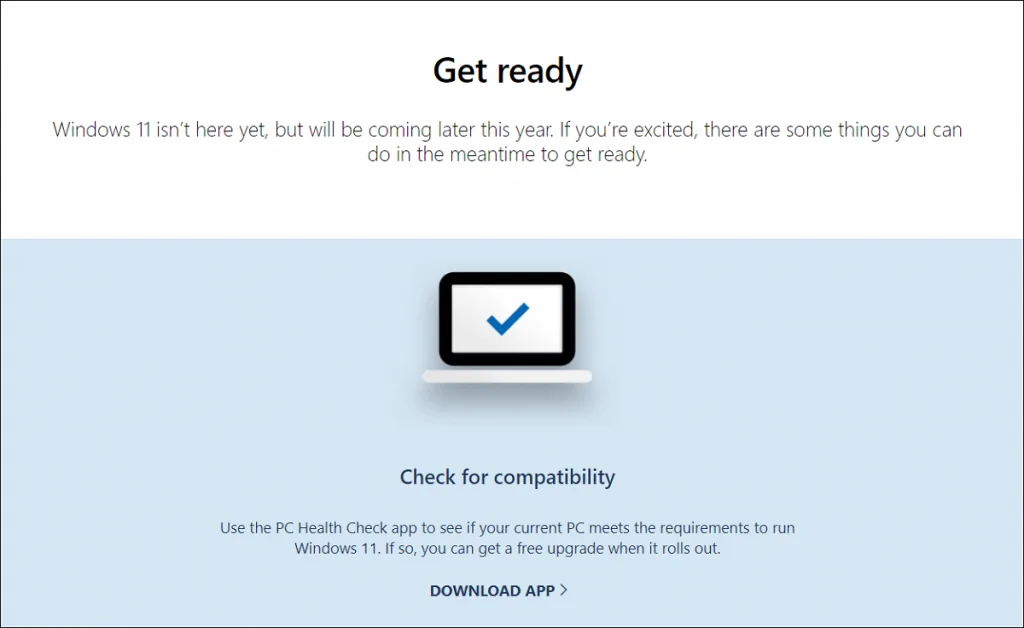 Windows Team offers a PC Health Check app to determine if your PC hardware is enough to upgrade to. All you need to do is download and run the application.
Download, and install the software from here.
Once installed, open the application, and check for Introducing Windows 11 promo.
Click on Check Now button, and it should instantly tell if the PC is upgradable to Windows 11.
Fix: This PC can't run Windows 11
If your Windows 10 PC cannot be upgraded to Windows 11, you will get a screen like this with a link to the requirement page. Luckily there is a way to fix it.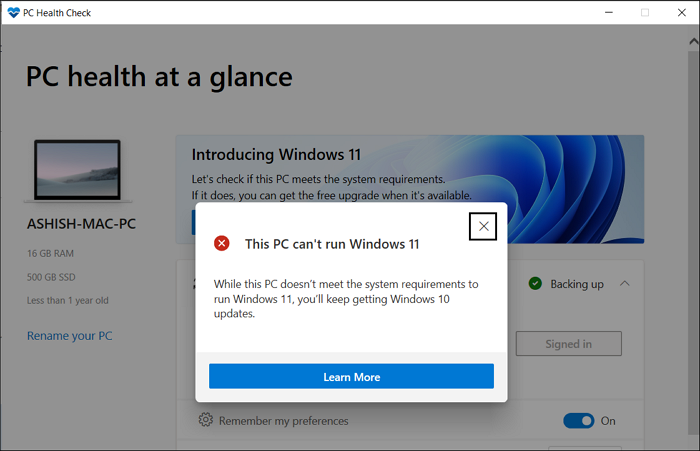 One of the major reasons why many modern PCs and Tablets are failing the upgrade is because of the requirement of TPM 2.0. The older PCs might not have it, but the modern laptops have it; we just don't know. Intel calls it PTT (Platform Trust Technology) and AMD calls it fTPM (Firmware TPM).
You will need to get into the BIOS or UEFI and enable TPM 2.0. If it's already there, you need to change to CPU-based TPM, i.e., Firmware TPM than Discrete.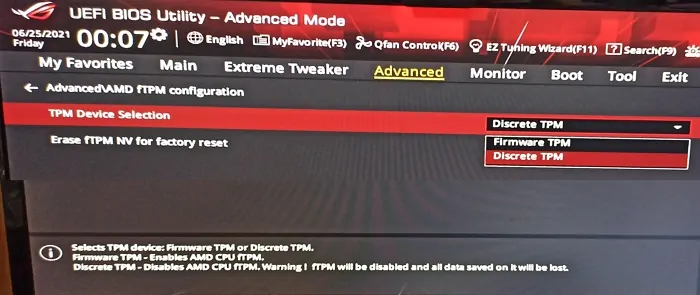 For example, in AMD based processor, if you select Firmware TPM, it will enable the AMD CPU fTPM. If you choose the Discrete option, it will disable it.
A note of warning, if you have BitLocker enabled in Windows, disable it. Otherwise, the PC will become inaccessible.
Note: Microsoft says that TPM 2.0 is recommended, but the upgrade is also possible with 1.2. However, they don't recommend it. Probably in the future, some features will only work with 2.0
Windows Team has updated their PC Health Check to reflect the exact reason why your PC cannot be upgraded to Windows 11. The screenshot below displays the TPM 2.0 requirement. If there is anything else such as outdated  processor, it will be reflected too.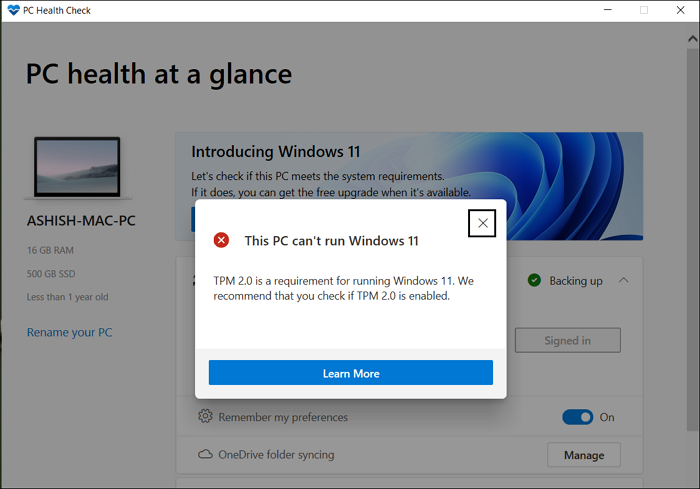 If you cannot upgrade by any means, you should know that Microsoft will be supporting Windows 10 through 14 October 2025.
Feature Specific Requirements for Windows 11:
5G support requires a 5G capable modem.
Auto HDR requires an HDR monitor.
Client Hyper-V requires a processor with second-level address translation (SLAT) capabilities.
DirectStorage requires 1 TB or greater NVMe SSD to store and run games that use the "Standard NVM Express Controller" driver and a DirectX 12 Ultimate GPU.
DirectX 12 Ultimate is available with supported games and graphics chips.
Presence requires a sensor that can detect human distance from the device or intent to interact with the device.
Multiple Voice Assistant (MVA) requires a microphone and speaker.
Snap three-column layouts require a screen that is 1920 effective pixels or greater in width.
Mute/Unmute from Taskbar requires a video camera, microphone, and speaker (audio output). The app must be compatible with the feature to enable global mute/unmute.
Spatial Sound requires supporting hardware and software.
Wi-Fi 6E requires new WLAN IHV hardware and driver and a Wi-Fi 6E capable AP/router.
Windows Projection requires a display adapter that supports Windows Display Driver Model (WDDM) 2.0 and a Wi-Fi adapter that supports Wi-Fi Direct.
Features Deprecated in Windows 11
Cortana will no longer be included in the first boot experience or pinned to the Taskbar.
Desktop wallpaper cannot be roamed to or from the device when signed in with a Microsoft account.
Internet Explorer is disabled.
Math Input Panel is removed.
News & Interests is now Widgets.
Quick Status from the Lockscreen and associated settings are removed.
S Mode is only available now for Windows 11 Home edition.
Snipping Tool continues to be available, but the old design and functionality in the Windows 10 version have been replaced with those of the app previously known as Snip & Sketch.
The Start menu including the following key deprecations and removals:

Named groups and folders of apps
Pinned apps and sites will not migrate when upgrading from Windows 10.
Live Tiles are no longer available.

Tablet Mode is removed, and new functionality and capability are included for keyboard attach and detach postures.
Taskbar functionality is changed, including People is no longer present on the Taskbar.

Some icons may no longer appear in the System Tray (systray) for upgraded devices, including previous customizations.
Alignment to the bottom of the screen is the only location allowed.
Apps can no longer customize areas of the Taskbar.

Timeline is removed. Some similar functionality is available in Microsoft Edge.
Touch Keyboard will no longer dock and undock keyboard layouts on screen sizes 18 inches and larger.
Wallet is removed.
Some apps will not be removed on upgrade but will no longer be installed on new devices or clean-installing Windows 11. They are available for download from the Store. The list includes 3D Viewer, OneNote for Windows 10, Paint 3D, and Skype.