I remember taking about Zap a Tag which is like a social media site to report about reckless drivers and now comes another Service : Car Pong which is on similar line but much advanced when it comes to features inside.
It lets you :
Search for number plates.
Let others email you if you have registered your number plate and have an email id right there.
You can follow number plates so any time somebody writes about it you get an email. Looks like Twitter influenced.
Add Picture of your car.
Private Messages supported.
Posts about you or from you.
The best I liked was the details with which anybody can report : State,Colour, make, plate number and your message.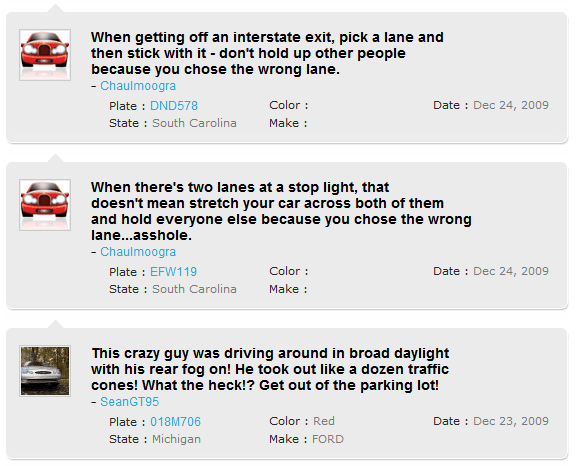 What I found missing  and where Zapatag leads
No maps support. Zapatag has google maps support.
RSS support for latest reports.
However what I find missing in both is lack of an application which lets me report quickly. As you drive you don't have time to type in so much of data. Either you will have to collect all in your mind and then send details when you reach home or just let it go which happens many a times.
I would love to see an application which lets me take a snapshot of number plate and then report me a message in form of an audio which can later be processed by an online tool on their server. Yeah I am little demanding here but that will rock. Check out Car Pong