Fans are of utmost importance in any computer build and even in laptops. They ensure that the PC runs at an optimal temperature and less stress on the rest of the components. Usually, the change in the computer's fan speed is as per temperate. But, if you want to control it, and set up your configuration, check out these applications.
How Can The Fan Speed Improve the Performance of My PC?
As mentioned earlier, the primary purpose of fans in a computer is to increase the internal airflow. It helps the PC internals to cool down and avoid overheating. A heated machine often tends to underperform, harming the machine's hardware.
Every hardware has a temperature zone and its limit. If it's overheated, the hardware component will slow down and not perform as expected. One of the reasons why the PC overheats is when the Fans are not running at the required speed. It usually happens when no software can manage it, or the fans need a change.
So you can either keep an eye on the temperature and manually increase the speed or set up software that can do that for you. So, let's learn about some great third-party tools for changing fan speed in Windows without further delay.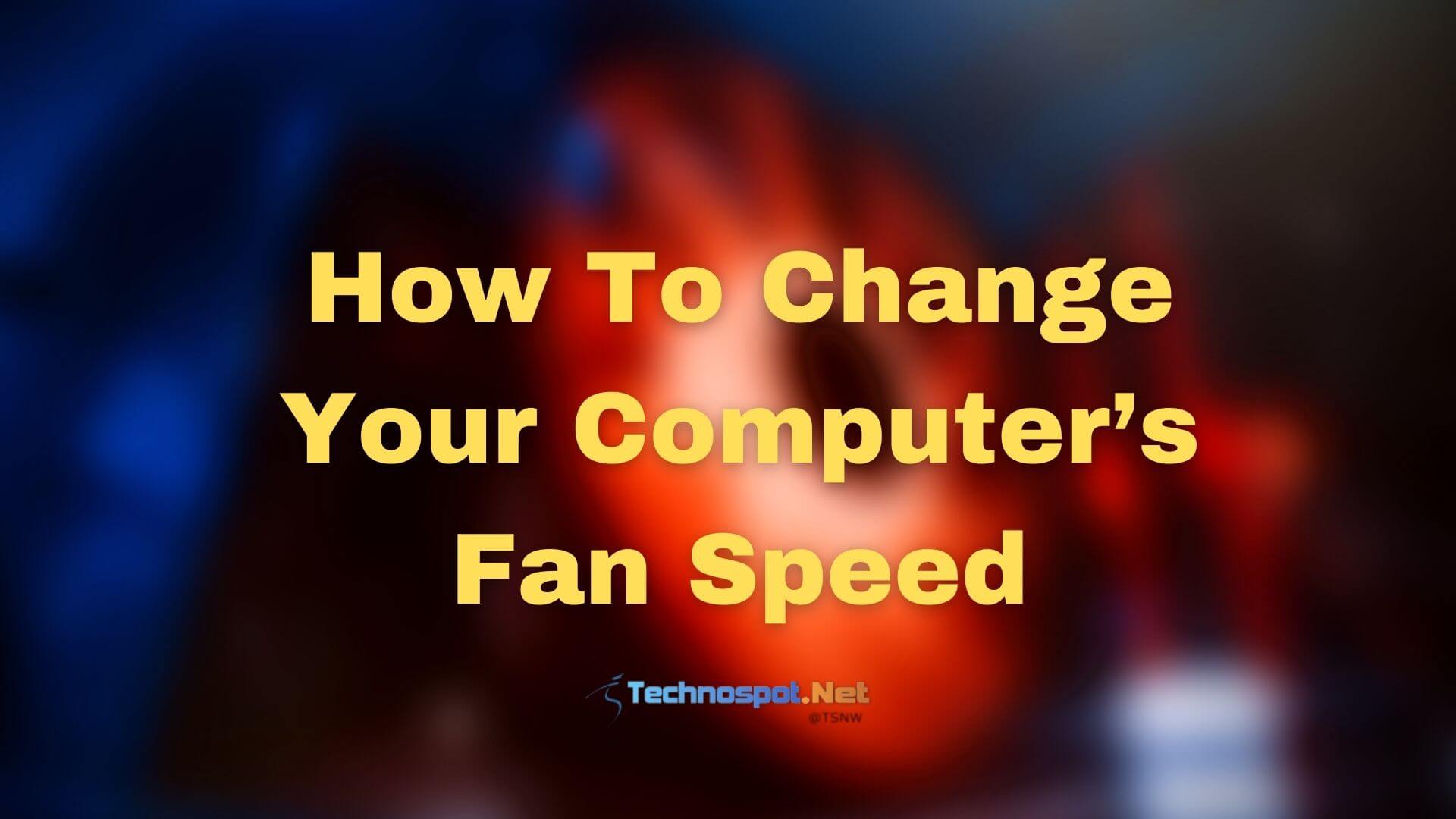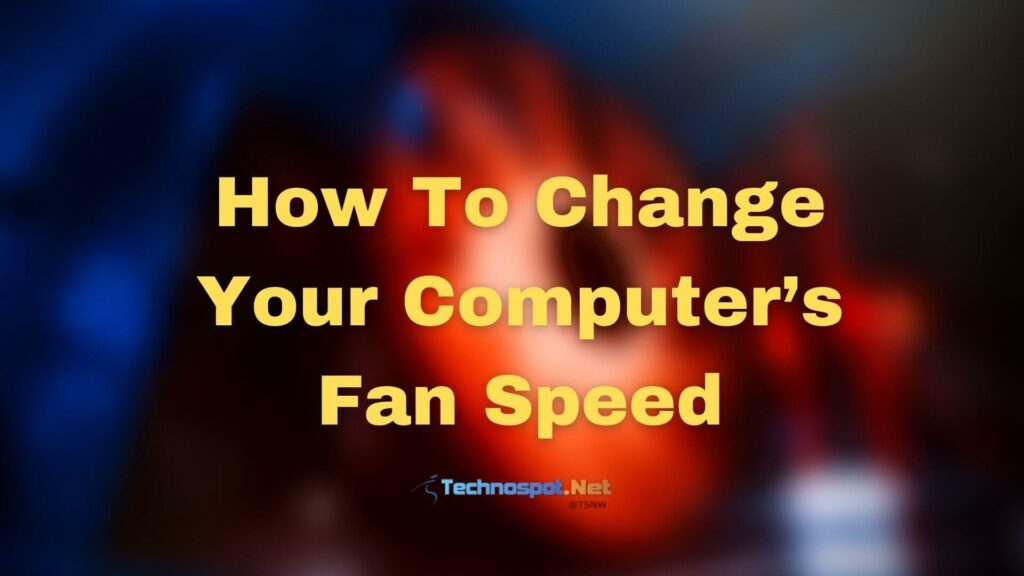 How To Change Your Computer's Fan Speed
In this section, we'll present some of the best softwares we could find that you can use to change your Windows PC fan speed. These tools will allow you to make changes to the CPU fan speed of your system as per your wish.
MSI Afterburner
SpeedFan
Argus Monitor
Some Motherboard OEMs offer software that can help you control the speed. Make sure to look out for them as well. Also, a lot depends on the configuration of your motherboard. If the sensors and
1] MSI Afterburner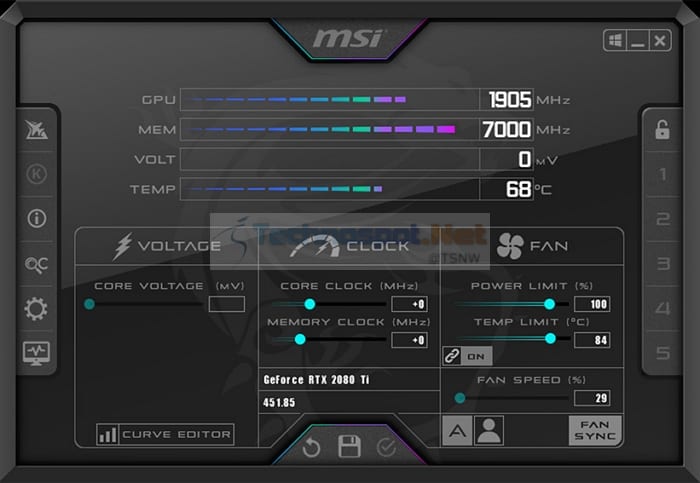 MSI Afterburner is one of the well-known tools for altering CPU fan speed and is used by many users across the globe. The amount of features MSI Afterburner presents in its small package is astonishing. You can use MSI Afterburner to check the temperatures of your CPU and GPU, memory usage, GPU voltage, frequency, and even FPS.
However, the most crucial feature of MSI Afterburner is that it allows you to control the fan speed. It is known to be a tool of great use for those who wish to increase the performance of their machines by increasing the fan speed and overclocking their computers.
MSI Afterburner's output results and data are highly accepted in the community. With real-time temperature checks, accurate CPU and GPU monitoring, and compatibility with laptops, MSI Afterburner is easily one of the best softwares available for changing fan speed in Windows PCs. It is pretty lightweight, effective, user-friendly, and has many features. You can also set custom profiles.
2] Argus Monitor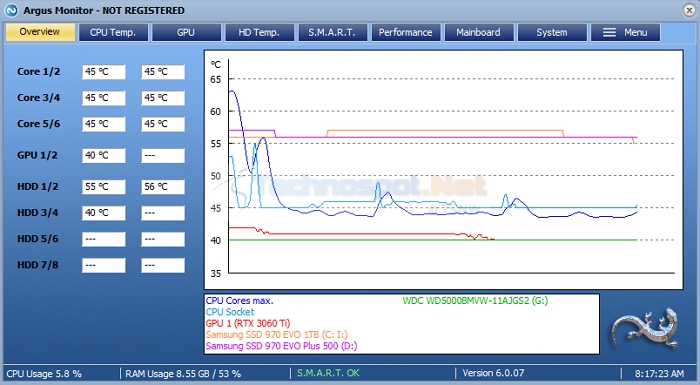 Argus Monitor is a tool considered a personal favorite by plenty of Windows users. Like the previous software, Argus Monitor is capable of doing a lot more than just controlling your computer's fan speed. It serves several different purposes, but CPU fan speed is considered as far as our primary concern; it gives us complete control of our fan speed.
We are free to change it however we seem fit. This hints that Argus Monitor was designed to keep gaming enthusiasts' needs in mind.
It keeps a tab on the temperatures of CPU, hard disks, and even SSDs tracks CPU and storage disk's health and is a lightweight software that runs as a background task.
You get a free trial experience of Argus Monitor that lasts for 30 days. You'll need to buy the full version if you wish to continue using this tool.
3] SpeedFan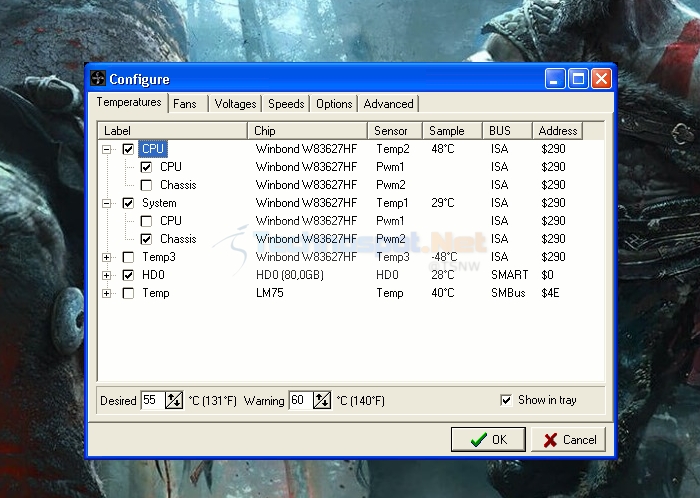 As the name suggests, SpeedFan is a tool for changing the speed of your Windows fan as you wish to. What makes SpeedFan special is that it is one of the oldest tools out there that serve similar purposes. It does a lot more than increase or decrease the speed of your CPU fan.
Apart from monitoring CPU fans and changing their speed following demands from the system, SpeedFan provides us with a bunch of extra features that give it an 'all-in-one' tag.
It is compatible with almost all Windows versions and is a convenient tool. One of the best perks of using SpeedFan is a customizable tool with a user-friendly interface.
Like MSI Afterburner, you can use SpeedFan to check the temperature of your CPU and GPU. You can also take a look at the temperature of your hard drive.
4] Corsair ICUE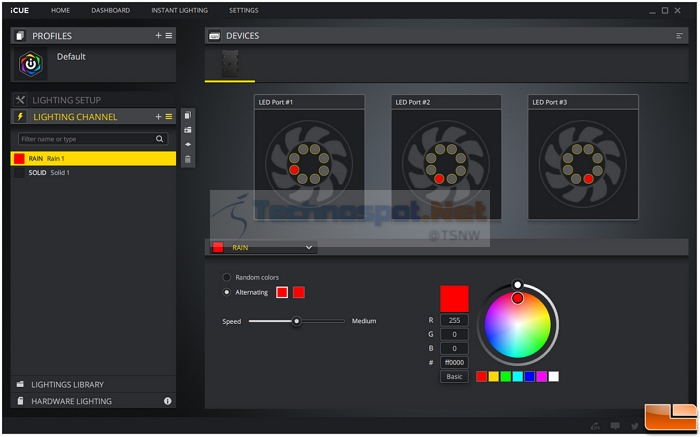 Corsair is the manufacturer of top-quality computer setups and gaming gear, with Corsair's ICUE software, you can do a lot more than just controlling your PC's fan speed. The software lets you control almost every customizable performance aspect of your computer, you can overclock or underclock your CPU, you can monitor your PC's performance, focus on different tasks using customized profiles, and control the lighting and aesthetic of your PC, and a lot more. The software is all that you'll ever need.
5] Gigabyte Easytune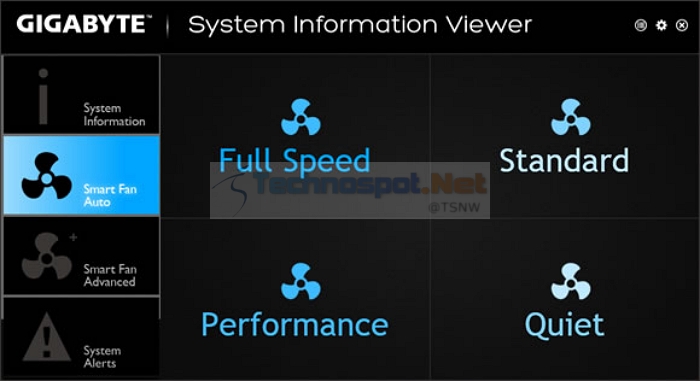 GigaByte Easytune is a simple software that lets you know about all the PC's performance metrics and also lets you manage the fan speed. You can manage your fan speed in various ways, you can either select from the 4 presets, or you can customize the speed according to the RPM. You can also view the live performance of your CPU and also the real-time temperature of the components helping you make a better decision on the fan speed.
Download
6] ROG Armour Crate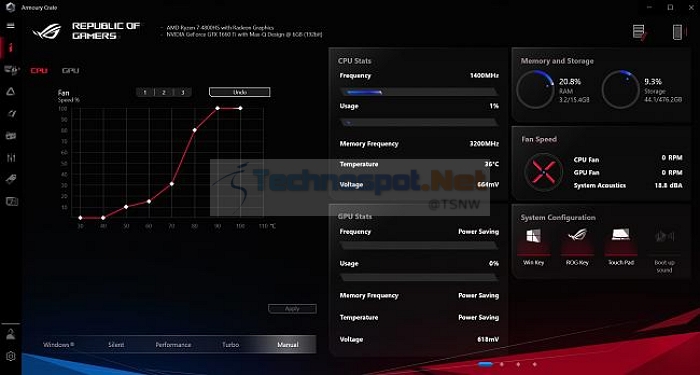 ROG Armour Crate is yet another software from a high-performance PC setup and gaming gear manufacturer which lets you manage your PC fan speed while also controlling many other aspects of your computer's performance like the CPU Clocking, Lights, Audio sync, and a lot more. The interface can be a bit complex, but the application has it all.
Conclusion
Overclocking and underclocking are terms that may have a dangerous ring to them, but they can be helpful when done correctly. This article went over some of the best Windows PC fan control applications. They are easy to use, really effective, and offer many other features as well. You cannot go wrong with any of them in case you're in a dilemma of not being able to choose one.
My Windows PC Is Overheating. What Should I Do?
If your Windows PC is overheating, the first thing you should do is close all the unnecessary and heavy processes running in the background. Secondly, set your PC to the high-performance mode, which will increase the fan speed and allocate more processor resources to reduce strain on the components.
My PC Fan Is Not Working. Should I Change It?
Yes, it would help if you changed the PC fan immediately as they circulate air throughout the system to prevent components from overheating. Overheating components will slow down the PC's performance and will, in turn, fail the system.