We all are aware of the wallpaper changer feature in Windows 7, however the only criteria to auto change the wallpaper in Windows 7 is time span, i.e. you can choose to change the wallpaper only after a certain time interval. How about a wallpaper changer which can change the wallpaper as per the weather?
Here is a small application, named as 'Weather Desktop Background', which allows you to select one wallpaper each for different types of weather conditions, and it will keep track of the weather at your location, and will accordingly apply the wallpaper chosen for that weather, sounds interesting, isn't it?
Download Weather Desktop Background setup in .rar format, extract files anywhere you want, and run the 'Weather Desktop Background Changer.exe'. Then click on the pencil like button to enter your location, now it will automatically fetch the weather conditions for your location as shown below.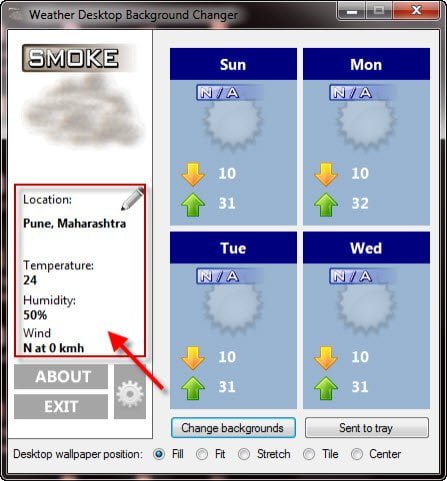 You can also choose different wallpaper for each weather condition by using individual wallpaper . This option is available udder 'Change Backgrounds' button.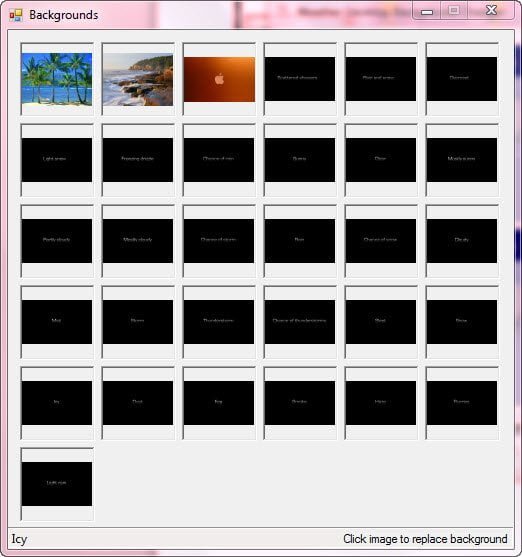 Click on each thumbnail to select wallpaper for it. Once done with this, just sit back and relax, the wallpapers on your desktop now will keep changing according to weather. Apart from these you can choose wallpaper to fit, centre, stretch, tile or fill your desktop background.
If you keep the app on the taskbar, you will notice that the image and colour of the application changes according to weather. Also when used in system tray, you can right click to view the weather prediction of next 3-4 days.
Since you will always love to use this application, select switch to tray so it does not occupy any space on your taskbar. The application is portable in nature, so make sure to keep it in your software collection separately and launch it again when done.  There is not option to launch it with Windows Startup so I will suggest you to add this manually using MS CONFIG.
Thanks to dejco for giving us Weather Desktop Background. However, the application  works only on Windows 7 and Windows 8. Download Weather Desktop Background