Like Windows 10 and macOS, it is possible to change DNS in the Android smartphone. There are two ways of doing it. One is manually changing the DNS in the WIif settings of Android or using an application. The later is a better way if you want to switch between multiple DNS.
Best Apps to change DNS in Android for faster internet access
1] Change Wifi Settings to add DNS
Go Settings->WiFi
Tap on the  connected WIFI network, and then on Modify Network or IP Settings
Switch the IP settings from DHCP to Static.
Add required DNS servers to the entries for DNS 1 and DNS 2.
Click 'Save'
The IP address will be prefilled so dont worry about editing it. Just change the DNS entries with whatever you want to use.
2] Cloudflare DNS Changer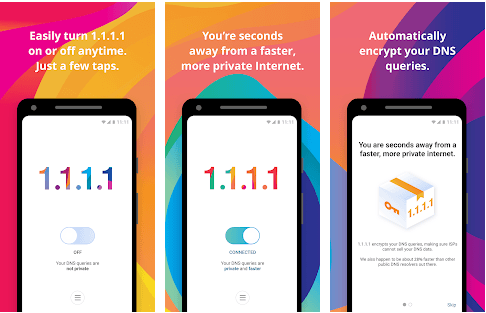 Cloudflare is known for resolving website to Ip address, and at times can help you bypass the restriction as well. They use the IP 1.1.1.1, the privacy-first DNS resolver. All you need to do is toggle on or off to change the DNS making it an ideal solution.
3] DNS Changer
It comes with preloaded DNS configuration from Open DNS, Cloudflare, Yandex, Level3 and  Comodo secure. Select the DNS and click on the start button to instantly change it. It also integrates a Speed test feature to compare the speed of the DNS it offers. The app also supports custom DNS if you wish to configure it manually.
It works both for Wifi connection and mobile data but displays advertisement from time to time.
4] Fast DNS Changer
It does want says. Just like the above application, it comes with pre-defined DNS configuration. All you need is to tap and allow it to change. Once done, you can quickly switch between different DNS. It also supports custom DNS.
If you bought a VPN service, which you want to use on the phone, then its best to install the app from the service. Most of the services have application for iPhone or Android; all you need to do is toggle on or off after you have selected the server location.