In a recent update to Google Plus Layout, the overall usability had been optimized so anybody using Google Plus only concentrates on updates from his circle and pages. As a matter of fact, it seems to be also optimized for mobiles as the width of the Google Plus posts are now thinned down where you can either watch single updates or use 2 column updates.
Now even though everything looks fine, when using on the desktop there is too much of wasted space. You will always feel why there is so much of unused space, why not I can have wider post views.
So today, we have a Chrome extension, + Custom,  which lets you customize and bring back the old layout  to an extend or at least change the layout to what you want. Below is the list of features:
Always show left menu which links to Photos, Profiles, Communities etc.
Increase the width of the posts that appears in your timeline.
Always show one line post which is useful if you increase the width of the posts.
Auto Refresh helps you to get new content automatically.
You can either use a Dark background or transparent image.
Reduce the size of the images which in turn reduces the amount of scroll you make to see the next content.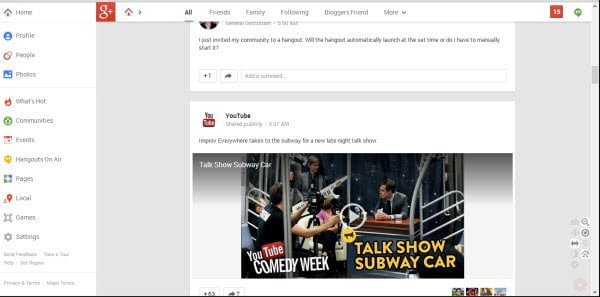 Apart from these, you can use the word filter to keep away topics which appear a lot in your timeline. You can  also fix a post on top. That said, you can download the extension from here which works with chrome. I am looking out for Firefox and IE and If I find anything, will update with the links here.