Windows 8 As of now has no direct way which allows you to choose different colour settings for its Metro UI i.e. For example if you want to have different colour scheme for Charm Sidebar and something different for Logon Screen. I think probably the feature is locked as of now in the developer preview and Window 8 has similar Theme style as Windows 7
Metro UI Color Changer
Door 2 Windows has releases a small utility which can help you change this color scheme for Windows 8 which is easier than the application which we used to change the Metro UI Background .
This application can change color for :
Start Screen and Logon Screen
Start Screen Tiles
Start Screen Tiles Fonts
Charm Sidebar
Charm Sidebar Item Hover
Network Charm Item Hover
Charm Sidebar Item Selected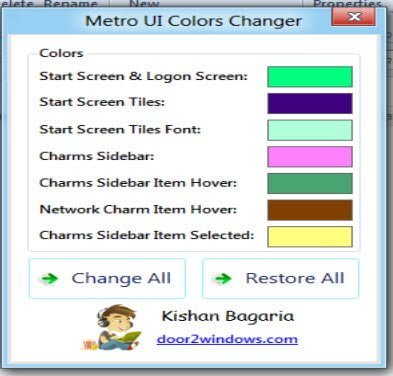 When you launch the application it shows the default scheme and if you want to restored to default, it can be done anytime using the same application. Make sure you launch the application with admin privilege or run as administrator.
Video Demo

Download | Via Nirmal
Metro UI Background Changer :
If you are ready to take a bit of risk and willing to replace some system files,  there are some themes for Windows 8 which can do that for you. Read more on How to change that.
Windows 8 Start Tweaker :
This application can change background image and color with what you want. Easier than the trick above. However you will need to log off and then login back to see the changes done.