Any folder has multiple view modes. You can view them as large icons with thumbnails, details section which shows modified time, large folder view, and so on.  File Explorer in Windows allows you to change it for each of the folders, but then it takes time to change each of them. In this post, I will share a tool that allows you to change the view mode of multiple Folders together
How to Change the View Mode of Multiple Folders Together
NirSoft offers a tool—ShellBagsView—which can change the view of multiple folders instantly. Windows will remember the mode for each of these folders so you do not have to repeat every time you open the folder. Technically speaking, Windows uses the following registry keys to save folder information:
HKEY_CURRENT_USER\Software\Microsoft\Windows\ShellNoRoam
HKEY_CURRENT_USER\Software\Microsoft\Windows\Shell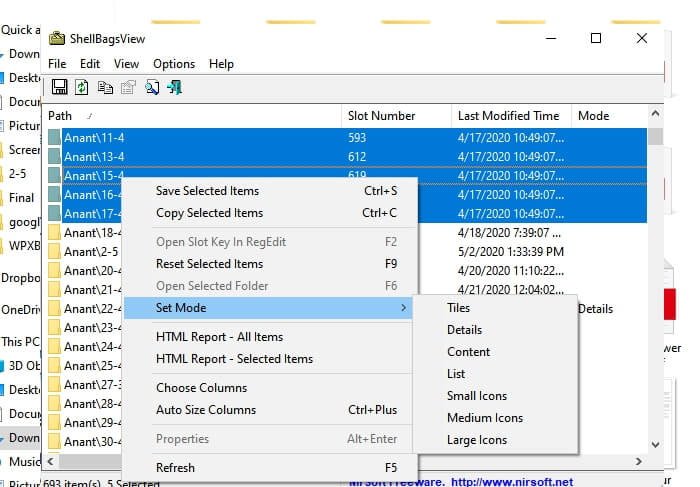 The software changes these values for those folders. Once you download the application, extract and launch it. Then it will show all the folders available on the computer depending on the selected path.
Use the Control key to select multiple folders, and then right-click on it
Select Set Mode, and then choose one of the listed modes (Titles, Details, Content, etc)
The views will change instantly. You can also use the tool to change columns that you can view. If there are sections that you think are not needed, they can be removed. If you have too many folders, its a good idea to make a search for those folders. Lastly, you can always reset to the default view when required. Select the folders, and then choose Reset from the file menu. Remember that the application saves all the details in the registry so, without it, you will not be able to reset it.
I hope the post was easy to follow, and you were able to change Change the View Mode of Multiple Folders Together.