Windows Start Menu or also called as Start Orb has a default image of Windows 7 logo. Nothing boring about it but if you want to change and customize it, here is a start menu image changes which you can download and use it for free.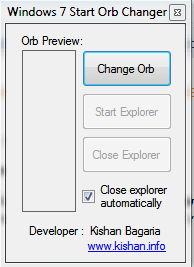 This application needs Bitmap image to get the best experience. This application is developed by Kishan who explains on how to use it as below
The 2 files "Windows 7 Start Orb Changer.exe" & "r.exe" should stay in the same folder to work. It works with both Windows 7 32-bit and 64-bit. If you get an error while changing the start orb bitmap click on "Continue" and try again.
You can read more on his post on how to use it and download it from here. Via Nirmal