Windows 8 Start screen allows you to have a different background but its limited to what Microsoft offers and even though you can change Lock Screen Picture, there is no way to pick a custom background picture for Start Screen. I am guessing this has been limited, so you get less distracted from the Tiles.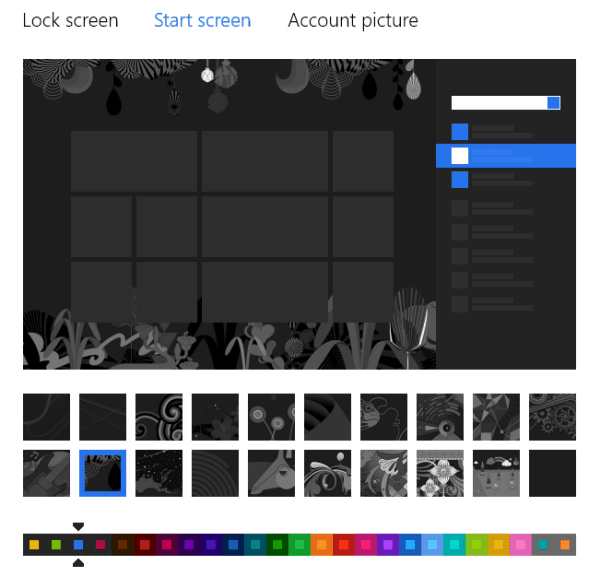 How to add a custom background :
Said that, its pretty obvious you will need some kind of hack to use your own image and luckily, Windows 8 Modern UI Start Screen Changer, developed by vhanla,  allows you to do that. However, before you go ahead and start using it, you are warned to make a restore point and backup files which are important to you. In case something goes wrong, you will end up resetting your computer.
What does it Offer :
Custom Background Image for Start Screen
More Coloured Images for Start Screen apart from default images.
This will work only in Windows 8 Pro as Windows RT users cannot run executable.
How to use it
First download the Windows 8 Start UI Changer from here. Unzip and you will find a file ending with extension as ex_. You will need to rename it to .exe and run it.  There are two files here, one is for 32Bit of Windows and other for 64 Bit of Windows.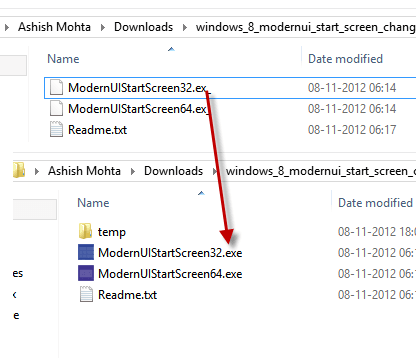 Done that, Run the appropriate program and  In case Windows Gives you warning when you run it, use run it anyway option to override it. When the program launches you will see a similar interface as below. The good part of this program is that it offers you Backup and Restore your current settings, apart from changing screen background.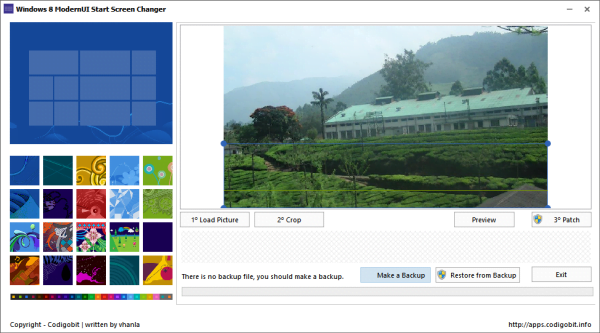 St1ep 1: Click on Make a Backup. Wait till its done and says you have a backup.
Step 2 : Click on Load Picture and select a picture you want to use as background. Once it loads, you will get a cropper which allows you to select part of the picture which will not be visible because Tiles will be in between. Click on Crop and you will get see a couple of previews below it.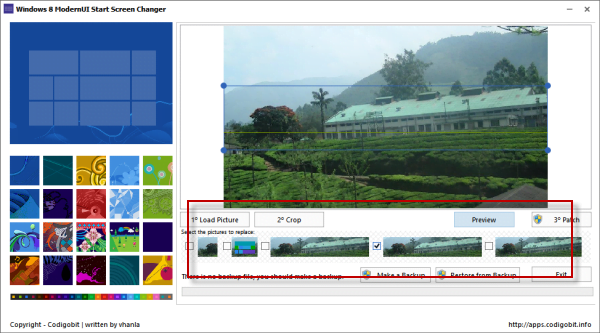 Step 3 : Next select any of the previews offer and click on Preview button to get a full screen view of how it looks like. Once you are satisfied, click on patch and you are done.
Step 4 : In case this is not what you wanted, use another picture or restore to get back to the original state.
To get best out of it, make sure to choose High Resolution image as images will be stretched if they are not of the right size. In case you are wondering how this hack works, then it must be patch the file which is responsible for holding start screen background picture file in Windows.
Apart from loading picture, the tool also gives you direct option to what Windows 8 Start Screen Changer has to offer i.e. Selecting Colour Images, which comes preloaded, and colour options. Have Fun!!