It's very common to see multiple devices in a family. It can be a combination of phones or Phone + Tablets included. These days most of the tablet and mobile manufacturers are choosing Micro USB as charging port for their devices but if you have an apple device things are different. iPhone 5 uses the Lightning cable while devices older than iPhone 5 are using the 40 Pin Connector.
That said now when you get to charge all of them, you need to find a socket for each. That also can be solved using multi-point power strips but if you are looking for even a better solution, here is one for you.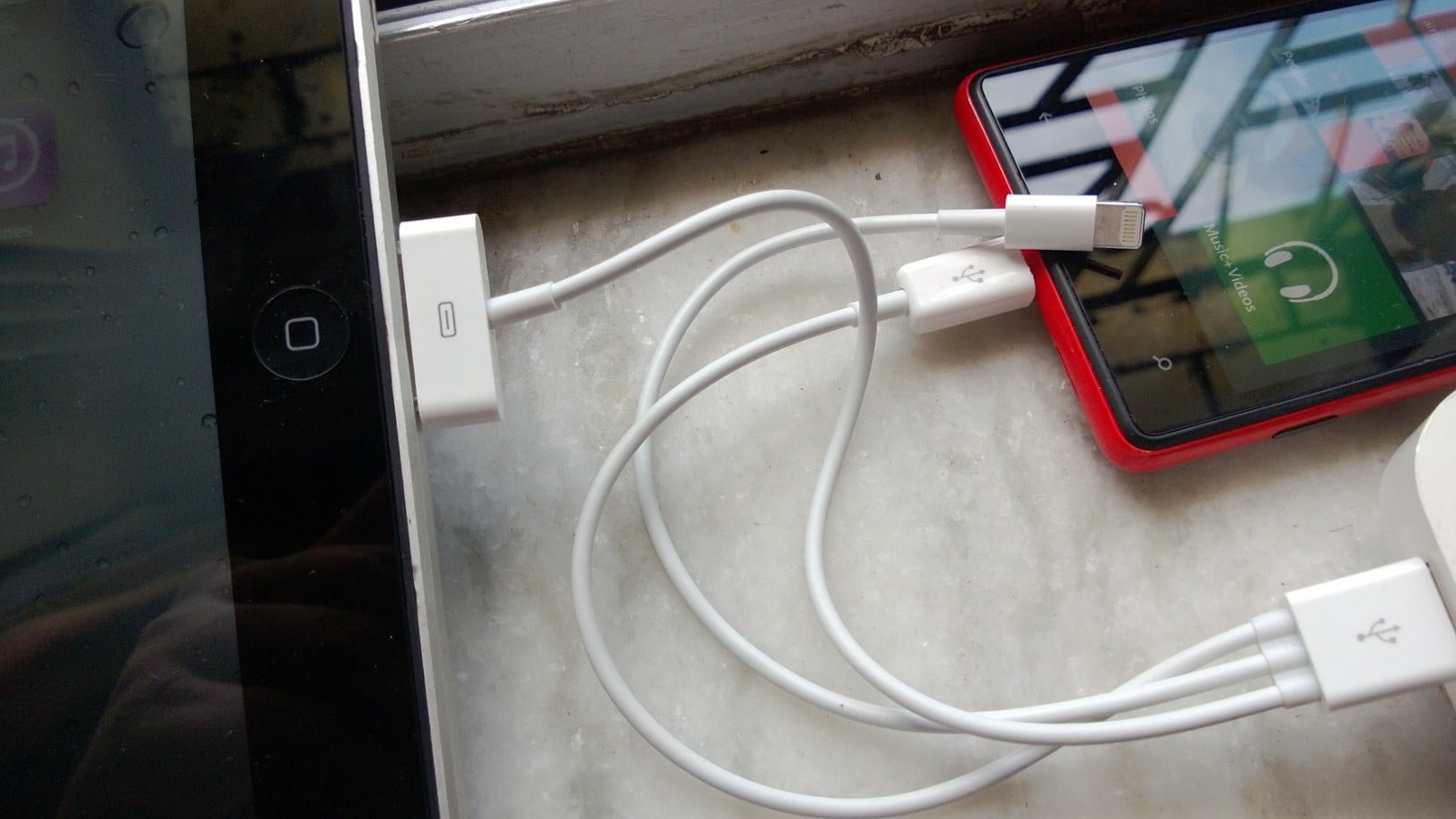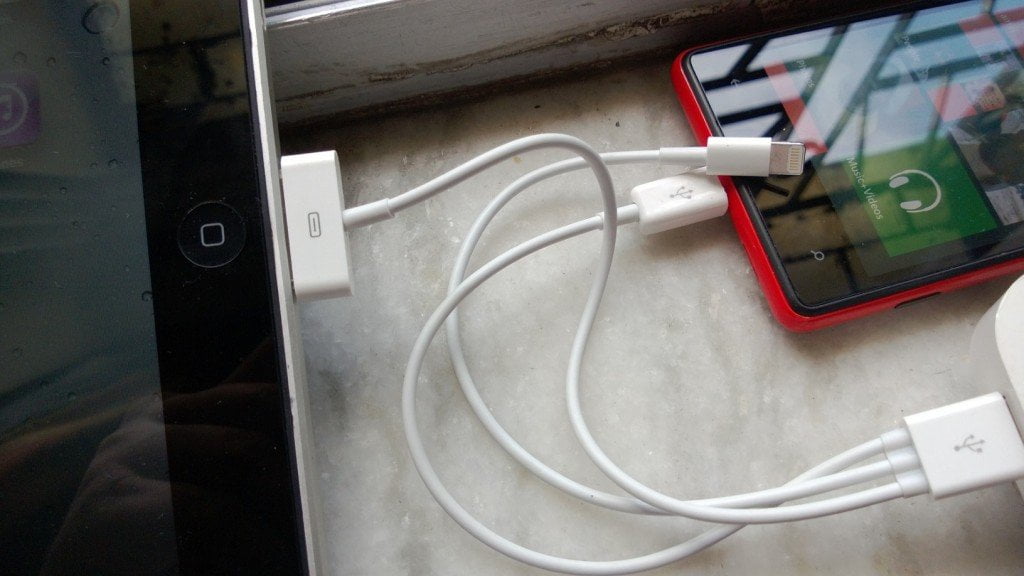 4-in-1 Charge and Sync Cable is a good quality cable which can be used with iPhone 4, iPhone5, micro-USB Devices and Galaxy Tab simultaneously. You can use 3 devices simultaneously while the 40 Pin cable can be turned around to be used with Samsung Devices.
Build Quality:
It has a decent build quality which makes sure that you don't get disappointed after paying 15$. The ports / connectors are made up of strong plastic. As a matter of fact the plastic of iPhone 40 Pin connector very close to the original cable except that the original cable is bit thicker.
Charging Time:
It took 2 hours to completely charge Lumia 820 ( 10%)  and iPad ( 45%)  when used with wall charger. However, when used with laptop, it was slow. Apple Devices are known to be charging slow but Windows Phone was equally good when used with the USB cable that comes along with the phone.
Sync Experience:
This was bit disappointing because it wasn't as fast as when you do with dedicated cable. I tried backing up my iPad and transferring data from PC to Windows Phone and the experience was slow compared to normal one.
So if you have small transferred to be completed and you are lazy to pull your cable, it will come handy but for big job, I would stick to original wires.
Value for Money:
The cable costs $15.49. Now before I speak about its value for money, but before that lets check out the list of advantages and disadvantages.
Advantages:
Best Suited for a person or a family having multiple devices, specially when you have an iPhone or iPad.
Its short and very portable, so it occupies less space and  can be used with any charging head which has a USB port.
Wires don't tangle because of short length.
Same Charging time when used with a charging head.
Sync Multiple Devices with one cable.
Drawbacks:
If you plan to use it on a wall socket, then it's not possible because of short length. Plus you don't want to hang multiple devices together.
Slow sync experience.
That said, its clear that it's not for everybody but only for those who carry multiple devices, specially if  you have an apple device. If you don't have an apple device but its all micro-usb, then it does not make any sense to buy this. It's also useful for users who have both iPhone 4 or before and iPhone 5. You can just carry one cable instead of two.
All these advantages make this cable worth the price but only if you have an apple device along with other devices.
Where to Buy ?
You can buy this from Mobilefun from here. We received this as a review unit from their team. They also have more cable options if you are looking for a different combination.