Want to download or refer free cheat sheets, round ups, quick reference cards, reference guides, reference sheets etc.???
Try Cheat-Sheets.org, this site will work as one stop solution to all your such needs, allows to downloads loads of documents, as PDF files for free, or will redirect you to other websites where you can get the stuff you need.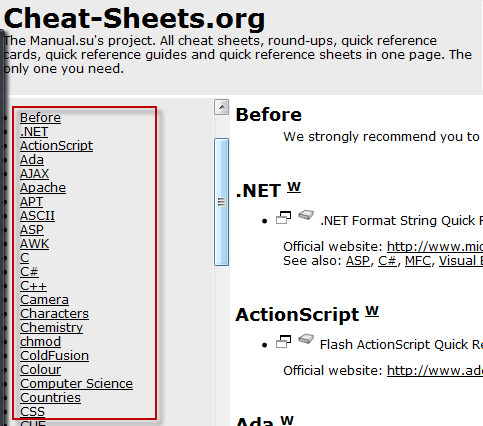 Cheat-Sheets.org has a wide range of documents for categories like –
.NET, Ada,  AJAX , Apache,  APT,  ASCII,  ASP ,  C,  C#,  C++, Camera,  Chemistry,  ColdFusion,  Computer Science,  Countries ,  CSS, Python, Regular Expressions, Solaris, SQL, SQL Server, SSI, TCP, UML, Ubuntu, Unicode, Unix, Visual Basic, VMware Infrastructure, Windows, WordPress, XHTML,XML, Yahoo etc.
You get all this for free, and that too without even a registration, isn't that awesome? I downloaded a couple of PDF files, go ahead and download your stuff J.