Social media platforms like Twitter, Instagram, Tiktok, Facebook, etc., are essential for marketing and branding strategy. Your presence on social media can be advantageous for attracting traffic. For this, you need to have a suitable username available for you before you register the domain name for your next project.
These username checker websites will check the username availability across many websites, including Twitter, Instagram, Tiktok, Facebook, by just entering the username.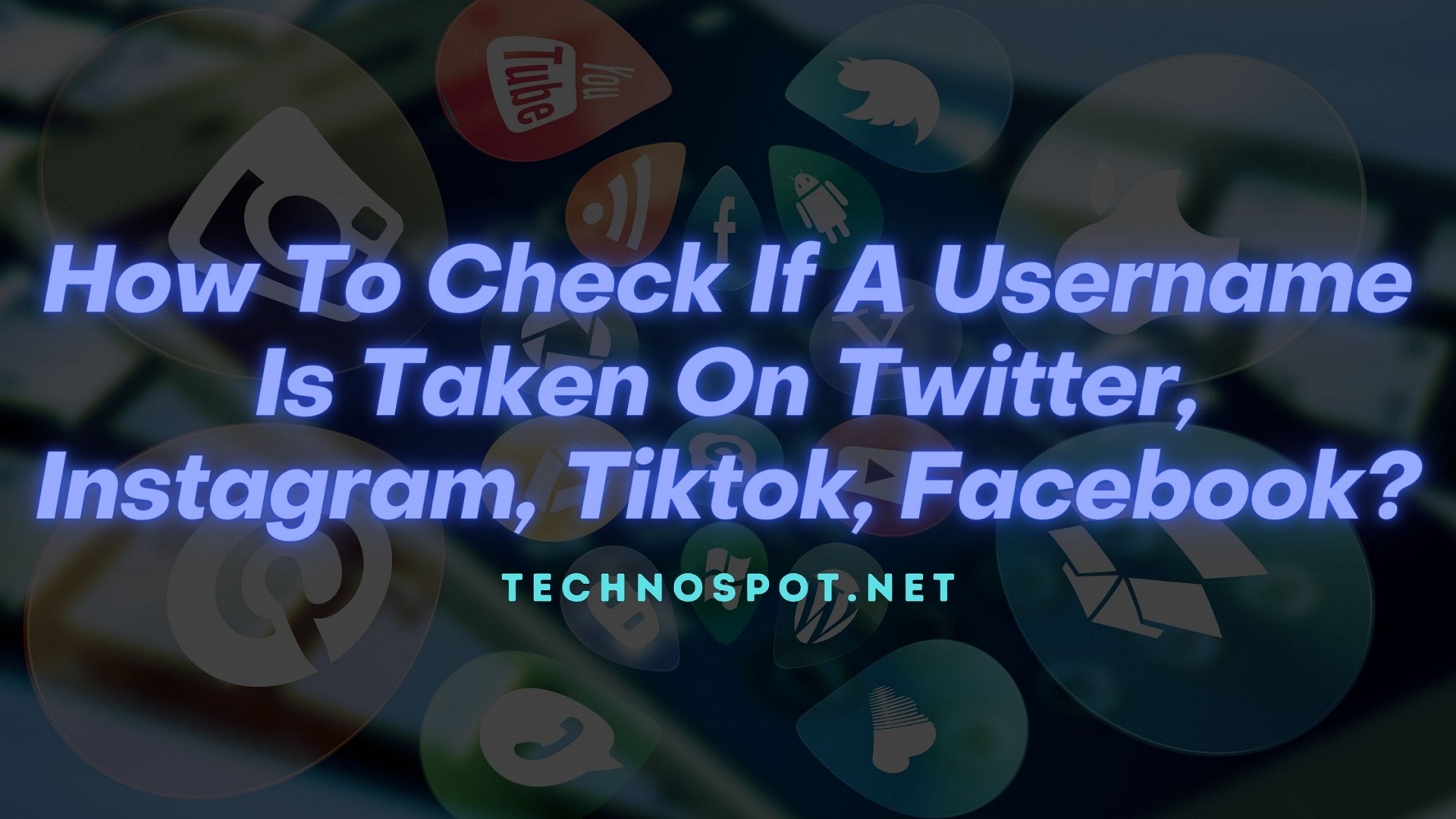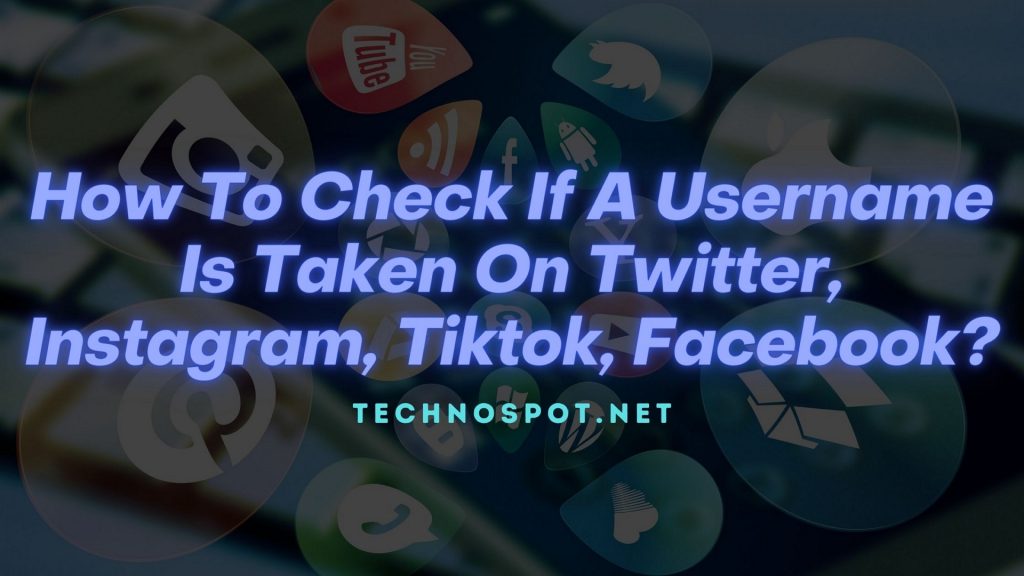 Why Check Username Availability?
When you are thinking of starting a new business or startup, you come to know that your preferred username on the social media platform is not available. It becomes pretty disheartening because some other people have already taken it on social media websites.
You must check username availability when you want to have one username across all social media platforms for branding purposes.
You should try different variations to make sure the required username is available across the board, and if it is available, secure it right away without delay.
Username vs. Social Media Handle
The main difference between usernames and social media handles is that usernames are often private, and social media handles are public.
Usernames are used frequently as login credentials, and they are not publicly available. Social media handle is directly related to your brand identity.
However, social media usernames end up being your chosen social handle as well.
Check If A Username Is Taken On Social Media (Twitter, Instagram, Tiktok)
So to start with your username, search for efficiently generating a unique username. Here is a list of the best social media username checker tools to check username availability and find a suitable name available on most social media networks. These websites will help you to review and find the availability of your favorite username:
1] Namechk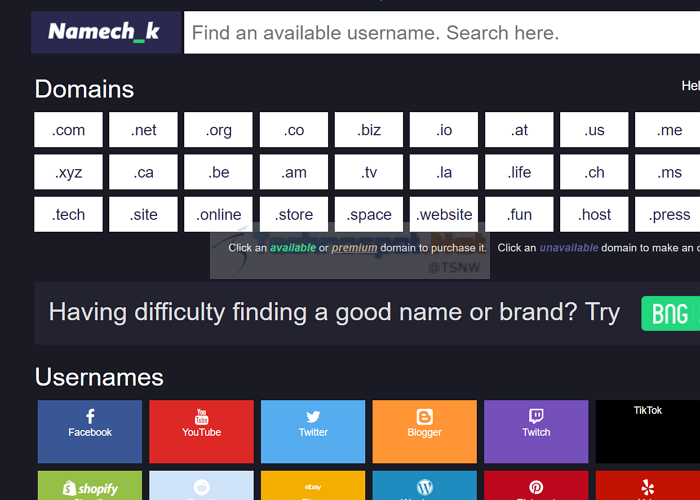 Namechk is a free-to-use website on which you can check if your desired username or vanity URL is available or not for popular social networking websites. By registering a username that is still available, you can promote your brand consistently on most websites to own your online presence. You can find the best username with Namechk. Namechk is in partnership with some top companies that help you ensure your brand is easy to see across the internet and consistent.
When using Namechk, you need to enter the username you want to have and click on the search button.
Web application Namechk will go through all the available social media websites impressively fast to check if the required username is available or not.
If the username on some said platform is available, it's green. If it's not available, it will be yellow, showing that it's invalid because some platforms can restrict used characters.
Sometimes there are false positives about the nonavailability of usernames, so recheck it to verify by opening URLs.
NameChk displays plenty of available URLs or usernames.
2] Instant Username Search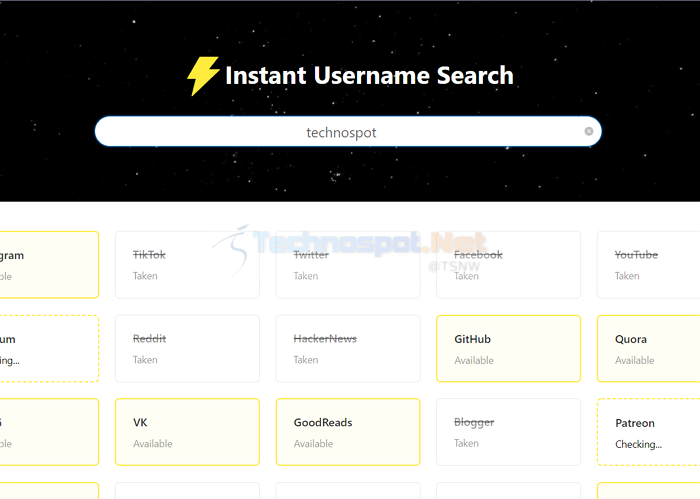 Instant Username Search is fast and helps to check your username on around 134+ websites. As soon as you start typing the desired username, it starts searching for its availability status. Instant Username Search has a clean and clear user interface. It will show the status of taken or available username on each box.
When you want to promote your social media profile, it is also important to advertise it across all other platforms, such as Twitter, Instagram, Tiktok, Facebook, etc. And instead of checking the availability of usernames on each social media network and website, it's simpler to access the Instant Username Search. You need to enter the desired username in the box "Search username," and that's it. The page will quickly show you which social media websites the username you choose are available for registration.
3] Handlescout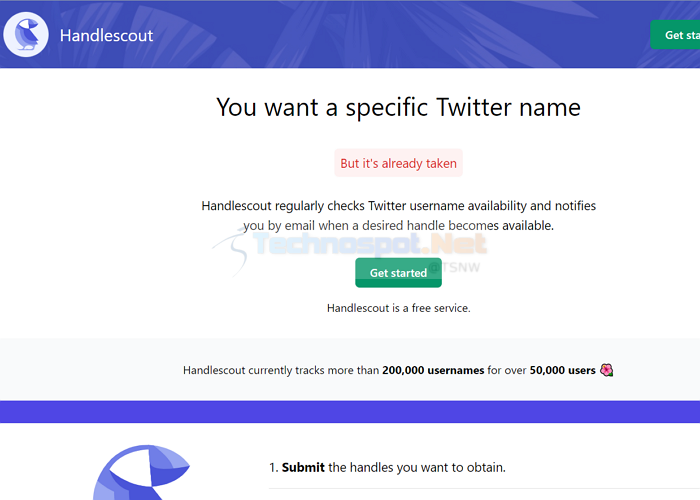 While choosing a username for social media platforms like Twitter, you generally spend a little bit of time. Once you have selected your username, you should stick with it across other platforms as well as it is challenging to choose a username as the popular ones have already been used by someone else.
Handlescout is one of the free services that notify you when your desired Twitter handle username becomes available by email. It's used mainly for Twitter username scouting. If your favorite username is not available right now, using alerts, you can get it whenever it gets available.
On Handlescout, you can create a notification reminder to get an email.
4] Knowem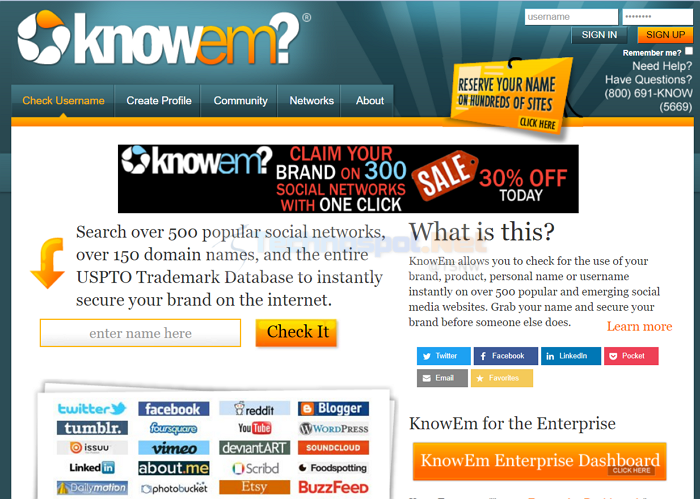 For checking desired username availability, Knowem search over 575+ Websites. Although major social media websites should be your only focus, if you want to claim on all of them, you can use Knowem.
The best feature of Knowem is that you can select any of the icons in the results and directly go to the sign-up page to reserve your username. Another feature that makes Knowem shine out from other username checker websites is that it allows you to check usernames based on category. You can select the category which fits your niche. There are different categories like tech-related, information, music, blogging, health, community, design, entertainment, photography, and more.
Knowem is an all-in-one social media management system, a trademark protection service, a social profile, and a brand marketing platform. They offer many benefits, including free username search, domain search, and trademark search for social media accounts.
They also offer paid service depending upon your package, where you can claim a username over many websites to save a considerable amount of time.
5] Startup Name Check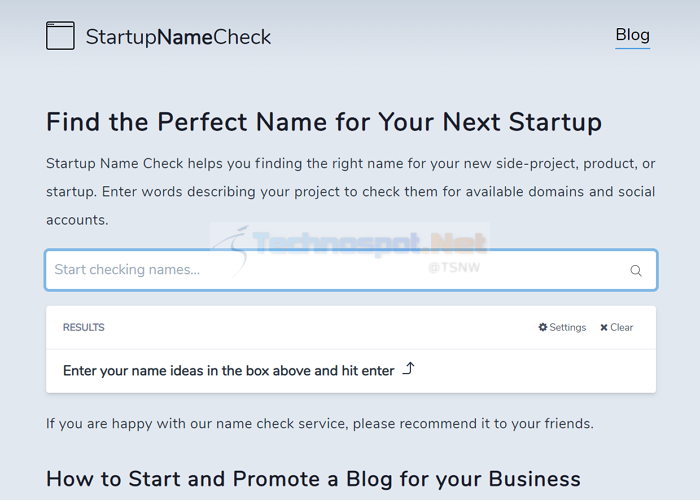 As the name suggests using this website, you can check your desired startup name's availability on several domain extensions and social media handles.
On Startup Name Check, around 22 social media platforms and 36 domain extensions are available, on which you can check desired username availability.
One of the best features of this username checker website is that every new username you are searching for will remain visible on the screen. Hence you can compare which username is available on platforms.
One of the shortcomings with this website is that this interface is not very user-friendly, as you need to check all 22 social media platforms one by one manually.
Do's And Don'ts While Choosing A Username
Choose a short, unique, easy to speak, and remember username.
Use a similar username across all of your social media accounts and emails etc.
It's about your Brand. The username should be for a lifetime.
Do not use underscores in username.
Don't use repetitive letters, alphabets, or symbols.
How Do I Find Out If A Name Is Taken?
You can check desired usernames using a domain name or a social media username checking tool that provides domains and usernames across the web. There are several free username checker tools available online to do this job instantly for you.
How Do I Create A Unique Username?
You can come up with a unique username for your social media handles. Enhance it by mixing your nick, original name, adjusting their spellings, your professional title, any exceptional quality of yours from which people correlate you.
You can use any free username checking tools to perform a free username search for various social media networks in just two clicks. Even if you are an individual who wants to secure a single username across different websites, these websites can be beneficial for you.