While USB Drives or Flash drives are solid-state, meaning that there are no moving parts, they are less prone to errors. There can be times when these drives may not function properly, which is why we are writing this article. In this article, we will talk about tools that will help you check your USB drives for any read, write, or logical errors. Please make sure you read this article till the end, as each tool has some benefits over the other.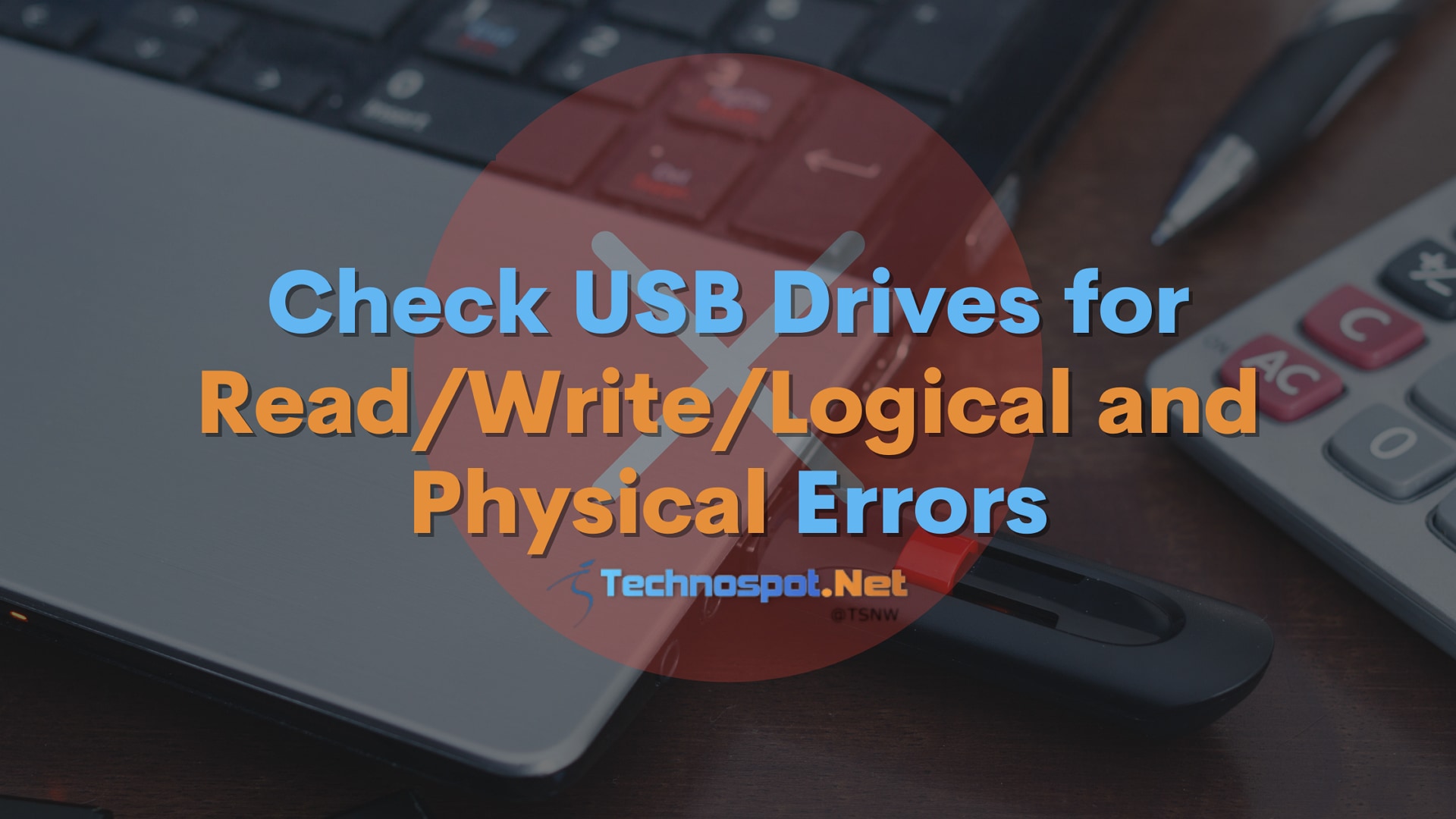 What Causes An Error In USB Drives?
While the fundamental reason for failure on your drive cannot be determined without testing it, here are some general reasons why you may be encountering the errors:
Bad Sectors: Every storage device has a finite life. If any folder on your drive was previously accessible, you could not access it because your USB drive is old. The chances are that it has bad sectors. The best solution for this is to take a backup of all the remaining files and then scan and try to fix the drive for error.
Corrupted or Outdated Drivers: Sometimes, corrupted or outdated USB drivers on your computer can also cause issues. You can either try updating drivers with Windows' optional updates or reinstalling the existing drivers to solve this issue.
Damaged USB Connector Or USB Port: One of the most prominent physical errors that occur on USB drives. It occurs when the metal part of your drive inserted in your computer's USB port is damaged or the USB port itself is damaged. You might encounter some errors.
Malicious Files on The Drive: If there are malicious files on your USB drive, you will surely come across an error. While opening or copying any file from the drive, your Windows explorer might freeze, or the file will not open or copy.
No matter the cause of the error, if you feel that there is even a slight possibility of something being wrong with the drive, your first step should be to save as much data as you can by using reliable drive backup software. Let's now look at tools to check USB drives for errors.
Check USB Flash Drive for Read, Write, Logical and Physical Errors
Here are some of the best free softwares and methods to check your USB drives for errors. These will also help you repair your USB drives and not check them for errors.
Windows Drive Repair
Using CHKDSK In Windows Terminal
ChkFlash
Let's know more about these tools.
1] Windows Drive Repair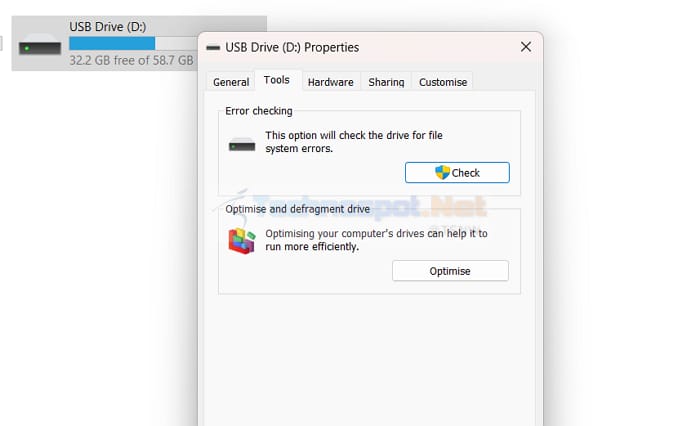 Windows Drive Repair is an inbuilt utility of Windows that works flawlessly in repairing and identifying errors in a drive. This tool does not tell you what errors it has detected in your USB drive but tries to fix them directly.
Head over to Windows Explorer, then open the This PC to access this utility. Right-click on the USB drive, and click on Properties. In the properties window, open the Tools tab and click on the check now button under the scan and fix this drive for errors option.
2] Using CHKDSK CMD
CHKDSK is another Windows utility that anyone can use to check storage devices for errors with the help of the Command prompt or Windows terminal. Here's how you can use it:
Open Windows terminal with administrator privileges.
Now paste any of the following commands to check your disk and repair the errors:
chkdsk C: /f
chkdsk C: /r
chkdsk C: /x

The Chkdsk C: /f command fixes the drive for errors; the Chkdsk C: /r finds bad sectors and recovers readable information from them; and the last Chkdsk C: /x first dismounts the drive and then fixes the errors.
After entering the command, hit enter and let the utility do its work.
If you are facing a similar issue with hard drives and SSDs, then check out our guide on what you should do when the hard drive is failing.
3] ChkFlash
ChkFlash is one of the best USB drive scan tools out there. It allows you to perform many different types of tests to check your drive's performance across all kinds of parameters and see if it works flawlessly.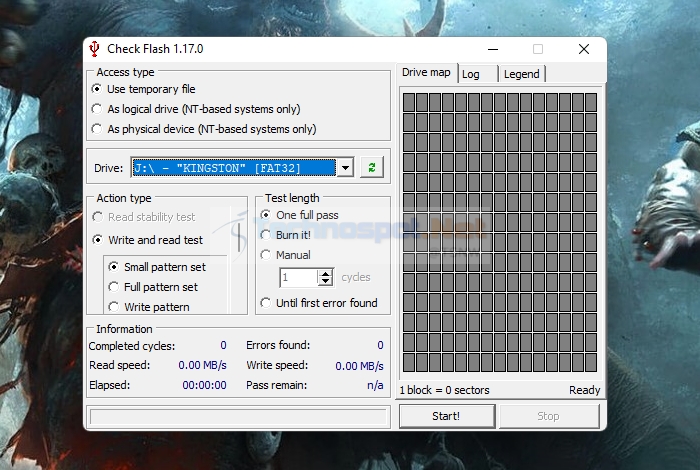 You can perform six types of tests, including the traditional read and burn-in test, load image, save the image, and full erase test. The developer's site recommends you take any backup of files stored on the drive, and it is more recommended for you to use an empty drive for testing. The developer's site also states that the tool should be used with utmost care as it'll keep running the test in continuous cycles unless you command it to stop.
Download
While scanning a USB drive for errors, it is best to use an empty drive, and if there are some files on the drive, it'll be a lot better for you to take a backup of them before going further, as this will save you from any mishap. We hope you found the article to be helpful. Please spread the word.
How Often Should I Scan My USB Drive For Errors?
Ideally, it would help if you were scanning your USB drive for errors only when you feel something unusual about it. However, you can consider scanning the drive for errors twice a month to maintain your USB drive in a healthy state.
My USB Drive's Read And Write Rate Has Become Extremely Slow. Should I Be Worried?
If your USB drive is performing significantly slower than it used to, there is a higher possibility of some error. In such a case, first, back up the files if there are any and then fix the errors by scanning the drive.