Introducing Chirp, A WPF based desktop twitter client whose looks gets closer to a touch screen feel with excellent low resource consuming animations and out of the box features like inline reply, find original tweet, unlimited tweet scroll.
In Line Reply Feature :
Chirp makes it possible to quickly reply the tweets with its inline reply feature.  Since the tweet box opens right on top of whom you want to reply it saves a lot of time. Other clients when you hit reply it outputs the @reply on the tweetbox and then you move down and type in. That's 3 sec extra .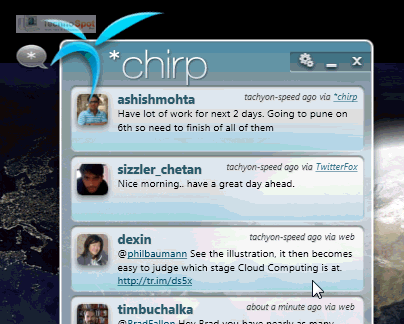 Tweeting in Chirp :
If you love animations and cool effects chirp is your choice. When you hit the update button, it pop ups a sleek looking tweet box where you can type in. The word limit ( 140 ) is animated as transparent text behind it and  updates as you type in. This is what I loved about it. I need to take a look left or right but right where I am typing.
Find the tweet which started the conversation :
Many a times we tweet and then get busy with some work. Later on when we come back we see a whole bunch of replies from your followers. But then you already forgot what made that conversation started. Chirp lets you find that easy. Just hit the arrow button over the replies you get and you would see your tweet which started all the conversation.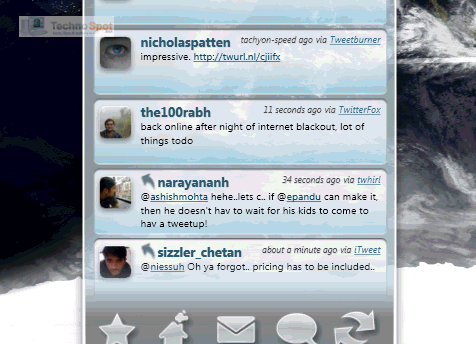 Scroll the History :
Chirp also lets your scroll as much as you want. All you need is drag the time line and go up or down to see the older tweets. This is just not availble in many of the clients.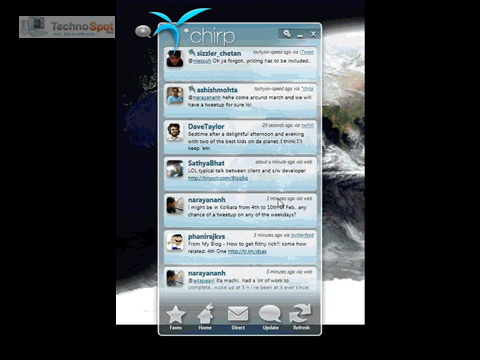 Profile Viewing :
Profile viewing is pretty much professional. You can hover over any of the twitters in your time line and see the profile. It hsows all the details which twitter allows to including the bio. This is the right place where you can block, unfollow, fav twitters.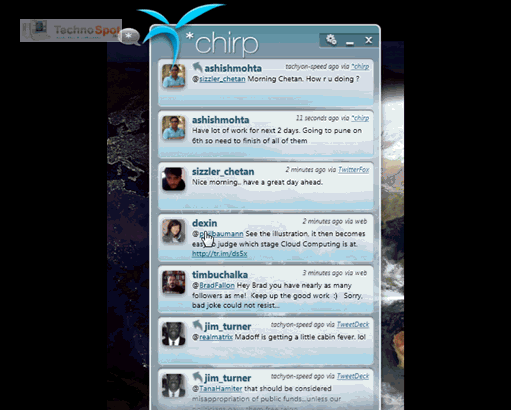 How chirp can improve and do much better :
Scrolling is good but Its not easy to do with mouse. How about scrolling with arrow keys.
Like you have inline reply, how about inline blocking, fav and unfollow buttons available when I hover any of the followers.
Finding the first tweet is great to find conversation. Also if we can have a conversation history it will just kick ass.
When I reply it hides the original tweet. Yes that's what is inline reply but if I need to view the tweet which I am replying ?  We can have the follower tweet showing up and then a in reply below will solve the problem
How about including some features like URL shortening services and Twitpic.
This twitter client just rocks compared to other twitter client with its unique feature but still has some points of improvements to knock them down of the competition. So if you are hearing give it a thought!!. Download Chirp