Photo sharing is a part of every computer and internet user's life; moreover the digital photos have brought a revolution in photography, providing an easy mode of shooting (photos off course. LOL), hence the trend of photo sharing has enormously increased, and why not, after all it's an easy mode of sharing joys, expressing yourself, showing of your creativity and much more.
Momentile is a new photo sharing service, and is different in many ways, and you get several awesome features as you create an account @ Momentile –
One photo a day – Momentile insists on uploading one photo everyday to your account, so that after an year you have 365 photos online, so, the idea is, chronicle every day (close to a moment in an year) of your life, and preserve it online, and when viewed as a set of 365 photos, no words required, an expression in itself, as good as a log of whole year in form of photo set.
Your Stalkees – This is a tab on your account's homepage, which shows you the list of your favorite Momentile users, whom you have collected as per your taste, i.e. you like them for the kind of photos they post, you can add any user in your Stalkees, they don't have any control to restrict you.
According to Momentile, "These are all the beautiful momentile users that you are currently stalking. They know you're out there. Lurking in the bushes… watching their every move, but they can't do anything about it!"
Your Stalkers – Tells you about the people who have kept you in their list of Stalkees.
According to Moemntile, "All of these strange people listed below are stalking you. You can't do anything about it, so just try to relax and this will all be over soon."
Your Stash – Collection of the photos you liked and Stashed, its as good as saving a list of favorite photos from all over the Momentile.
According to Moemntile, "Your very own stash of momentiles. If you click the "STASH IT" link above an image, this is where it will end up. If the owner of that momentile deletes their image, it will also be deleted from your stash."
Your Momentiles – The photos you uploaded can be seen in thumbnail view under this tab.
According to Moemntile, "You can upload images as much as you want in a day, but only the most recent will be saved. If you delete an image it will be lost forever. You cannot swap images for previous days. Basically you can only live each day once and there's no going back. Kinda like real life, but not as hard."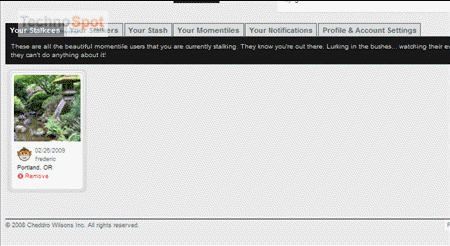 Other two tabs 'Your Notifications' and 'Profile & Account Settings', refer to different settings, your profile contents, and what notifications you want and how do you want them to be delivered to you. An option to get the notifications via text message to your Cell Phone is also there apart from the email notifications option.
Another beautiful feature of Momentile is, unique upload email address for every Momentile user, don't want to login to your Momentile account due to some reasons, simply email the photo to get it auto uploaded to your account on your unique upload email address.
Moemntile users can add caption to the Momentiles (photos) by other users.
If somehow you happen to upload more than one image a day, the last image you uploaded will be saved as your Momentile for the day.
You can send out your unique Momentile URL, to let others have a look at your Momentiles, even if they are not a Momentile users, if 'abc' is your username on Momentile, your Momentile URL will be 'http://momentile.com/abc'
You can browse and have a look at Momentiles by other users, by clicking on the 'Everyone!' button on the top section of your profile, as shown below.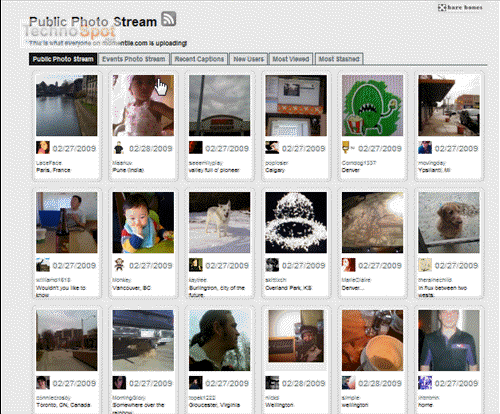 Moemntile is definitely a nice concept; simplicity of the interface is awesome. Allowing an access to Momentile, even for non users is another added advantage.
Currently this service is under closed alpha testing, you can ask for an invite via the comments, we will sending out couple of them. Or you can add your email address on the Momentile home page to get notified as soon as it is open.
Via Read Write Web, Thanks to Frederic for sending me an Invite.