Windows right-click context menu is one of the most widely used functions or features in Windows, without which even half of the things we do in Windows won't be possible. However, they pack ion so many options that it clutters everything and takes too much time to find out. In this article, we will tell you about some of the best free tools out there that you can use to clean or remove Windows Right-click context menu items. Make sure you stay tuned till the end of this article.
Why is Context Menu or Right-Click Menu Cluttered?
The context menu is the menu that opens every time you right-click a file or application on your Windows PC. This menu is often cluttered with items or entries which are not often used and relevant. These entries are created by apps installed on your PC and sometimes by Windows. A cleaner context menu will not only ensure easy access to essential functions but also help you in boosting your productivity.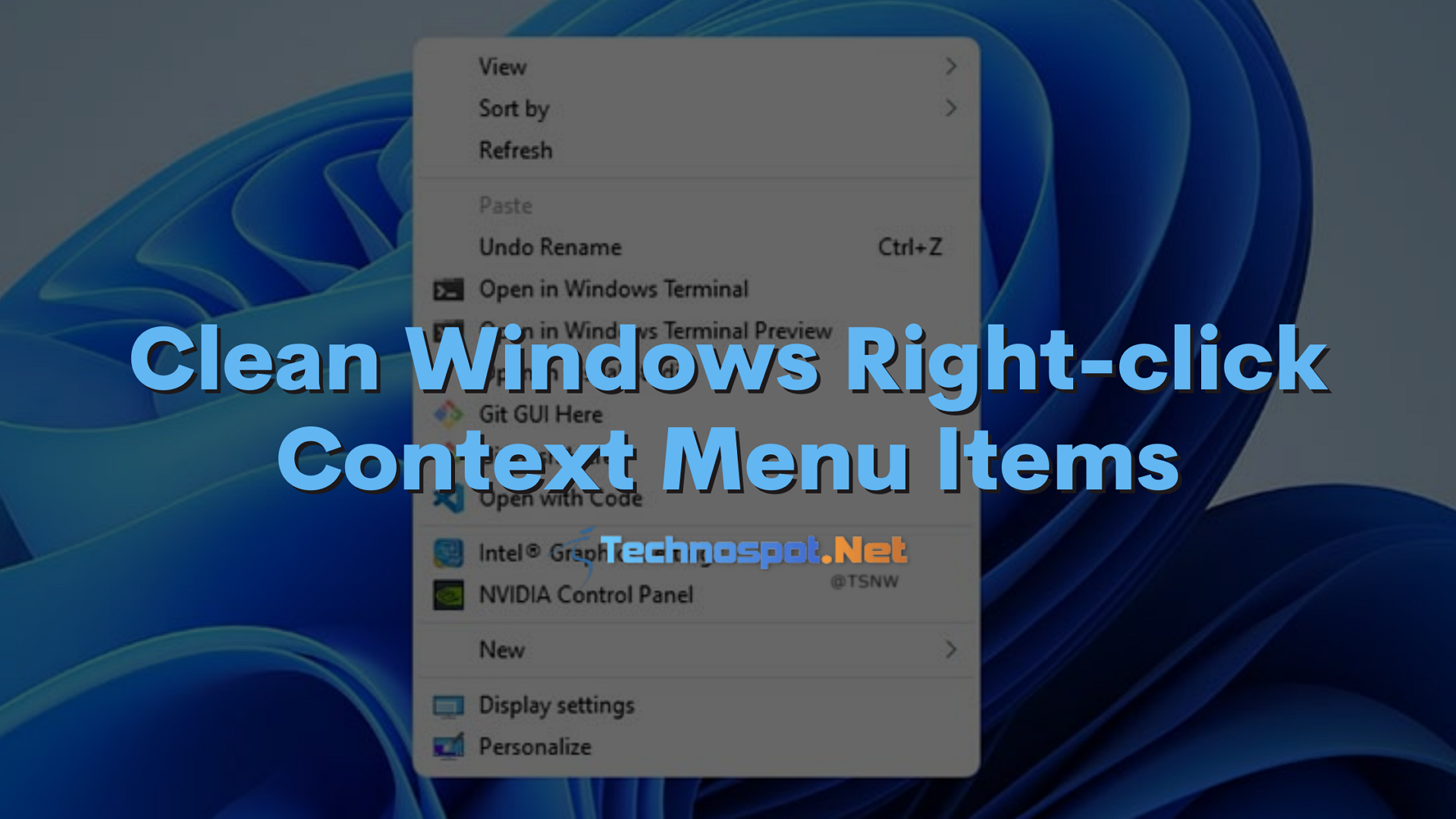 How to Clean or Remove Windows Right-click Context Menu Items
Here is a list of some of the best tools to clean the Windows right-click context menu. These are tried and tested by thousands of users and work precisely. Check them out since each has some features that distinguish them from the others.
ShellExView
FileMenu Tools
Glary Utilities
Before going ahead, you can create a system restore point in case the tool fails to revert to the original arrangement. Let's look at all of these softwares in more detail.
1] ShellExView
ShellExView is a context menu management utility for Windows that has been around for quite some time and has been free for over a decade. The tool is by Nirsoft and lets you manage your right-click context menu and clear it for any unnecessary menu items if present.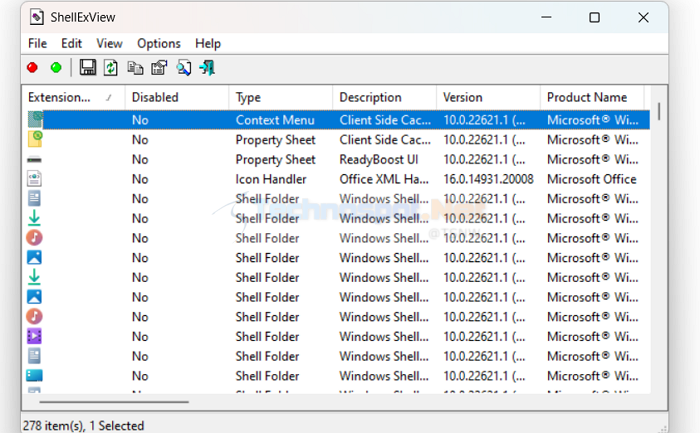 It is a straightforward tool. It shows you all the shell extensions on your computer and allows you to disable or enable them. Shell extensions are files, locations, or tools that are added to your context menu when a new functional software gets installed on your computer. The software's interface may look outdated, as it is not very well polished, but ShellExView does its job flawlessly.
2] File Menu Tools 
If you are looking for software that does everything you need related to right-click context menu, then File Menu Tools is the software you need. File Menu tools is a feature-packed and powerful context menu manager and editor. It lets you view and manage shell extensions from the context menu and add tons of shell extensions and commands to the context menu.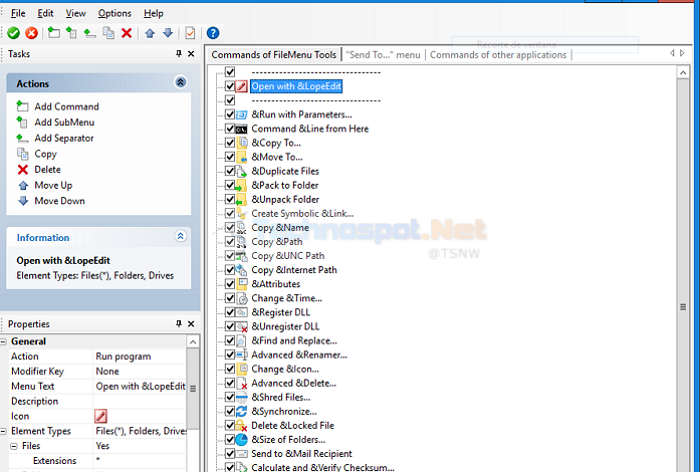 You can also install customized commands (this requires a moderate level of expertise in the command-line interface). Tons of other commands like advanced renamer, copy file path, delete the file permanently, Split files, paste clipboard, and many others are available on the application. File Menu Tools is entirely free for noncommercial and even commercial usage.
Download | Read more about File Tools here.
3] Glary Utilities
Glary Utilities is a similar tool to CC cleaner in its approach. It attempts to boost the performance of your computer by using various tools to organize and clean your computer.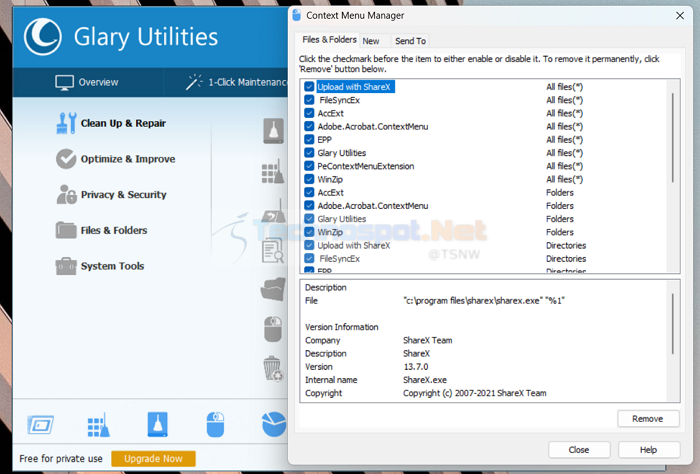 The app also includes automation methods to help you speed up. There are 20 tools to maximize your computer's performance, including the context menu cleaner, which allows you to view and edit shell extensions. Glary Utilities is a freemium application, meaning you can access some of its features for free. For others, you'll have to buy the pro version. The context menu editor and cleaner are available in the free version.
Conclusion
Right-Click menu is the most used feature and remains most cluttered with almost zero control to the users. These apps will ensure that you can remove what is unnecessary and add what is more beneficial.
Is It Safe To Add And Remove Items From The Right Click Context Menu?
It is generally safe to remove items in the right-click context menu. Editing items in the context menu included tampering and tweaking the Windows registry. So make sure you are using a trusted context menu editor application. If you remove an entry, you can bring it back using the same tool.
Will Cleaning The Context Menu Reduce Its Loading Time?
Cleaning the context menu will reduce its loading time. However, the difference may not be very noticeable since the loading time of anything on your computer depends largely on the specifications of the hardware components of your PC.