Cliplets is a software from Microsoft Research which helps you create small movies, and add some cinematography, effects, video texture etc. This is typically useful for users who do not want to spend lot of money on expensive software and do not want something very complex.  This was recently updated to support, creating GIF images which you can easily post on social networking if video is kind of heavy.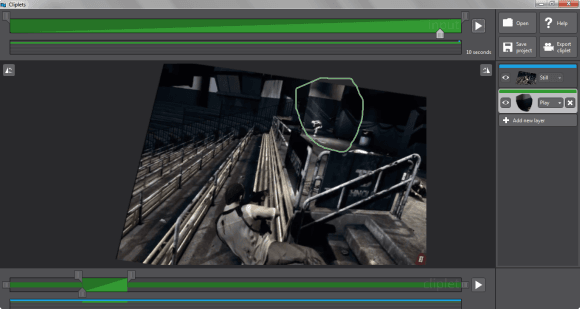 Features :
You can use both static images and video.
When you drop in a video file which is more than 10 second, you will need to select 10 second of that movie, you want to use from it.
It allows you to have a static background but mark a part of video to play. So for example if you video taped a woodpecker, you can choose a background from the video which becomes static but select woodpecker to do what it was doing.
You can capture multiple elements from the video and make it loop. So if along with woodpecker there was a squirrel trying to get up the tree, you can have it done. This can be repeated only for a particular time frame or all the time.
There is a Play Mode which allows you to run a part of the video instead of lopping it and it freezes right after that.
Making it even more complex, this application can combine all these modes i.e. Play, Mirror, Loop . Below is a video of that demo.
Video Demo of Cliplet
Overall this is an excellent tool and far better than any GIF creating tools we have talked about till date. So if you are looking for a free and impressive gif creating tool, this is highly recommended.
Download
You will need Windows 7 to use this and is available for both 32 and 64 bit systems. Download from here. Sadly this does not work on Windows XP, so you will need to use some other gif tool but it will not be as rich as this.