Downloading files, copying from one location to another, and many situations like this tend to generate a lot of duplicate files that occupy a lot of hard disk space unnecessarily. Moreover, we sometimes have numerous and same versions of a file to confuse us, which is the latest. In this post, we will share software—Clone Spy. It's a Powerful duplicate file finder.
Clone Spy: Powerful duplicate file finder for Windows
Though Windows offers time stamps, sorting, etc., in the File Explorer List view, it's a cumbersome job to find duplicate files like that. I remember doing when I was in college to hunt down all duplicate songs.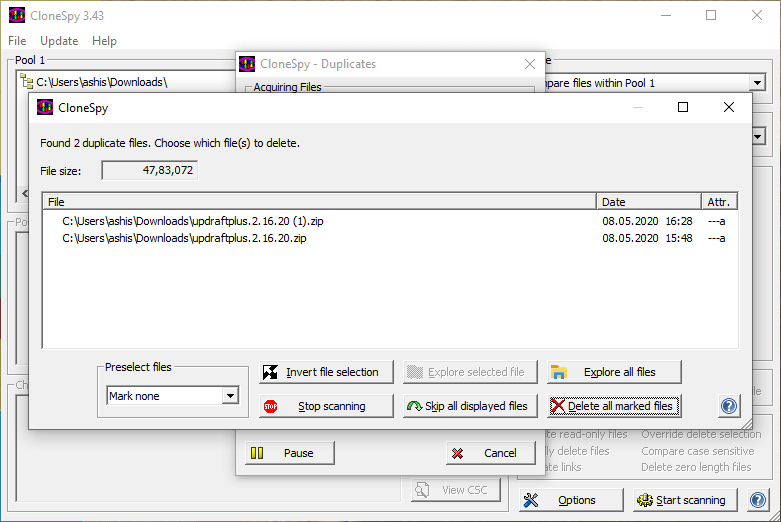 Clone Spy is a perfect answer for all of these cases. Its a powerful file comparer witch along with options of file size checking, name-checking, creating checksum files makes it the ultimate duplicate file finder.
Features of Clone Spy
Selecting folder is very impressive. If there are some set of directories that you need to check often, like your download folders, you can add them and save it as a pool. Next time just load the pool and find duplicates.
You can compare two different directories or two sets of pools. It is one of the most useful features.
Create a checksum file.
Don't want to delete? Generate a report of equal files.
Search by name size or just use default options
While a duplicate file is found, you can open it from there, select newer files, etc. and then choose to delete, skip or stop the scanning completely.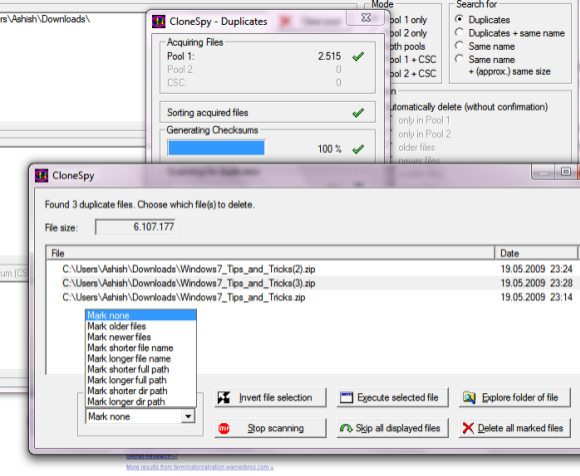 Here is the list of types of Duplicate files you can find
Same file name, title, or extension or Same file name or title or Same file name or title, and similar size

Files that are zero bytes long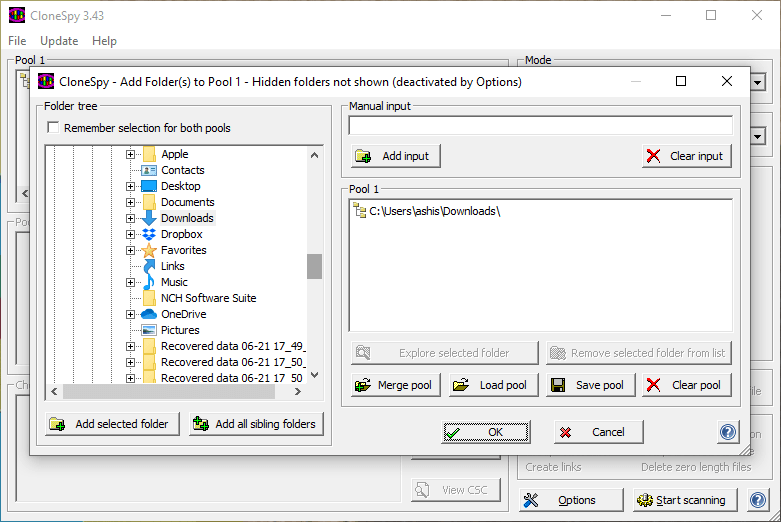 Actions it can take when a duplicate file is found:
Delete or move the redundant files to a specific folder

Exporting a list of all equal files without removing any files

Apply File  operations in bulk
CloneSpy Options
Here you can configure everything on CloneSpy. You can set up input, and output parameters for finding duplicate files. It includes attributes, extensions, time and size, names, folders for input. When it comes to the output you can choose to delete, export, log, report, and perform batch operations.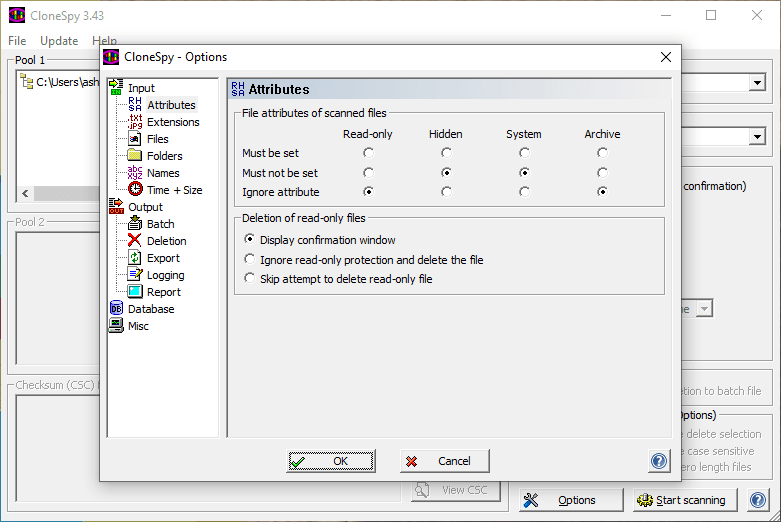 Download from the official website (Thanks Madhur)