If you are searching for one of the best color scheme designers, then we have reviewed Paletton Color Scheme Designer. It's the talk of the town, and several users claim it to be the best for their needs, especially beginners. But what is so special about it? Is it reliable and efficient? Let's check out its detailed review.
Paletton Color Scheme Designer is an open-source, matching color palette generator. It's mainly for beginners who are beginning their design ventures.
Review: Color Scheme Designer
We have tried, tested, and reviewed Paletton Color Scheme Designer aptly. So we have covered you all whether you are looking at its features, pros, or cons. There are several good aspects to the tools. We have listed them in their features given below.
1] Easy to Use:
What sets Paletton apart from others is that novices have little to no sense of design. Thus, you must keep the base color in mind, choose it from the color wheel or enter its hexadecimal code. It will then generate a palette preview. With a comprehensive color palette, you can use it wherever you want. You don't have to use its HSB or RGB specifications or choose other colors. Moreover, there's a slider if you want to add a complementary color while creating a color scheme.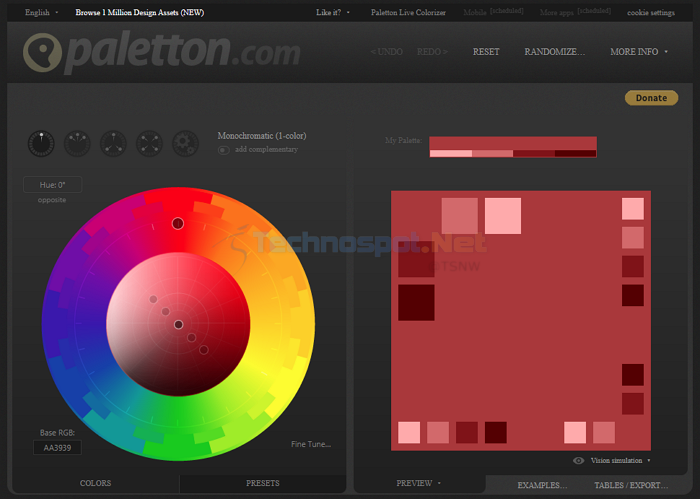 2] Reset & Start Over
When you are stuck up in any of its features or have messed up with different color schemes, Reset is a rescue. So no matter which options you have set or preferences you have applied, all the features reset to default. Therefore, you can begin from scratch once again.
3] Undo/Redo
The tool has Undo/Redo Options which are rarely available in others of the same category. So, when you already generate a palette, modify it to something average, then undo it is your rescue to restore. Further, if you undo plenty of times to something bizarre, then redoing works well. Besides, both of them are effective with their functionalities.
4] Multiple Preview Options 
You would want to preview the color scheme along different aspects. Here's where nails and others function well. You can preview it in Default, Default with Text, Alternative, Circles, Mondrianish, Mosaic, and other modes. Default with Text is what's the most useful for designers. It displays different text colors that match the theme. So you can accordingly decide on the text color. Again preview Options are mostly reliable.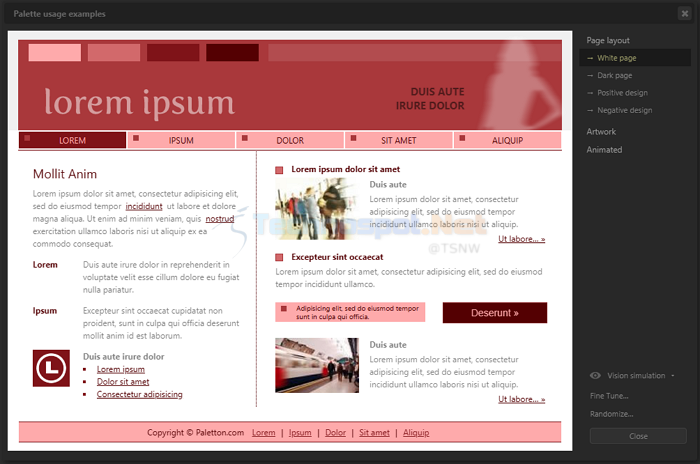 5] Comprehensive Presets
When you generate a color Palette using Paletton, there are multiple presets that you can check out. You can check out related presets if you think the color scheme is not what you wanted. Thus, it displays different palettes to the one you generated with varied styles and a proper name. There are pastels, dark, medium, light, and others related to the color scheme.
6] Multiple Export Options 
Saving color schemes is an essential part of putting your efforts into practice. Thus, Paletton lets you export it into your desired file format. You can export it to HTML, CSS, XML, LESS, SASS, and text file formats. However, the feature is difficult to locate.
7] Help Guides
When you are confused about how to use it and where to begin, scroll down to the bottom of the website. You will find plenty of instructions about using it and what it does.
Color Scheme Designer Pros & Cons
Pros
It lets you test color scheme prototypes on different layouts
Beginner-friendly
Free to use
Cons
Not mobile optimized
Annoying ads
Dark and lagging interface
Conclusion
It is if you thought whether Paletton Color Scheme Designer was worth your time and efforts. It's excellent for novices who have begun their design journey. You can use it for free. Besides, it generates a fantastic color scheme for free. You can test the colors on different layouts and export the color scheme into your preferred file format. However, its interface needs to be smooth and fast. Overall, the tool is reliable and efficient with its purpose.