Whether you are a student, marketer, designer, or any other, none of your projects are complete without design. To create one, you always need matching colors that would go well with each other. Here's where you would struggle to create one. But do you like to search for different colors, get their hex codes and note them for a single palette? Indeed, here are tools to create matching color palettes, and we will guide you.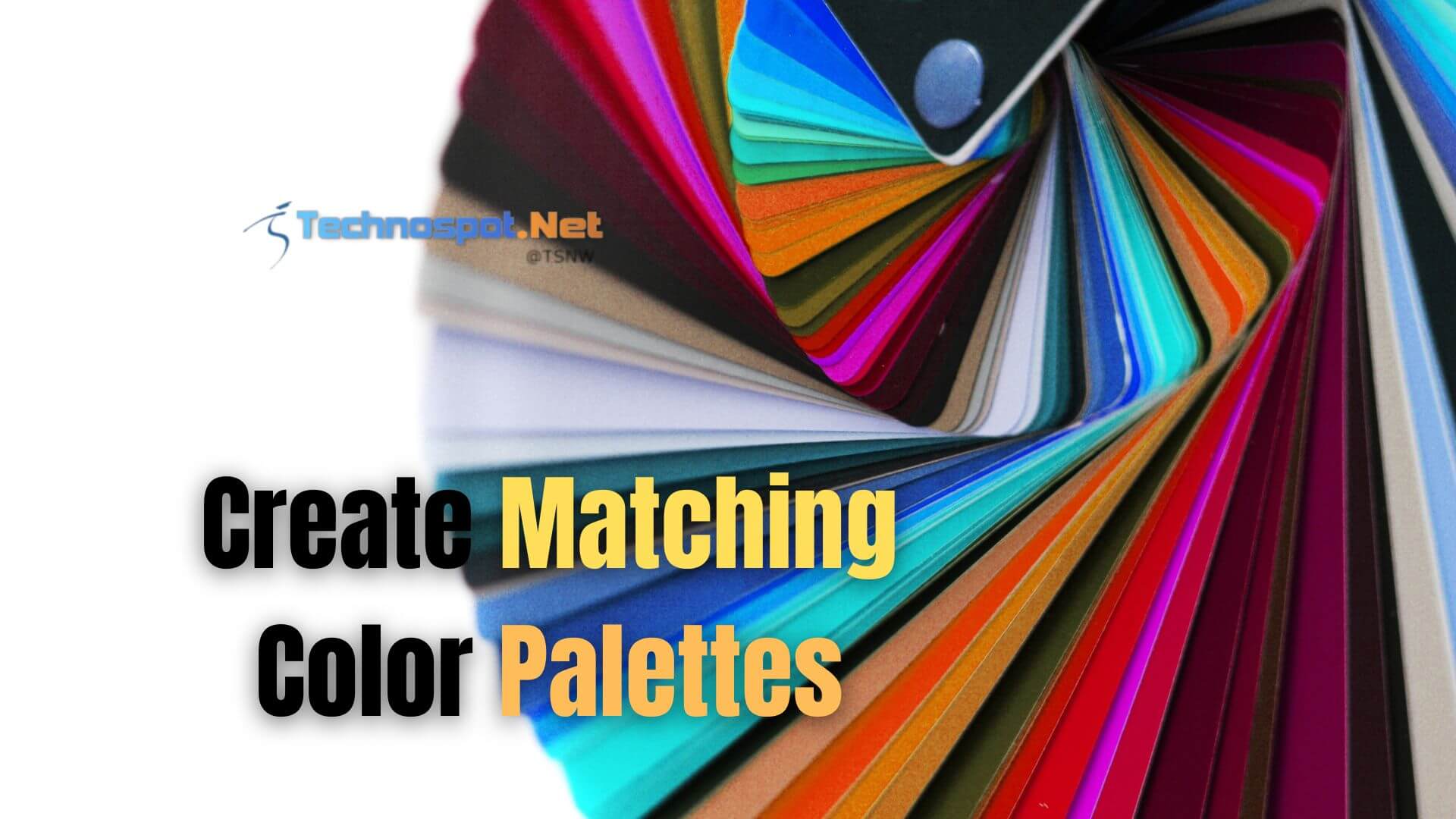 Best Tools To Create Matching Color Palettes
There are several for generating matching color palettes but only some work the best. It's because not all are safe and effective, and some are not even safe for your device. Therefore, we have handpicked and selected the best ones under the category!
Below-mentioned is a list of the same:
Adobe Color
Colorspace
Color Tool – Material Design
Colorkuler
Muzli by InVision
Let's take a sneak peek and learn more about them.
1] Adobe Color
How about a tool that creates a matching color palette tailored to your interests? 
If yes, then Adobe Color is a must-check on your list!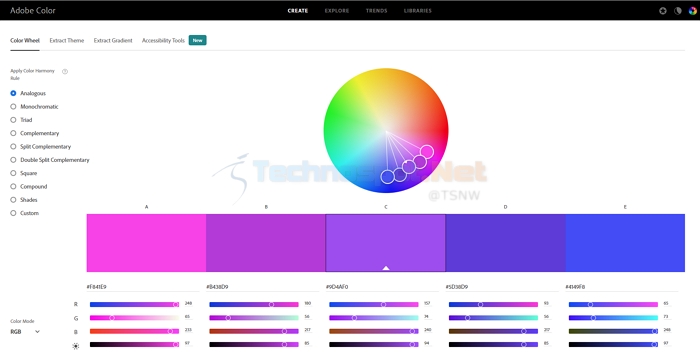 You have to visit its website, navigate the Color Wheel tab and select a color whose color palette you want to generate. Suppose you cannot pick, then enter its hexadecimal decimal code. After choosing the color, set the tool to Shades to create a matching one.
Besides, if you need a monochromatic notching color palette, you can also fetch that. There are several options from which you have to select monochromatically. You can also choose Complementary colors. Further, the website is quite simple with a minimalist interface. Moreover, you can instantly save the palette library to its inbuilt library with a suitable title. Later on, from its library, you can download its JPEG file. In the saved file, you can see its color codes too.
You can also explore the Trends and Explore section for a more trendy result. Here, you will get the trendiest matching color palette. Besides, you can browse conveniently in daylight or the dark by switching themes as per your choice.
Pros
Incredible matching color palette customization options
A color slider also available, along with a color wheel
Cons 
Need to signup to save color palettes
Check out the tool here
2] Colorspace
How about generating a matching color palette for gradient effects? 
Colorspace works best to add contrasting gradient effects for your next project!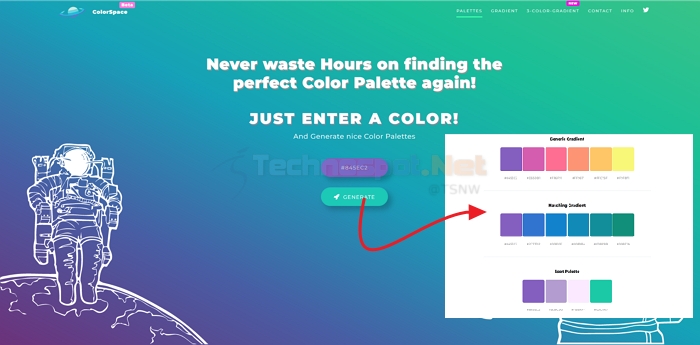 You must enter a color's hexadecimal code, and the tool generates gradient color palettes for you! At a single time, it creates various Palettes related to the shade you chose. These include Generic Gradient, Matching Gradient, Spot palette, and lots more. What sets it apart from others is that it generates a vast range of matching color palettes at one's. These include Matching, Natural Matching, Classy, Cube, and lots more.
Its gradient color design grabs eyeballs, and with an easy-to-use interface, things become pretty simple. However, it does have a drawback. You cannot save any palette directly. It will display shade and color codes, and capturing a screenshot would only work. Besides, if you are a web developer looking to add gradient colors to a website, you can enter the palette colors. Further, it will generate a CSS code that you can use. The site works perfectly whether you use it on your mobile or desktop.
Pros 
Cons 
It does not let you save color palettes
Check out the tool here
3] Color Tool – Material Design
How about getting a matching color palette for your next UI design project?
If yes, then Color Tool-Material Design is what nails the purpose!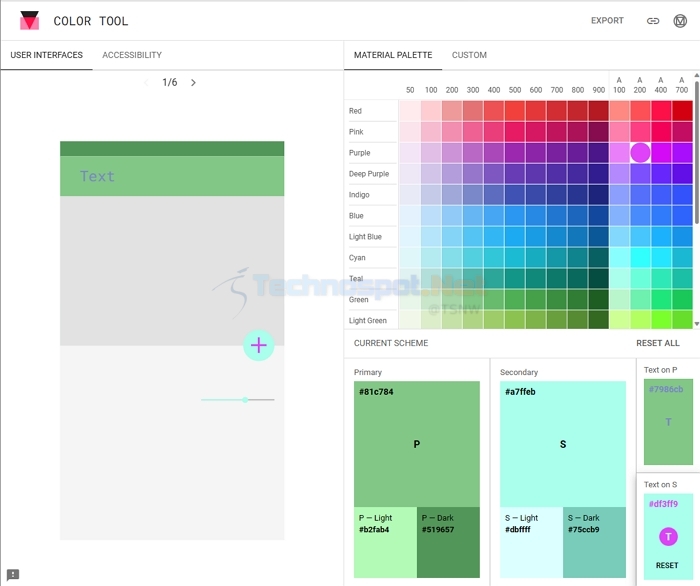 It has a Material Palette with a stunning range of shades, from basic hues to primary and secondary colors. You must select one shade that generates matching colors, which would go well with the design. Apart from Material Palette, you can also go to Custom and enter your preferred shades color code. You might wonder why it's primarily for UI design.
Well, it creates a palette whose colors go well with UI design. Further, upon selecting one, it instantly tests the colors on a built-in UI prototype. So you can get a precise idea of how these colors would go together. Moreover, you can also navigate to its Accessibility tab. This will display technical aspects like White and black text, opacity, secondary colors specification, and much more. You can also export it to your device or copy the palette link to your clipboard.
Pros
Tests color palette prototypes directly
 Let's you save color plates
Cons 
Not suitable for beginners
Poor mobile optimization
Check out the tool here
4] Colorkuler
Are you a social media influencer or digital marketer wanting to generate a palette for your feed?
If yes, then Colorkuler is an ideal tool to generate a matching color palette for your Instagram feed!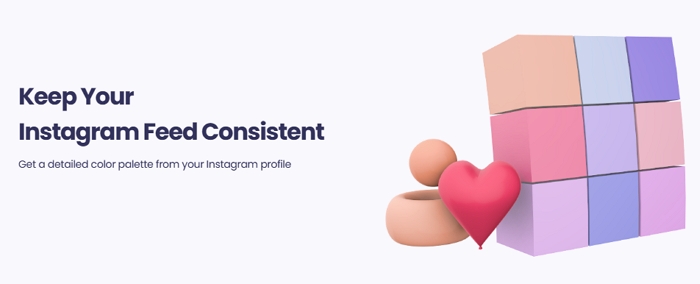 It uses an effective algorithm to analyze your latest nine posts and accordingly suggests matching palettes. You must create an account on the tool and enter your Instagram credentials. It will then access your posts and create a detailed color palette afterward.
Whether it's your personal, professional, or enterprise profile, it effectively helps you out. However, inputting your profile credentials and signing up is a must.
Without registering, it will not fetch a palette. Though you can try it for free, to utilize Colorkuler's feature, you would have to purchase its premium plan.
Moreover, the website is perfectly optimized for smartphones also. The tool is excellent for creating matching color palettes for an Instagram profile but getting started is tricky.
Pros
Intelligent and effective palette generator algorithm
Works for personal and professional profiles also
Cons
Compulsory signup to generate a palette
Only for Instagram profile
Check out the tool here
5] Muzli by InVision
Do you want to match the palette instantly with Analogic, Mono, Triade, Complementary and more styles?
If yes, then Colors Muzli is what aces it well!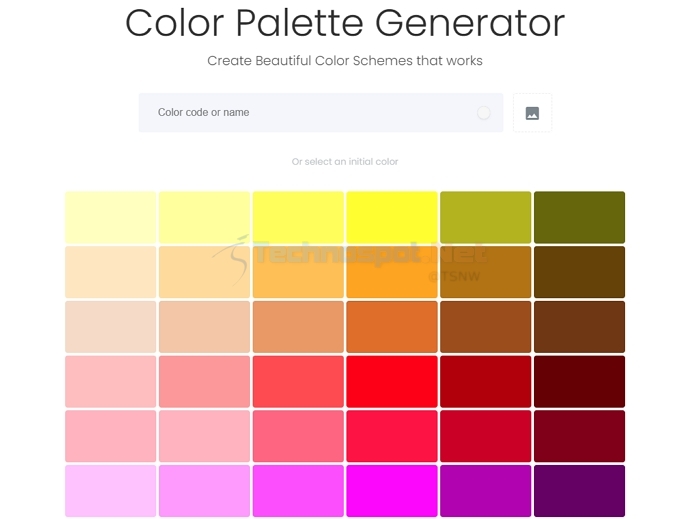 You must search for a color with its name or hexadecimal color code. It will display palettes in various styles. You have to review one, and Muzli then displays its Live UI kit. Further, you can save the palette or copy its link to your clipboard. The downloaded file is in SVG format. However, the drawback is that it would have the shades, not hex color codes.
Therefore, copying the palette link is ideal for fetching the codes. Besides, you would also see related and matching palettes according to the one you reviewed. Thus, you would never be out of creative color ideas with it. Instead of inputting color directly, you can also pick one of the shades it displays.
Moreover, if you prefer to go for trending colors, it also displays them at the bottom. Depending on your device, you can download its Chrome extension or mobile app. Apart from that, it also has a website with a flexible interface that works well on every design. You can also use this tool to create a color palette from images.
Pros
Shows comprehensible design metrics upon preview
Suitable for graphic designing as well as UI design
Cons 
Downloads only in SVG format
Check out the tool here
Conclusion
You would have gotten your answer if you searched for how to create matching color palettes. Several tools do the work for you. Adobe Color is the one that generates as per your choice with its Shades, Monochrome, Complementary, and other options. Colorspace creates gradient palettes, while Color Palette- Material Design is best for UI design projects. Colorkuler fetches matching palettes for your Instagram feed, while Muzli by InVision creates stunning styled palettes.