Diff Doc is a file comparison software that allows you to compare files like Microsoft office word, excel, and power points or slide show. You can also compare folders with 'Diff Doc' and compare files of all types, not just Microsoft Office Documents, Word, PowerPoint, Excel, PDF, RTF, Text, HTML, XML, and Word perfect.
Compare Word, PowerPoint, Excel, XML, PDF with Diff Doc
I experimented with this file comparison utility on a couple of word documents and XML files, which gave very positive results.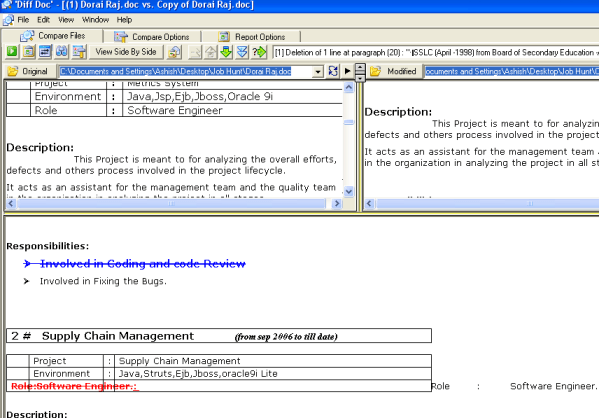 How does Diff Doc work?
Select the original document and the modified documents in two different panes and hit compare. It compares files, and the result is shown in the report pane. The new data is shown in blue, and deleted lines are shown in red, thus giving you a clear idea. So anytime you modify your docs and want to find the changes, just use this file compare utility and send the email to the person.
Features of Diff Doc
It's an easy to use file comparison program.
Compares almost all the files, including PDF
Enhanced options for file comparison for file types like PDF, XML, and others
It allows you to add a password for Password Protected Documents.
Supports Command Line operations if you are planning to build your application to make use of this library.
Extract Hyperlinks
The difference is shown clearly in colors.
However, you are limited to compare just two files.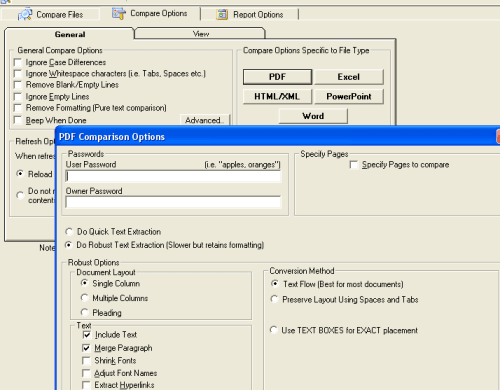 Compare folders to see what files have changed before running a detailed file comparison. You can generate a detailed difference report for each pair of similarly-named files in which differences have been found.
There are two views to display comparison— 'All In One' or 'Side By Side.' Both views have their advantages, and switching between them is as easy as a mouse click (or F6).
Large selection of report types and options available for sharing the differences found with your peers.
Keyboard shortcut support to navigate between the difference.
Create a side-by-side report for MS Word or HTML
Highly configurable comparison options and can be personalized for the type of office document i.e., PowerPoint, Word, and Excel files.
That said, the software interface is definitely outdated, and the trial version doesn't last long though you can always request an extension to evaluate further.
You can download DiffDoc from the official website by following the link here.